This recipe was created in partnership with Dixie Crystals. All thoughts and opinions are my own.
This homemade, creamy, banana pudding ice cream is an easy dessert that is sure to impress. Made with mashed bananas and vanilla cookies, this ice cream tastes just like the original pudding dessert.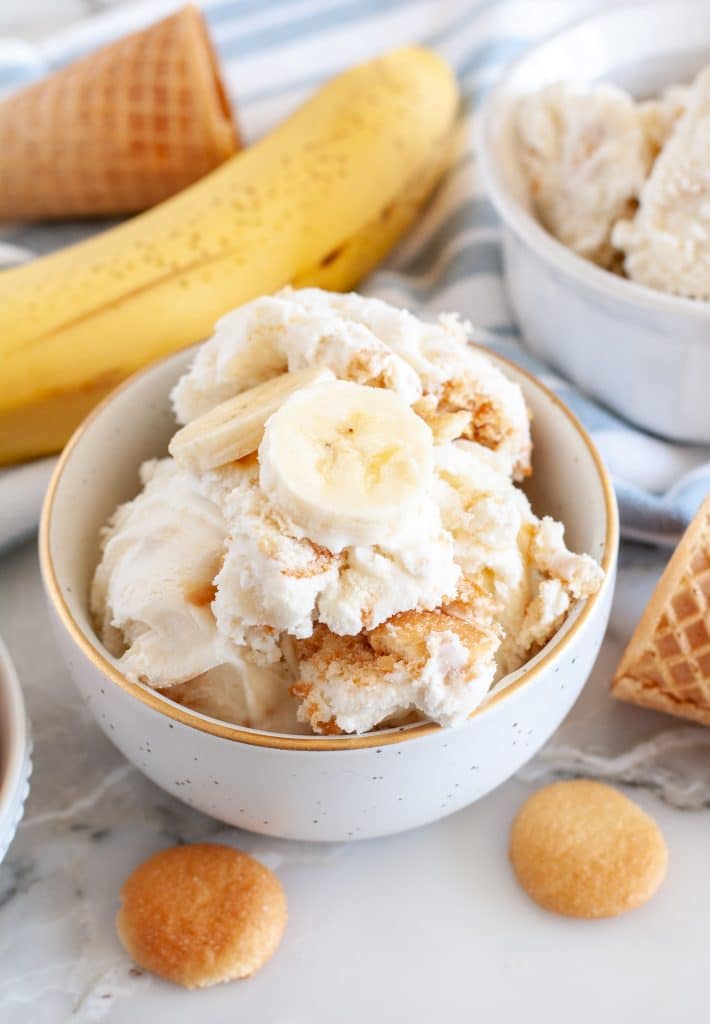 Banana pudding is one of our favorite desserts. It's something that our family makes for special occasions like birthdays and holidays. We have made the classic recipe, into a creamy dip and now ice cream.
This ice cream does not disappoint when it comes to flavor. It tastes just like banana pudding. This recipes calls for 2 bananas that are mashed and then are mixed in with the cream base to give the perfect amount of banana flavor.
The full ice cream recipe is being shared at Dixie Crystals. To get the all of the ingredients and directions, check out Dixie Crystals Banana Pudding Ice Cream.
What you need
Bananas – You will need two bananas mashed and one for sliced bananas on top of the ice cream. For the best flavor, use ripe, almost brown bananas.
Sugar – Adds the sweetness. Use granulated sugar for this recipe.
Heavy whipping cream – The makes for a nice and creamy base.
Half and half – I like adding in a little half and half but you could replace this with extra whipping cream.
Vanilla extract – Adds an extra layer and hint of sweetness.
Vanilla wafer cookies – I like using the mini ones but you could use either. I also like to crush them up a little for smaller, bite sized pieces.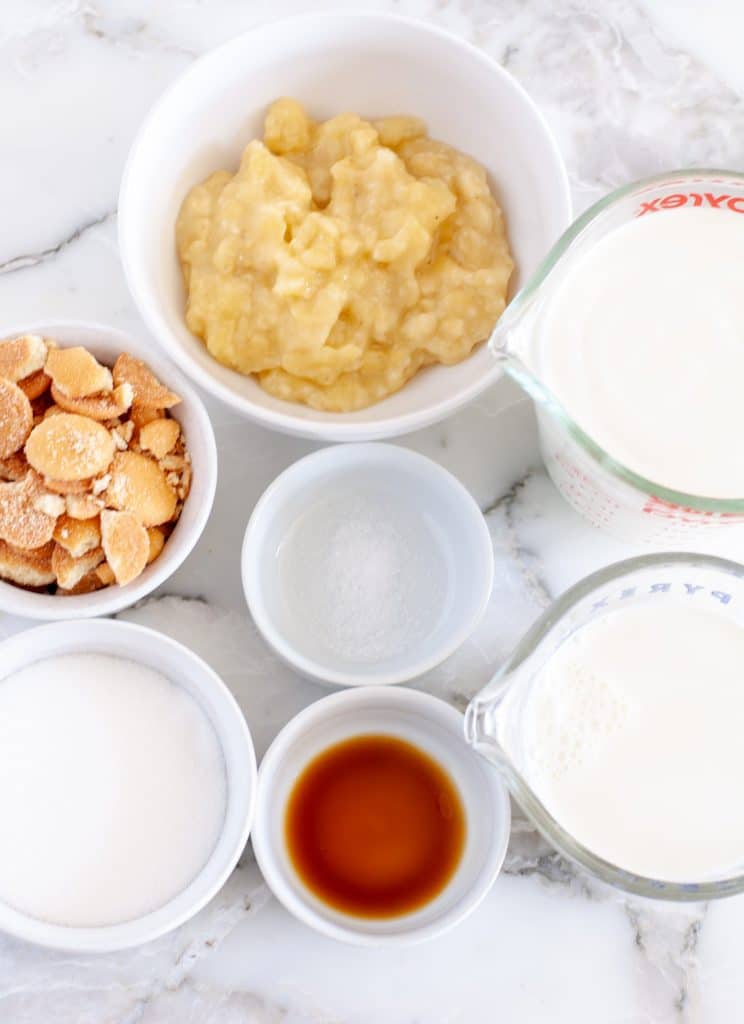 How to make banana pudding ice cream
Find the full recipe, ingredients and instructions at Dixie Crystals.
You will start by making the ice cream base. This recipe does use an ice cream maker to help the churning process.
Base: Warm the half and half and sugar in a saucepan. Stir in sugar. Keep stirring until dissolved. Take the saucepan off the heat and stir in heavy cream, vanilla, salt, and mashed bananas. Make sure to place a piece of plastic wrap on directly on top of the mixture so a "skin" doesn't form. Refrigerate for at least 30 minutes. Having the mixture cold helps the churning process.
Pour the chilled mixture into ice cream maker and churn for about 20 minutes or the time recommended by the manufacturers instructions. Add in crushed vanilla wafers.
Freeze: Place in freezer safe container and freeze for at least 4 hours before serving.
This recipe is easy to make and the only thing time consuming is the freeze time. Trust me, it's worth the wait!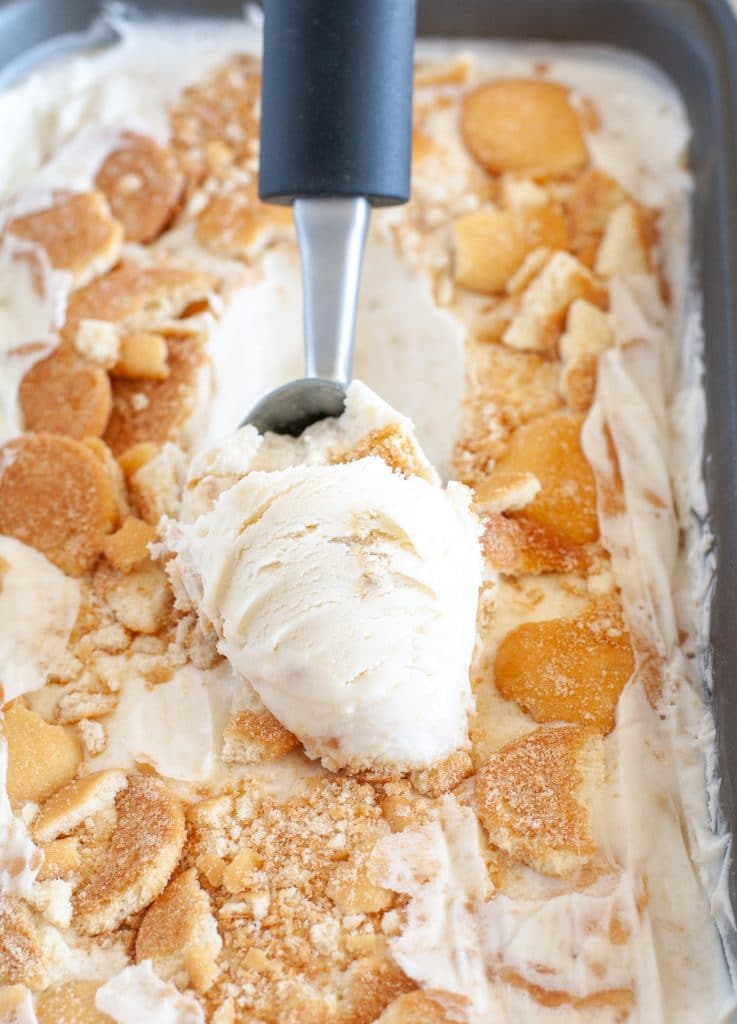 Recipe tips
Break up the cookies to make it easier to eat but be careful not to totally pulverize them or else the ice cream might end up crumby tasting.
If you want the ice cream to be extra frozen, let it sit in the freezer overnight.
You could also try adding in some mini marshmallows or white chocolate chips for added texture and taste.
Serve in a cup or cone topped with extra sliced bananas, vanilla wafer cookies and whipped cream.
Can you substitute with milk? Yes, you can substitute the half and half with whole milk.
How to store
Keep this covered, in the freezer when not eating. It will last up to one month. We like using an ice cream container to store ours.
More easy dessert recipes
***I have an ongoing relationship with Dixie Crystals for recipe development. I have been compensated for this post. As always, all thoughts and opinions are my own.