17 Best Waffle Sandwiches
Waffles are a popular breakfast item. It's no surprise that people love them as they're incredibly tasty, simple to make, and easy to personalize with all of your favorite toppings. Want to take waffles to the next level? Waffle sandwiches are a treat you won't want to skip out on! Here are the best waffle sandwich recipes to try at home next time you're craving waffles.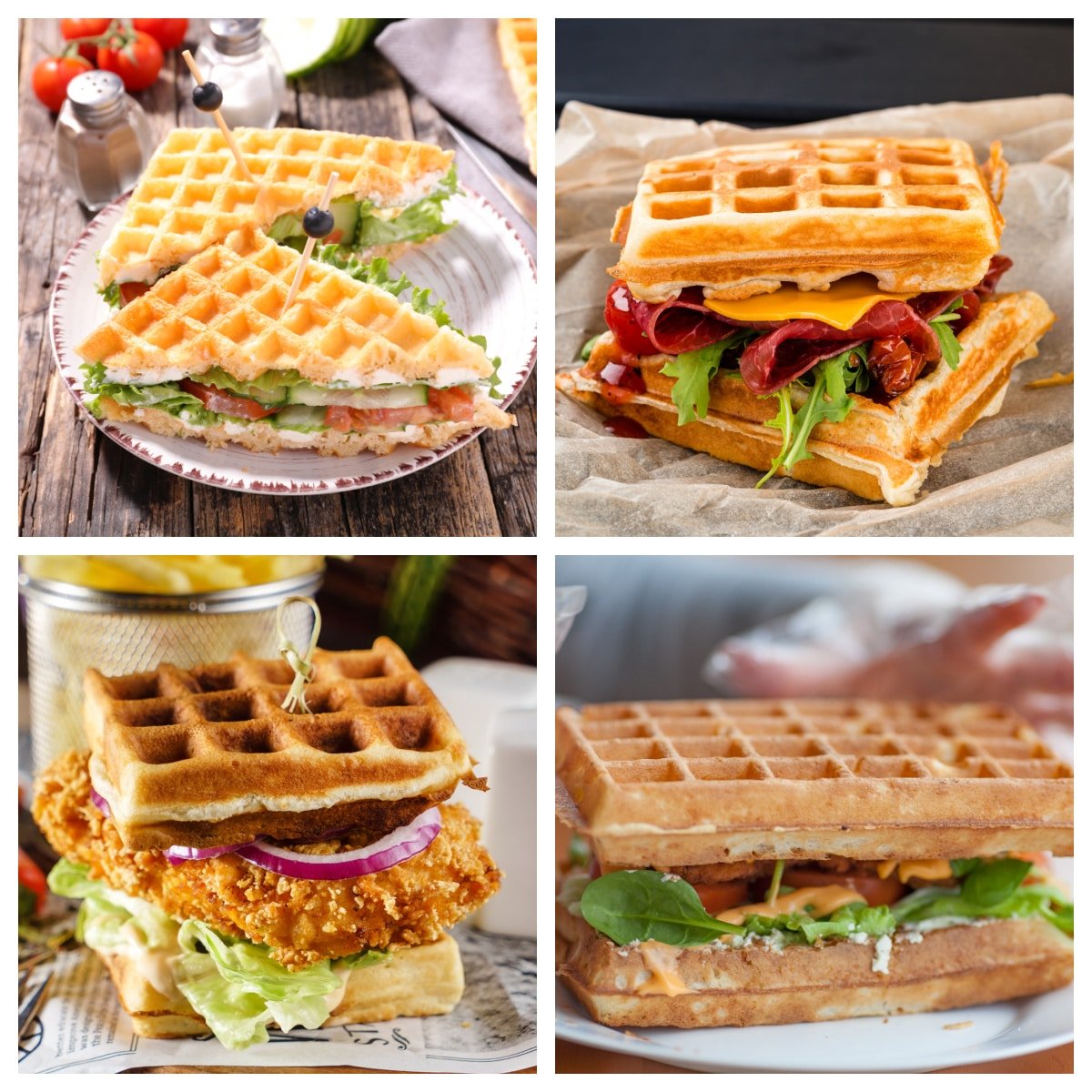 Our list of waffle sandwiches includes a mix of sweet and savory recipes that are easy to make and even easier to devour.
Many of these waffle sandwich ideas are simply twists on popular sandwich recipes, made with the same ingredients but pressed in a waffle iron for even crispier, tastier results.
To simplify your cooking process, you can opt for frozen waffles. However, there's something special about homemade waffles. Not to mention they're easy to make too!
A fun thing about using waffle makers is that you don't have to stick to your typical waffle batter. Feel free to get creative and use your batter of choice –– crescent rolls, pancake mix, or another biscuit dough.
While waffles are typically associated with Saturday morning breakfast, you can certainly enjoy them at any time of day. These waffle recipes are so good, you'll be craving them for lunch and dinner too!
Take your traditional Monte Cristo sandwich recipe to the next level by serving it on waffles. Raspberry jam, honey-baked ham, and Swiss cheese combine with waffles to create a treat that's sweet, melty, and savory all at once.
This recipe is easy to personalize based on your preferences –– you can add turkey, use a different flavor jam, or swap the Swiss with gouda! Be sure to sprinkle on some powdered sugar to finish it off.
This delicious sandwich features cheesy bacon-infused waffles and crispy buttermilk chicken. The maple sriracha aioli adds even more flavor, with sweet and spicy notes in every bite. We're a huge fan of waffle sandwich ideas that incorporate homemade sauces.
While it takes an hour and a handful of ingredients to make the waffles, fried chicken, and aioli from scratch, the results will certainly be worth it! Each item in this recipe tastes phenomenal on its own, but even better combined with the others.
Here's a spicy and creative twist on chicken sliders. These chicken and waffle sliders get their fiery flavor from being dredged in a mixture of Cholula hot sauce and buttermilk. Each bite of these sliders is juicy, tender, and sure to impress anyone who loves heat!
Spicy sauce will make your taste buds dance and will add so much to the recipe. Check out the recipe card for four different spicy dipping sauce ideas that you can use to drizzle or dip. Try using a mini waffle maker to prepare your waffles. Want to take your sliders to the next level? Add a fried egg on top of the chicken.
A fusion between a BLT sandwich and a classic grilled cheese, this comforting recipe is made with simple ingredients but is loaded with plenty of flavor. The hot bacon, avocado, tomato, and melted cheese taste incredible on top of a crunchy buttermilk biscuit waffle.
Ready in just 30 minutes, this is one of the best waffle sandwich recipes for busy days as it's so easy to prepare. If you want to add more protein to this recipe, try adding a fried, poached, or scrambled egg.
Seasoned to perfection, spiced chorizo with waffles will simultaneously satisfy but also keep you wanting more. Waffles make the perfect sandwich base for juicy chorizo patties, and a layer of fresh guacamole will add some incredible taste and texture.
Garnish your sandwich with any toppings of your choice. Some of the best toppings for this recipe include sour cream, cilantro, red onions, or jalapeños if you want to kick up the spice level.
Ready in just 15 minutes, this quick recipe comes together in almost no time at all — perfect for any meal, including Sunday brunch with bottomless Bloody Marys!
Grilled cheese is such a comfort food. It's also so easy to make! Four simple ingredients and a few minutes are all you need to create this melty, savory grilled cheese sandwich. Cook your dough of choice in the waffle maker until it reaches a beautiful golden brown color.
Your crispy waffles will be the perfect base for the cheese, bacon, and avocado to melt together. Our favorite thing about this recipe is the addition of bacon –– adding a satisfying crunch and just the right amount of saltiness!
Creamy chicken salad is the best filling for a lunchtime waffle sandwich! This curried chicken salad gets its bold flavor from curry powder and features bits of jicama, celery, and peanuts, giving each bite a nice crunch.
Once you've combined all of your ingredients and heated your waffles, spread the chicken mixture onto the waffles. Top it off with cheese to add even more flavor and creaminess. It only takes about half an hour to whip up four servings of this meal!
Get ready to use up your leftover holiday ham! Elevate your favorite ham and cheese sandwich recipe by making it in a waffle maker. Made with simple ingredients, it's one of the easiest waffle sandwich recipes to prepare –– ready in under 5 minutes.
This melty, savory sandwich oozes with cheese and has a delicious texture with flaky biscuit dough turned into waffles. The secret ingredient that brings all of the flavors together is a sweet honey mustard dressing!
Turkey club sandwiches taste even better made in a waffle iron! This waffle sandwich uses buttery crescent rolls as its base, pressed and crisped to perfection, and is a great option for a quick and easy lunch or dinner.
Load up your crescent rolls with ham, turkey, bacon, tomatoes, and cheese, and watch the ingredients melt together in just a few minutes. We love how this recipe uses such simple ingredients to create a flavorful sandwich that even the pickiest of eaters will enjoy!
This complete homemade breakfast sandwich is one of our absolute favorite waffle sandwich recipes. Jalapeño-infused waffles are sure to bring the heat, adding so much flavor to your waffle batter!
Top your waffles with sausage patties, eggs, hash browns, bacon, and cheese, and enjoy the incredible savory flavor combination. This sandwich has a little bit of every texture and taste you could want: crispy, creamy, salty, and savory.
Drizzle on some maple syrup to add just the right amount of sweetness to make the recipe complete.
Not sure what to make for Saturday morning breakfast? Why choose between sausage, eggs, and waffles when you can enjoy all of them together?! This savory breakfast sandwich is crispy, flavorful, and easy to prepare in just a matter of minutes.
What we love most about this recipe is how easy it is to personalize to your own liking. You can swap the cheese with American cheese or cheddar cheese, add a different type of meat, scramble the eggs, or serve with your favorite sauce. It's the perfect way to use leftover waffles or ingredients.
Made with tofu ricotta and waffled hash browns instead of a traditional waffle batter, this creamy and crispy sandwich is both low-carb and dairy-free.
Tofu is a great vegan alternative to regular ricotta and will taste phenomenal when flavored with nutritional yeast, lemon, garlic, and chives.
The nutrient-packed combination of the hash brown exterior, ricotta mixture, and added veggies makes a healthy Saturday morning breakfast that will provide plenty of energy for weekend activities!
A helpful tip for making hash-browns from scratch: parboil your potatoes first so that you won't have to squeeze out extra water later.
Experience all the flavors of a Reuben sandwich by combining crispy, buttery chaffles with corned beef, sauerkraut, Swiss cheese, and Thousand Island dressing. To make the flavors even more authentic, add some ground-up caraway seeds to your chaffle mixture before cooking it up.
Chaffles are a protein-packed, keto-friendly treat, made easily by cooking cheese and eggs in a waffle maker. They're ideal for a low-carb diet as they are soft and chewy like bread, but with far fewer carbohydrates.
This unique recipe idea swaps out traditional burger buns with crispy golden brown waffles. Topped with bacon, cheese, and an over-easy egg, a waffle burger will make a delicious and satisfying Saturday morning breakfast.
Maple syrup is an optional ingredient that will help bring out even more flavor from this yolky bacon cheeseburger. If serving with syrup, be sure to warm the syrup up a bit before pouring it for best results.
Check out the helpful video in this post to see how easily this recipe comes together.
One of our favorite waffle sandwich recipes is these peanut butter and jelly-inspired ice cream sandwiches. This sandwich idea has everything there is to love about PB&J, but with a heaping scoop of ice cream to satisfy your sweet cravings. We're a huge fan of the way these waffles are made not only with real peanut butter, but also with peanut butter chips.
Loved by kids and adults alike, this fun treat is the best way to stay cool during those hot summer months! Best of all, they're easy to assemble too in just a matter of minutes.
Get ready for the ultimate satisfying cheese pull! This creamy cheddar grilled cheese waffle sandwich is every cheese lover's dream. It's a quick and easy meal idea that only takes 10 minutes to prepare from start to finish.
What makes this sandwich stand apart from a classic grilled cheese sandwich is the addition of sweet apples. The apples unlock a new level of flavor and also add some crunch to every bite.
Spread on a mixture of Dijon mustard and maple syrup to add even more sweetness and a bit of tanginess.
Apple butter is the star of the show in this scrumptious sandwich. Not familiar with apple butter? It's a delightful caramelized spread that gets its rich flavor from being cooked slowly.
This flavorful spread will be an absolute treat with fluffy waffles, cheese, and bacon. You can make this sweet and cheesy waffle sandwich in five minutes with just five ingredients!
Bacon adds the perfect amount of saltiness to balance out the sweet and savory flavors in this recipe. You can easily make this sandwich with other types of cheese as well, including Muenster and Swiss cheese.
Be sure to let me know in the comments which sandwich you will be making or if there is one I need to add to the list.
More sandwich recipes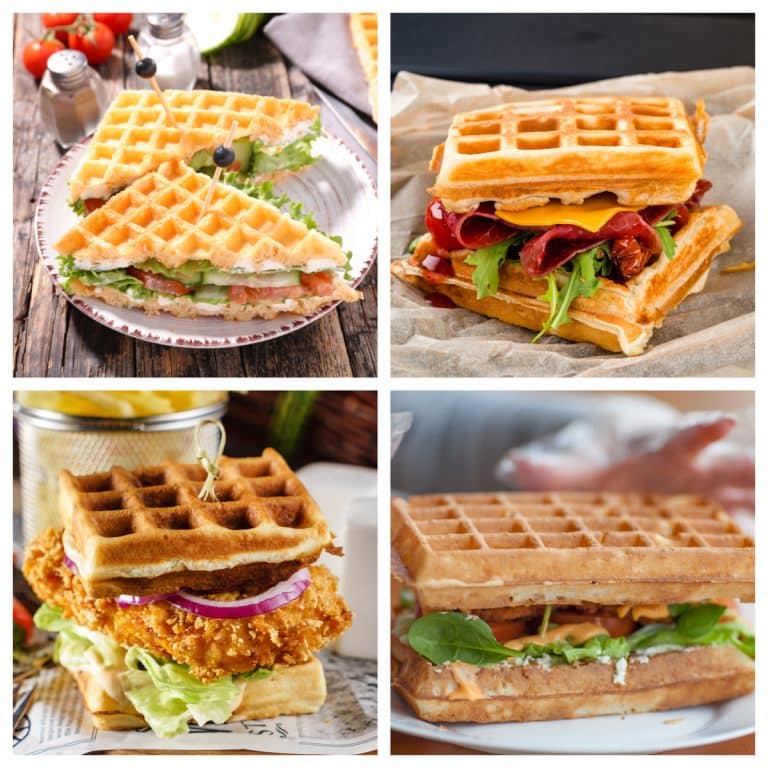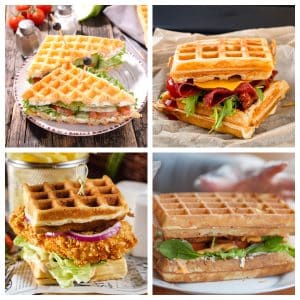 Waffle Sandwiches
A group of some of the best waffles sandwiches. These waffle sandwich recipes ranch from bacon and eggs to tofu. There is sure to be a waffle sandwich recipe on the list for you including this easy Nutella waffle sandwich.
Ingredients
2

frozen waffles

2

tablespoons

Nutella

2-3

tablespoons

marshmallow fluff
Instructions
Cook frozen waffles according to box directions.

Spread Nutella on one side of a cooked waffle. Spread marshmallow fluff on the other waffle.

Sandwich the two waffles together to make a waffle sandwich.
Nutrition
Calories:
431
kcal
|
Carbohydrates:
61
g
|
Protein:
7
g
|
Fat:
18
g
|
Saturated Fat:
12
g
|
Polyunsaturated Fat:
3
g
|
Monounsaturated Fat:
2
g
|
Trans Fat:
0.1
g
|
Cholesterol:
18
mg
|
Sodium:
425
mg
|
Potassium:
211
mg
|
Fiber:
3
g
|
Sugar:
29
g
|
Vitamin A:
1066
IU
|
Calcium:
202
mg
|
Iron:
6
mg
Nutrition information is automatically calculated, so should only be used as an approximation.
Like this? Leave a comment below!