27 Types Of French Fries
Oct 06, 2023, Updated Oct 28, 2023
One thing that most people can agree on is that a side of fries makes everything better! French fries are crispy on the outside, yet tender on the inside, making them the ultimate potato treat. The best thing about french fries is that there's no one right way to make them. Here are 27 different types of french fries that will make your meal complete.
There are so many different ways to cut, season, and cook potatoes, and endless ways to make french fries.
Shoestring, steak, curly, waffle –– each type of fry has its own unique qualities, but is delicious regardless.
Our list of french fry ideas includes all of the above, plus a variety of other beloved potato favorites, including hash browns, tater tots, and more.
You can serve a plate of fries as a side with any burger, sandwich, or wrap, load them up with toppings, or pair them with your favorite dip and enjoy as a snack.
Whether you cook your fries in oil, in the oven, or the air fryer, you'll be sure to enjoy every bite of your crispy golden potatoes.
The air fryer is our favorite method for cooking frozen french fries. Hot air will take your fries from frozen to perfectly crispy in just over 10 minutes. Best of all, there's no oil needed, so preparing a batch is a quick and mess-free process!
Make sure to heat your fries straight out of the freezer. Letting them thaw first will result in soggy fries.
Steak fries are tender on the inside but crispy on the outside. This variation of fries is known for its large size, similar to potato wedges. Cook them in the air fryer at 400 degrees for 12 minutes, flipping halfway through.
These fries will make a great appetizer or side dish. Serve up a plate of fries with your favorite dipping sauce and enjoy!
Wingstop's seasoned french fries are among our all-time favorite types of regular fries. You can save a trip to Wingstop and make your own copycat version at home!
What makes these regular fries so flavorful and unique is the seasoning blend that they're coated in. Coat your potatoes in a mixture of garlic powder, onion powder, chili powder, paprika, salt, pepper, and white and brown sugar.
Waffle fries are crispy and so satisfying. We love how the wide, flat shape of these wavy fries allows you to use them in so many different ways.
Try adding waffle fries to sandwiches, burgers, or wraps. You can even use them as a base for nachos instead of tortilla chips! You can use your waffle fries to make a good meal even better, or simply dip them in your favorite sauce.
Ready in only 10 minutes, frozen sweet potato fries become so crunchy and delicious when air fried. Season these fries with a pinch of salt to enhance the natural flavor of the sweet potatoes.
Sweet potato fries make a tasty side for any meal and will taste incredible dipped in ketchup or this delicious sweet potato fry sauce.
One of the thinnest types of french fries is shoestring fries! Heated to perfection in oil or the air fryer, these julienne-cut potatoes reach the ultimate level of crispiness because of how thin they are.
The easiest way to make shoestring fries from scratch is by using a vegetable slicer that has a julienne setting. Check out the recipe notes for some helpful tips on how to prevent soggy potatoes.
Tater tots have everything there is to love about traditional french fries! They have a soft, tender interior and a crispy golden exterior when cooked in the air fryer.
We love that tater tots are bite-sized and so snackable, making them the perfect for any french fry lover — including kids and adults alike.
Made with diced potatoes, bell peppers, and onions, home fries are savory and comforting –– a delicious side for breakfast or brunch. This recipe gets its incredible flavor from Creole seasoning, but you can also use Cajun seasoning or paprika as a substitute if you have that on hand.
With textured wavy grooves that crisp up nicely in the air fryer, crinkle cut fries are just as tasty as they are fun. These fries will be ready to serve in less than 20 minutes, making them perfect for busy days.
Since crinkle cut fries are one of the thicker types of french fries, they become tender on the inside when cooked, complementing the crispy exterior so well.
Traditional Belgian fries are sure to have a satisfying crunch in every bite. The secret that gives these fries their uniquely crispy texture is frying them twice! Double frying them allows the outside of the fries to develop a beautiful golden brown color and extra crispiness.
Serve these fries with a homemade Andalouse sauce: a creamy and popular Belgian condiment.
These thin slices of potatoes are crispy, fluffy, and coated with salt, pepper, and cayenne pepper to add flavor. Olive oil will help your seasoning mixture stick to the potatoes, while also adding another level of flavor.
Not sure what potatoes to use for this dish? Russet potatoes will give you the best texture on the inside and outside because of the high starch content.
Roasted potato wedges are thick and fluffy, with soft insides and crispy edges as a result of the high heat. These potatoes are easy to season and pop in the oven after just 10 minutes of prep time.
Since these potatoes are roasted, you won't need to fry them in oil! Spraying them with a low-fat cooking spray will help the seasonings stick, but won't result in a super oil taste or texture.
Elevate your breakfast or brunch with a side of hash browns. These crispy hash browns are made from scratch and are even better than the frozen variety.
We love that this recipe can easily be personalized with veggies, eggs, cheese, or spices to add extra flavor. Be sure to check out the list of helpful tips in this recipe to help you get the perfect crispy texture.
Tornado fries are among the most creative potato recipes. Start by skewering softened potatoes and then cut a corkscrew rotation to create sliced ringlets. Once you've brushed your potatoes with oil and seasoning, toss them in the air fryer until crispy.
We love this potato recipe not only because of its incredible taste, but also because of its fun appearance.
Matchstick fries, or julienne fries are a thin cut style fry.
This recipe has just five ingredients and takes 30 minutes. This crispy french fry recipe is easy to make in the oven and requires no soaking or frying! The key to getting the perfect texture is spreading the fries out in a single layer so that they cook evenly.
In the United Kingdom, fries are called chips! Irish chips are slightly thicker than traditional American french fries, allowing for a delightful tenderness on the inside.
After simmering and draining, let your potatoes sit out for 5 to 10 minutes before frying. The release of steam will reduce the moisture of the potatoes, resulting in crispier chips.
Puffed potatoes are a dream come true for any french fry lover. Also known as pommes souffles, these potatoes are made with a French technique that causes them to puff up after being fried twice.
The perfect balance between crispy and fluffy, it's no surprise that this type of potato went viral on TikTok!
Loaded fries are so delicious –– your taste buds will be dancing when you eat them! Topped with a rich homemade gravy and plenty of cheese, these savory fries are packed with flavor and make a satisfying, comforting side dish.
Creamy and saucy, they'll practically melt in your mouth. Garnish your plate of fries with chives to add a tiny bit of color to this recipe!
Truffle fries taste and sound fancy, but they're actually simple to make at home. Each bite of these fries is rich and flavorful, with truffle oil and parmesan cheese creating a flavor combination that's unmatched.
Homemade parmesan aioli tastes absolutely heavenly and will be the best dip to pair these fries with.
Covered in melty cheese curds and a delicious beef gravy, this authentic Canadian recipe is a must-try for any French fry lover. We love how savory this gravy sauce is, packed with the flavors of broth and Worcestershire sauce.
While this recipe takes just under 2 hours to prepare from start to finish, the results will certainly be worth the effort!
Spicy Spanish potatoes are tender, crispy, and incredibly flavorful. What makes these stand out from other types of fries is the red bravas sauce, which is spicy, smoky, and absolutely delicious. You can find the recipe for homemade bravas sauce linked in this post.
First baked and then pan-fried, these golden brown frites are extra crispy and so comforting. For best results, be sure to wait until after frying to add your desired seasonings. This will help the seasoning stick and also ensure that the bulk of the flavor is preserved.
These fries are best served fresh with a creamy aioli sauce for dipping.
Inspired by the fun of Ocean City, Maryland, these twice-fried boardwalk fries have an extra crispy exterior and a soft, fluffy interior. Seasoned with salt, apple cider vinegar, and Old Bay seasoning, they have a bold and unique flavor that is sure to satisfy your taste buds.
Garlic lovers will simply not be able to resist this copycat version of Gordon-Biersch garlic fries. In addition to plenty of garlic, this recipe features the flavors of fresh rosemary and parsley.
Heat your fries in the oven or air fryer first, then toss them in your garlic-infused mixture with oil and herbs.
Sweet potato fries are among the best types of french fries for anyone who prefers sweet flavors over savory. The homemade honey butter cinnamon sauce will add so much flavor to this recipe, enhancing the natural sweetness of the potatoes with some extra sugar and spice.
You can whip up this recipe in just over half an hour. This sweet snack or side dish is a great way to get kids or picky eaters to enjoy their veggies!
There's a secret to getting perfectly crispy potatoes in this triple-cooked french fry recipe! In between boiling and frying rounds, let your potatoes cool down and then stick them in the freezer. Doing so will help remove excess moisture, ultimately resulting in the best crispy texture.
Here's a french fry recipe that will bring the heat! Crispy and flavorful, Cajun fries are the ideal potato treat to satisfy any spicy craving. You can use a store-bought Cajun seasoning, or whip up a batch of the homemade seasoning linked in this post.
While this recipe uses regular potatoes, sweet potatoes are another great option that will taste incredible with the Cajun seasoning.
Did you make a fry recipe? Let me know in the comments or tag me on Instagram, TikTok, or Facebook.
More potato recipes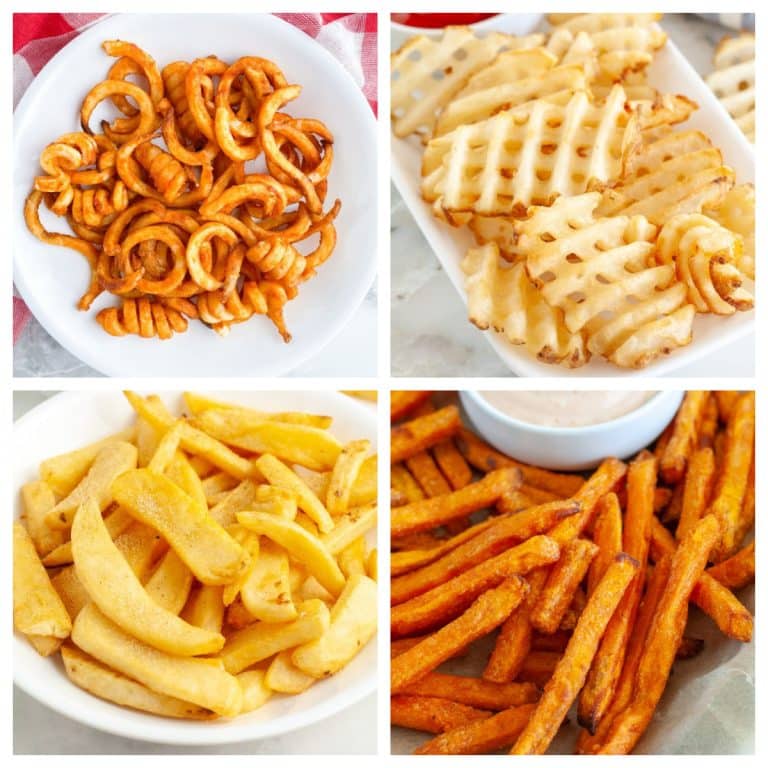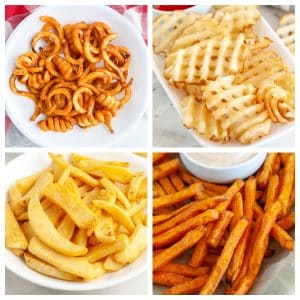 Types Of French Fries
A collection of different types of french fries. From curly fries to cottage fries, there are 27 different types of fries for you to check out.
Ingredients
1

bag

frozen crinkle cut french fries
Instructions
Place frozen crinkle cut fries in air fryer basket. Spread out into a single layer.

Air fryer at 400 degrees for 10 minutes or until golden brown.
Nutrition
Calories:
1
kcal
|
Carbohydrates:
0.1
g
|
Protein:
0.01
g
|
Fat:
0.04
g
|
Saturated Fat:
0.01
g
|
Polyunsaturated Fat:
0.003
g
|
Monounsaturated Fat:
0.02
g
|
Sodium:
1
mg
|
Potassium:
1
mg
|
Fiber:
0.01
g
|
Vitamin C:
0.01
mg
|
Calcium:
0.02
mg
|
Iron:
0.003
mg
Nutrition information is automatically calculated, so should only be used as an approximation.
Like this? Leave a comment below!