Shake up your weekly menu with this delicious collection of eggplant recipes! While everyone loves a good eggplant parmesan or baba ganoush, you might be surprised at what a versatile ingredient eggplant really is. From pasta salad to curry to tacos and even eggplant fries, this list has something for everyone!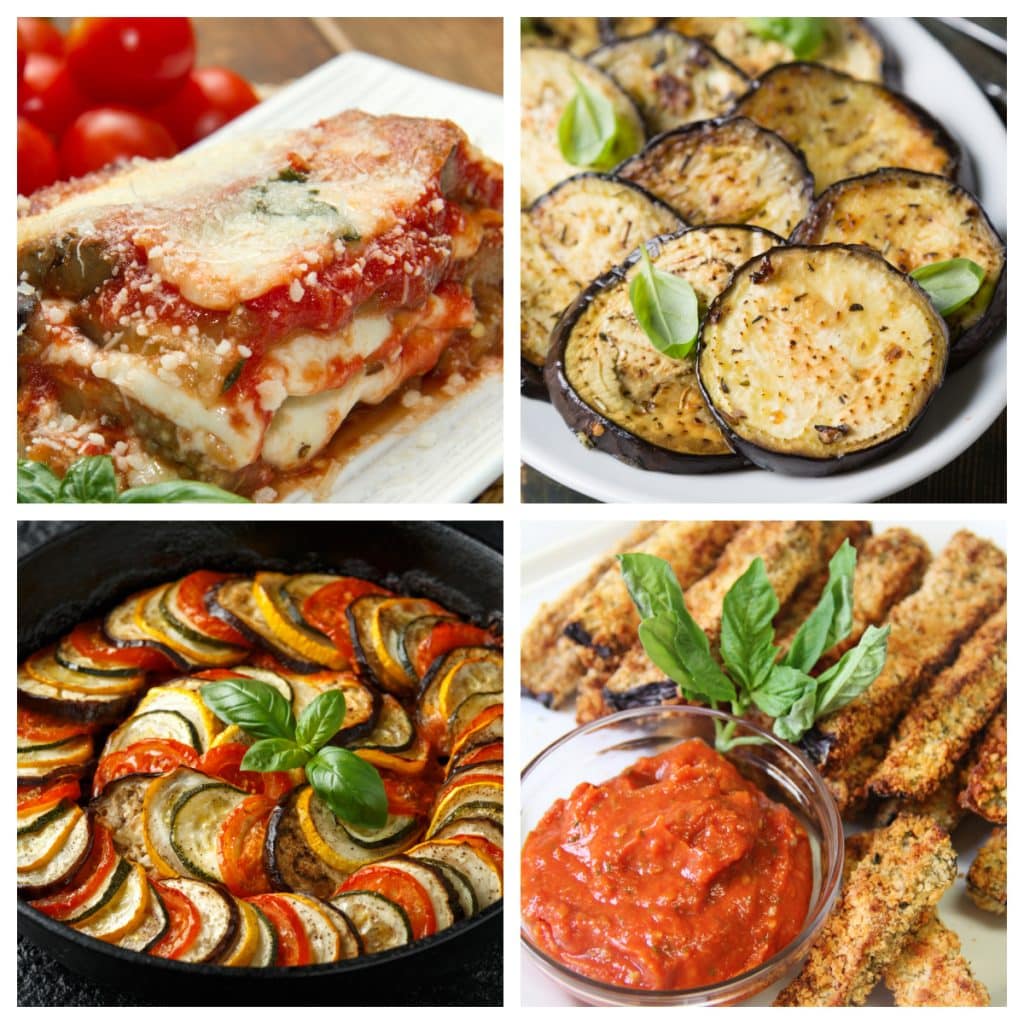 If I ask you to think of some eggplant recipes, I'm guessing eggplant parmesan or baba ganoush will be the first that come to mind. While delicious, these popular dishes don't even scratch the surface of what you can make with eggplant!
While often used like a versatile vegetable in recipes, eggplant is actually a fruit. In fact, it's a berry! There are many varieties, but the ones you'll find most often at your local store have a mild taste and soft texture that's amazing for soaking up other flavors.
From tacos or casserole for a hearty dinner to chips and fries as a tasty side, you'll be amazed by how much you can do with this tasty ingredient. Let's take a look at some of the best eggplant recipes!
Treat yourself to some authentic Greek cooking with classic Moussaka! This step-by-step recipe makes it super easy to whip up a comforting casserole with eggplant, ground meat, and a creamy sauce on top.
Let's face it: it's hard to beat eggplant parm! Pan fried crispy eggplant layered with marinara, mozzarella, Parmesan, and fresh basil come together for a vegetarian lasagna full of traditional Italian flavor. A delicious main dish for meatless Monday.
When you're craving something big and bold, baba ganoush delivers! The garlicky, zesty dip is perfect to enjoy with toasted pita triangles, chopped veggies, and crackers or as a spread on your favorite sandwich.
Whether you're following a keto way of eating or just want to cut back on pasta, eggplant is a super easy way to replace noodles while still enjoying all the cheesy comfort of homemade lasagna!
Fresh ingredients and a homemade tahini salad dressing make this plant-based Mediterranean-inspired dish an instant hit! Chickpeas, diced eggplant cubes, quinoa, tomato, and cucumber give it plenty of texture and crunch.
Eggplant slices stuffed with a cheesy ricotta blend, rolled up, and baked in a rich marinara sauce makes for an ultra-satisfying vegetarian dish! It tastes like lasagna but is so much easier to prep.
This Greek-inspired sheet pan dish is perfect when you want an easy and nutritious side! Eggplant, zucchini, tomatoes, onions, and garlic is the kind of warm and savory combination you'll want to serve with everything.
You won't be able to resist roasted eggplant stuffed with bold Italian sausage and tomato, topped with plenty of mozzarella cheese, and baked again to melty perfection! Easy to make and oh-so-satisfying.
Ditch the breaded crust for low-carb, gluten-free, vegan-friendly eggplant slices! Add your favorite marinara or white sauce, throw on some vegan faux-cheese or regular mozzarella, layer with your favorite toppings, and dig in.
This lighter take on the traditional Italian dish is made with eggplant, pasta, tomato basil sauce, and fresh cheese. There are also a few options for minimizing prep so you can have dinner ready in less than half an hour!
Don't let the name fool you: there's no meat in these meatballs! Hearty eggplant, earthy mushrooms, and just the right amount of garlic and cilantro are perfect for your next vegetarian pasta night.
Enjoy a rich, cheesy eggplant casserole that's brimming with fresh produce! Eggplant, mushrooms, tomatoes, bell peppers, and plenty of fresh herbs are topped with cheese and baked until bubbling, golden, and downright delicious.
Eggplant is perfect in this make-ahead dish you can bring to picnics, serve at summer barbecues, or use as meal-prep for the week. Chickpeas, crunchy veggies, tomatoes, and pasta are a light and delicious combination.
Sure, we all know the Disney movie… but have you tried the infamous dish behind the story? Fresh vegetables and squash roasted in a rich seasoned tomato sauce and garnished with herbs is simply unforgettable!
This healthy side dish is as simple as marinating eggplant slices in garlic and herbs, then tossing them on the grill until tender and golden brown. It's great as an easy side, or you can dress it up for a vegetarian main course!
You'll love the easy, everyday ingredients that go into this creamy soup! It's vegan, gluten-free, and so simple to throw together. I highly recommend topping with 15-minute roasted chickpeas for that extra bit of crunch!
This power-packed side is deceivingly nutritious! Eggplant spears are breaded with chickpea crumbs and then oven-fried to perfection for crispy dippers that are begging to be dunked in marinara sauce.
You won't believe the fabulously smoky flavor you get from charred or roasted eggplant! This unique twist on hummus (or chickpea baba ganoush, if you prefer) is super easy, healthy, and simply irresistible.
Is it a lasagna? Is it a pizza? One thing's for sure: it's downright delicious! Layers of eggplant, two types of cheese, dried tomatoes, and plenty of spices baked in a flaky pie crust makes for a wonderful appetizer or main course.
Eggplant, sweet potato, coconut milk, and a touch of harissa sauce simmer together for a vegan, gluten-free, slightly-spicy curry that's ready in about 30 minutes and fantastic for meal prep!
If you haven't tried this Moroccan eggplant dish, get ready for your taste buds to sing! Mash the ingredients into a smooth texture for a mouth-watering dip or chop the veggies to make a rich, warm salad.
Looking for a super fresh and meatless meal? It doesn't get much better than simple eggplant noodles tossed in a quick tomato basil sauce! Load it up with plenty of traditional or faux Parmesan and dig in.
You'll be surprised how little oil you need to turn eggplant slices into crispy chips! The combination of garlic powder, chili powder, dried oregano, and salt gives these crunchy bites the perfect flavor.
This lavash wrap sandwich is made with roasted eggplant, zucchini, and peppers wrapped up in a thin tortilla or bread with hummus, lettuce, and tomato for delightful taste and crunch in every bite!
Even if you've never fallen in love with a vegetarian sandwich before, the crispy eggplant, tomato-tarragon relish, and herb mayo in this hearty handheld meal is guaranteed to rock your world!
Also known as aubergine gratin, this crowd-pleaser features tender eggplant in a rich tomato cream sauce topped with Gruyere cheese and baked until golden, melty, and utterly irresistible. This is one you'll make again and again!
Whether it's Meatless Monday, Taco Tuesday, or any other day of the week, you can't go wrong making eggplant tacos! Layer with a creamy herb sauce, pickled onions, romaine, and a drizzle of hot sauce for serious plant-based deliciousness.
This Sicilian appetizer features roasted eggplant with sautéed bell pepper, celery, tomatoes, olives, and capers in a tangy-sweet red wine vinegar and honey dressing for a truly crave-worthy combination of flavors!
Juicy eggplant, hearty ground pork, and Thai sweet basil give this dish its signature, unforgettable taste! Toss in a mouthwatering sauce made with Thai chili paste for a delicious meal that's easy enough for weeknight dinners.
Want something yummy that's easy to make and ready in under 30 minutes? Try breaded Parmesan panko eggplant fried to perfection and served with shrimp in a Cajun-inspired cream sauce!
Did you try any of these easy eggplant recipes? Be sure to let me know.
More vegetable recipes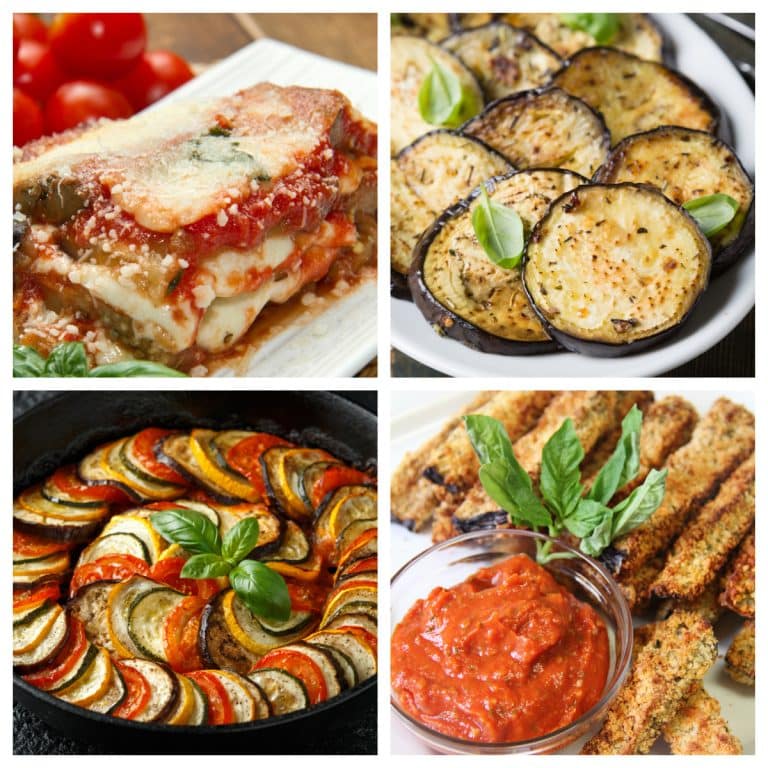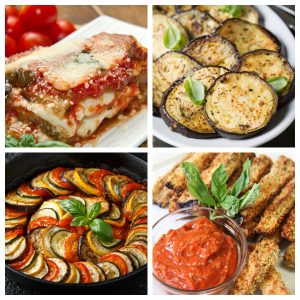 Best Eggplant Recipes
A collection of tasty eggplant recipes. 30 different eggplant recipes including this easy oven roasted eggplant.
Ingredients
1

eggplant

cut into cubes

2

tablespoons

olive oil

1

teaspoon

garlic powder

1/4

teaspoon

ground black pepper

1/4

teaspoon

salt
Instructions
Preheat oven to 350 degrees F.

Line a baking sheet with parchment paper.

Place eggplant cubes in a bowl. Toss with olive oil and seasonings.

Spread the eggplant out on baking sheet in a single layer.
Nutrition
Calories:
93
kcal
|
Carbohydrates:
7
g
|
Protein:
1
g
|
Fat:
7
g
|
Saturated Fat:
1
g
|
Polyunsaturated Fat:
1
g
|
Monounsaturated Fat:
5
g
|
Sodium:
148
mg
|
Potassium:
273
mg
|
Fiber:
4
g
|
Sugar:
4
g
|
Vitamin A:
27
IU
|
Vitamin C:
3
mg
|
Calcium:
12
mg
|
Iron:
0.4
mg
Nutrition information is automatically calculated, so should only be used as an approximation.
Like this? Leave a comment below!