Can You Freeze Mint Leaves – Guide To Freezing Fresh Mint Leaves
Fresh mint can be used for a variety of dishes and drinks. It's an herb that's nice to have on hand year round for those times you want to add freshness and flavor to your dish. Can you freeze mint leaves? Yes, in this article we are sharing how to freeze and preserve fresh mint leaves.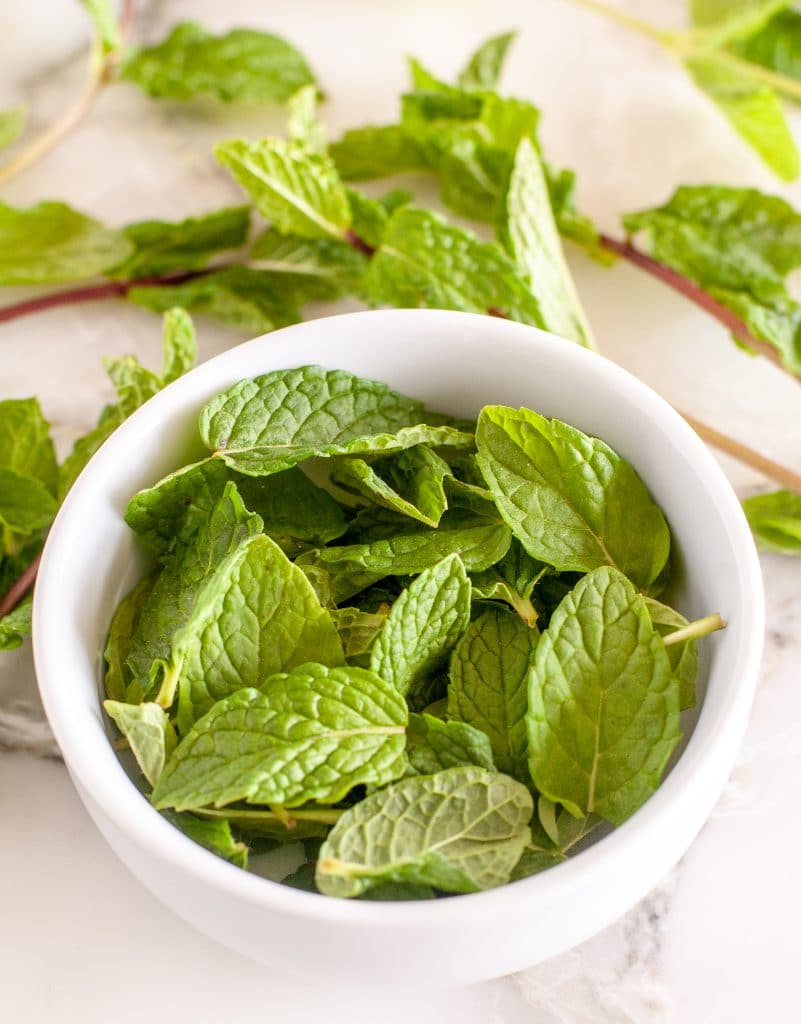 Mint is a wonderful, versatile herb that can be used in a wide variety of ways. Used for cocktails, desserts, salads, rice and more, this beautiful green plant is a great ingredient to have on hand.
This article covers different ways to freeze and store this flavorful herb to use for later. There are a couple of methods for freezing fresh mint leaves, freezing the whole leaf or freezing them into ice cubes.
What you need
Fresh mint – Use fresh, healthy mint.
Paper towels, clean dish towels or salad spinner – These are needed to help dry the herb once cleaned.
Ice cube tray – Used for freezing into ice cubes.
Baking sheet – Used for freezing individual leaves.
Freezer storage bags – Needed to store in the freezer.
Vacuum sealer and bags – If you are using the sealing method.
How to freeze mint to make it last longer
Freezing mint is the best way to extend the herb's vibrant color and flavor. It's important to use high quality, fresh leaves that aren't damaged or old to ensure you get the best tasting herb.
Freeze whole mint leaves on baking sheet
This is a wonderful way to freeze whole leaves. It's a good method to use if you know how many leaves you need.
Prepare: Gently rinse mint leaves and pat dry with paper towel or clean dish cloth. Be sure to try and get them as dry as possible. You could even use a salad spinner to help get them dry.
Freeze: Place individual leaves on a baking sheet lined in wax or parchment paper. You want the leaves to lay as flat as possible and to make sure that they are not touching. Freeze for 2-3 hours or overnight.
Pack: Place frozen mint leaves into freezer safe bags. Make sure to remove any excess air. Don't forget to label with date and freeze for up to 6 months.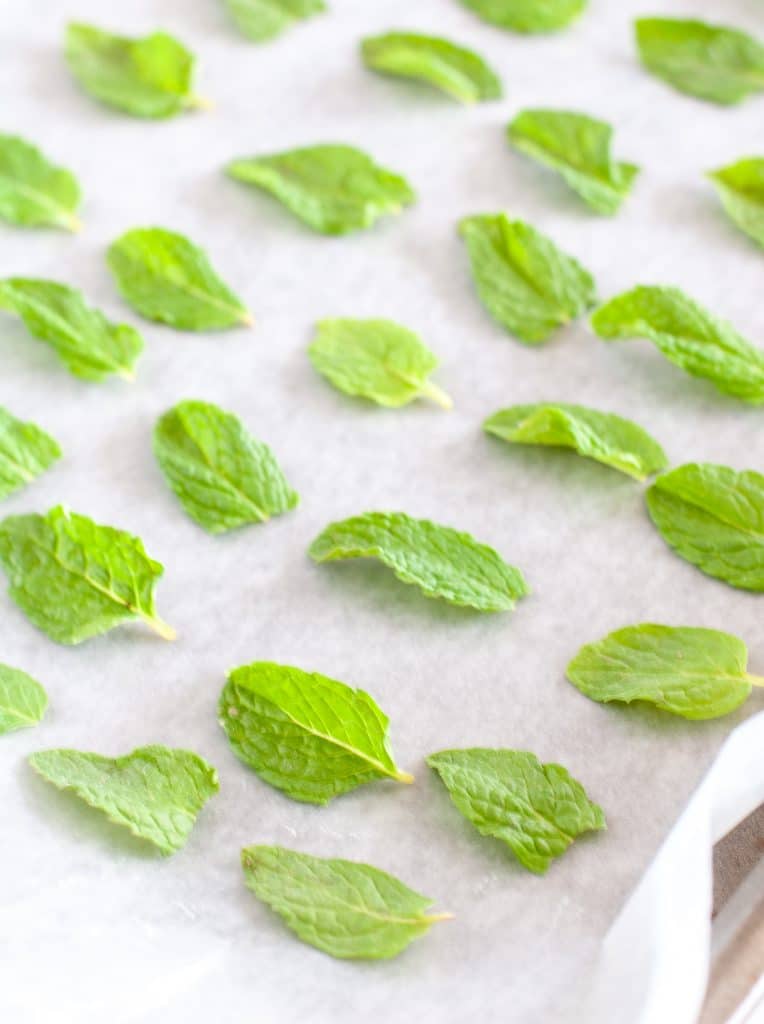 Freeze mint in ice cubes
This method enables you to thaw cubes easily as needed. These are great to add to soups and stews because they just melt into the dish.
Prepare: Remove any damaged leaves from fresh mint sprigs and discard. Remove the good leaves and gently rinse. Pat leaves dry between paper towels or clean cloth.
Portion out: You can freeze the leaves whole or choose to chop them up. Place 2-3 leaves or 1-2 teaspoons of chopped mint into each ice cube compartment in the ice cube tray.
Fill tray: Top the leaves with water and freeze the ice cubes. Make sure that the leaves are completely submerged in the water before freezing. Once the cubes have completely frozen, remove from tray and store in an airtight freezer bag for up to 6 months.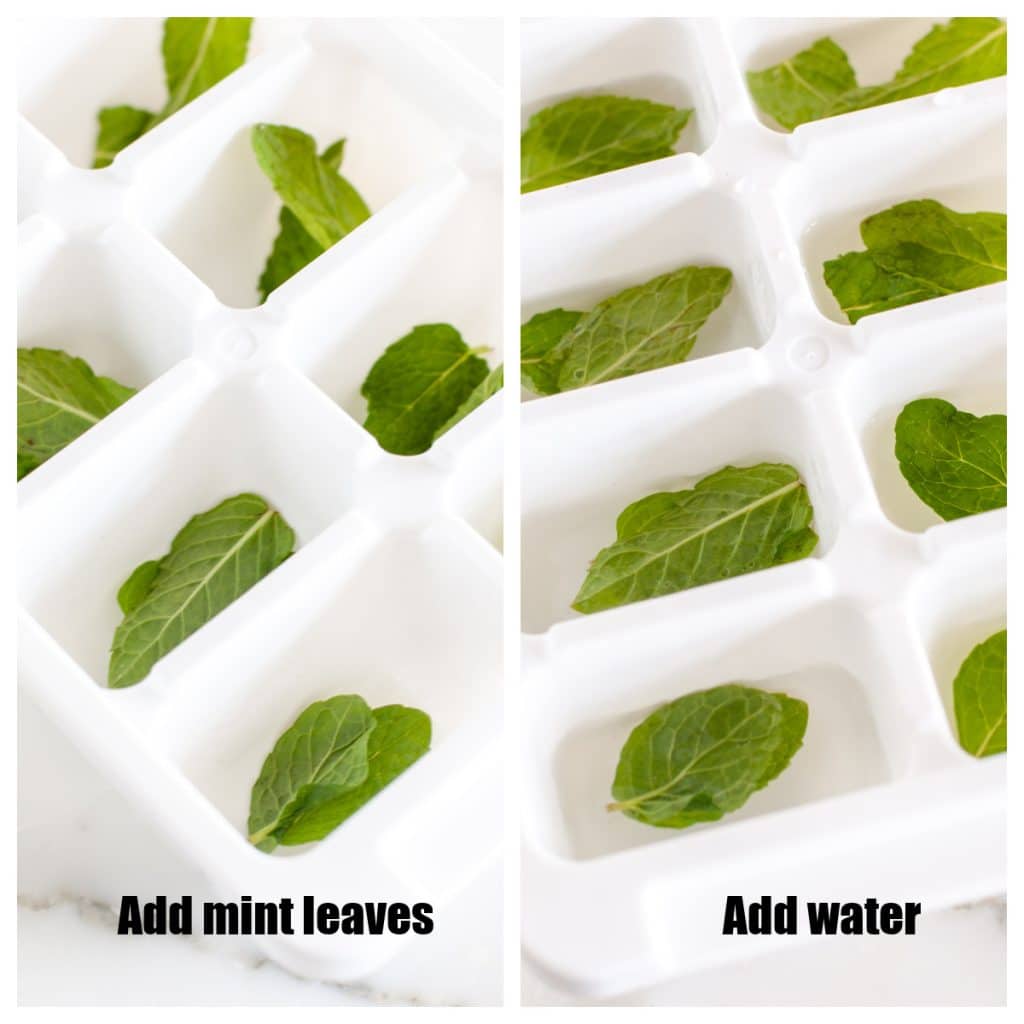 There are several different ways to use frozen mint ice cubes. They are perfect to add in drinks like tea, water, cocktails, punch, lemonade and more. They add such a great burst of flavor and color.
These cubes can also be added to soups, stews, rice and more. Simple add the cubes directly into the dish that's cooking so they will melt.
Freeze in vacuum sealer
Clean: Clean mint leaves and dry with paper towel or clean dish cloth. You can seal individual leaves or the whole mint sprig.
Prepare: Form a bag using the vacuum sealer materials. Make sure the bag is large enough to hold the sprigs or leaves.
Seal: Place mint in bag and then seal the open end with the vacuum sealer according to manufacturer directions.
Freeze: Freeze the vacuum sealed bag for up to 6 months.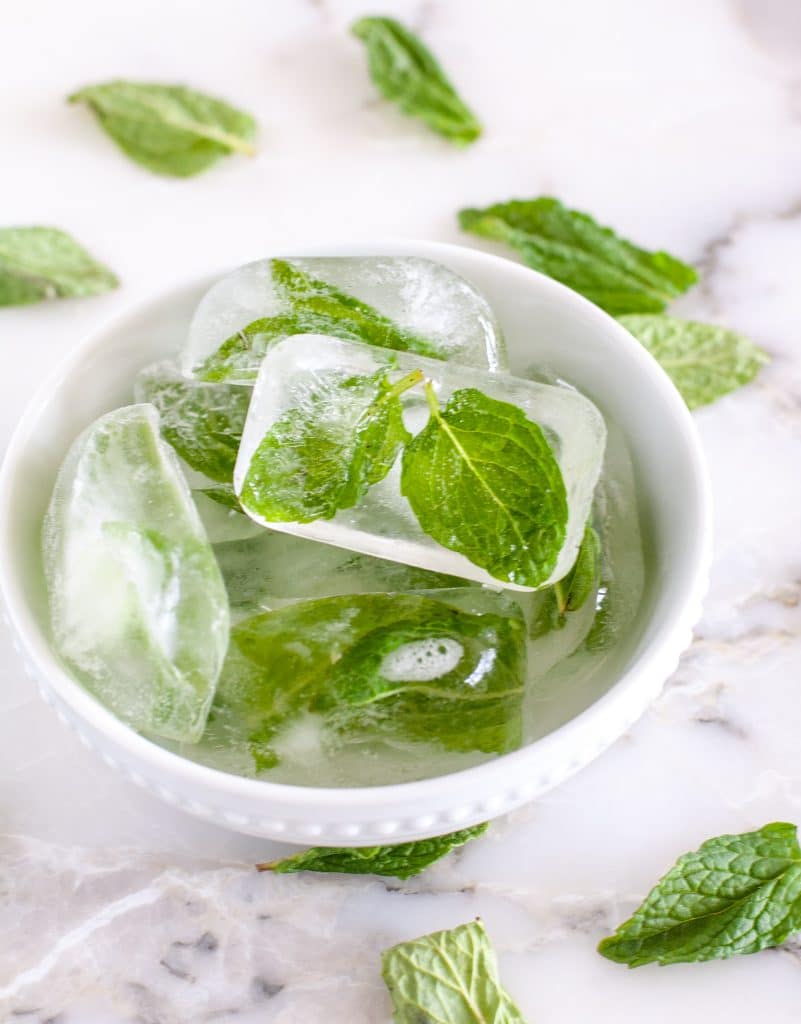 How to defrost
It's simple to defrost the leaves for use. Make sure to start thawing 2-3 hours before needed.
Defrost individual leaves
Remove the frozen leaves from the from freezer bag and place on a paper towel. This will help absorb any moisture while it's defrosting.
Let the mint thaw for 2-3 hours at room temperature.
Using a paper towel, pat any excess water off the leaves. Use as needed.
Defrost ice cubes
Take mint cubes out of freezer and place them in a fine mesh strainer. Place the strainer in your sink.
Turn your faucet to cold water and let the water run over the cubes.
Let the water run until the mint can be separated from the ice.
Pat dry with paper towel.
One thing to consider is that once the mint has been thawed, it can't be frozen again.