23 Best Chicken And Shrimp Recipes
This collection of chicken and shrimp recipes is packed with easy, high-protein meals to spice up your weekly menu! From Cajun-flavored delights to comforting classics, these mouthwatering meals offer something for every palate. Try a copycat recipe, savor a warm and cozy bowl, or try something totally new!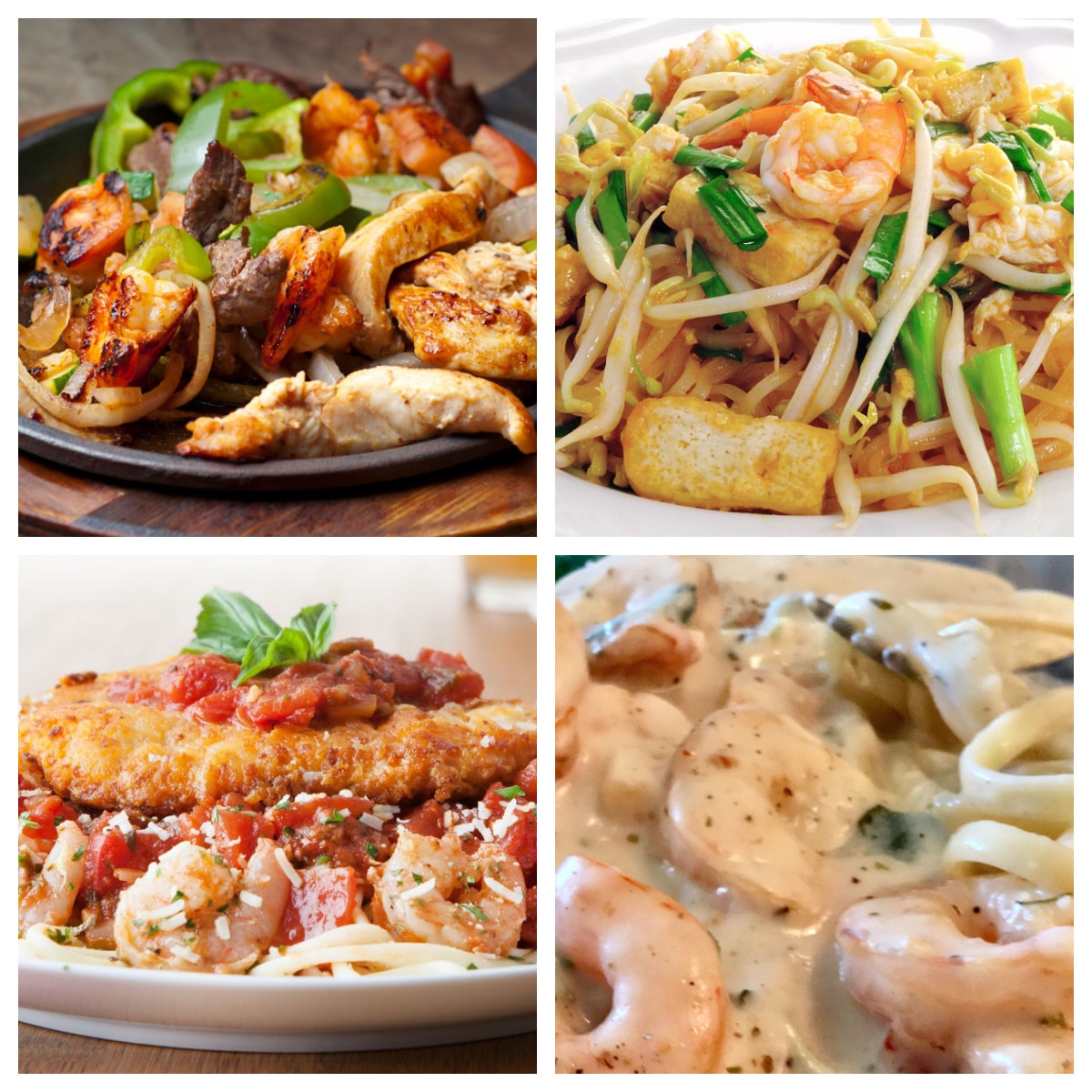 Looking to shake up your weekly menu with some exciting and fun protein pairings? Dive into our collection of chicken and shrimp recipes!
From dishes with bold Cajun seasoning that will transport your taste buds straight to the bayou to simple comforts like chicken and shrimp alfredo, this collection has inspiration for every palate. Try a copycat recipe like Outback's Queensland chicken and shrimp, some hearty paella, or comforting coconut soup!
No matter what flavors you're craving, these quick and easy dinner recipes are sure to satisfy. Let's dive in!
Sizzling chicken and shrimp come together in this easy Tex-Mex classic! Fresh bell peppers and onions combined with tender shrimp and chicken all wrapped in a soft tortilla is a true fiesta of flavor. This is sure to be dinner the whole family will enjoy.
Succulent shrimp, chicken, and beef wok-seared with crisp veggies in a glossy, savory sauce is a one-pot delight! This dish tastes even better than takeout and goes perfectly with steamed rice.
Treat yourself to rich pasta in a creamy Cajun-spiced sauce topped with juicy chicken chunks and plump shrimp! It's hearty, flavorful, and will transport you to Louisiana with every forkful. Ready in just 25 minutes!
Creamy Alfredo sauce meets crispy pancetta, juicy chicken, and tender shrimp in this amazing copycat Olive Garden recipe! Enjoy a restaurant quality meal from the comfort of your own home.
Spanish cuisine shines in this iconic dish! Saffron-infused rice with chicken, shrimp, and veggies seasoned to perfection and garnished with fresh parsley offers a taste of Mediterranean sunshine in every bite.
This bayou favorite showcases a Cajun chicken, shrimp, and sausage medley nestled in savory rice with tender veggies. It's a delicious one-skillet dish that's bursting with the spirit of New Orleans!
Welcome to pure indulgence in a bowl. Delicate strands of pasta coated in a creamy pasta sauce packed with seasoned chicken and succulent shrimp is the epitome of cozy comfort, Italian-style. This chicken and shrimp alfredo recipe is a must make.
If you enjoy sweet and savory flavors, you're going to fall in love with this restaurant-quality dish that can be ready in just 30 minutes! Tender chicken and shrimp take on a smoky, rich flavor from the Jack Daniels glaze.
When you need to clean out your veggie drawer, this Hibachi-inspired meal is a delicious way to make sure nothing goes to waste! Enjoy a quick stir-fry that's super satisfying served over rice with yum yum sauce.
Recreate Outback Steakhouse Queensland chicken and shrimp right at home! Juicy chicken and shrimp bathed in a rich, flavorful sauce makes the perfect dish when you're craving a gourmet meal without the price tag of dining out.
Capture the savory comfort of Louisiana in a bowl! Chicken, shrimp, okra, and spices meld in a hearty broth for a warm, spicy delight that promises comfort in every spoonful. Best of all, it's ready in 30 minutes!
Looking for an easy pad Thai recipe that tastes just like takeout? Garnished with peanuts and fresh herbs, it's a sensory journey to the heart of Bangkok. Keto and low-carb variations available!
Taco Tuesdays just got a serious upgrade. Chicken and shrimp are seasoned, grilled to perfection, and tucked into soft tortillas so you can simply add all your favorite toppings and dig in!
It doesn't get much more mouthwatering than this! Succulent chicken breasts are stuffed with a savory shrimp and alfredo filling, then baked to golden perfection. This dish is easy to make but guaranteed to impress!
Enjoy Thai-inspired comfort in a bowl! Creamy coconut milk with tender chicken, shrimp, and aromatic spices is a soul-soothing experience that's sure to warm you up and tastes even better than takeout.
The best part about this recipe is that you can make it 4 different ways so you never get tired of it! Try the dumplings steamed or fried, and you can wrap them in the traditional dumpling wrappers or tofu skin.
Golden on the outside, juicy on the inside, and paired with a zesty chili sweet and sour sauce for dipping, these tantalizingly crispy bites are the perfect appetizer to kickstart any meal or gathering.
Marinated in a bold jerk seasoning and grilled to smoky perfection, these skewers are packed with irresistible sun-kissed flavors! Juicy chunks of pineapple make them a summer barbecue essential.
These wraps are a delightful combination of cool crispness and warm savory filling! Spiced chicken and succulent shrimp are stir-fried with a medley of veggies, then stuffed into crisp lettuce leaves for a perfect light yet satisfying meal.
Who can resist the decadently creamy sauce of a classic carbonara? This rich pasta dish is loaded with savory flavors for a bowl of pure comfort. The bacon really elevates the experience!
One-pan meals are amazing for easy prep and quick clean-up. And when one includes creole-seasoned chicken and shrimp roasted alongside a medley of colorful veggies, it's sure to become a meal the whole family will love!
A great copycat recipe of a restaurant favorite. This chicken and shrimp recipe is made with seasoned chicken and shrimp. Serve with rice for a full meal.
Delicious Spanish rice is cooked with chicken thighs, chorizo, and shrimp. Full of amazing flavor, this dish is a must try.
Did you try any of these delicious dinner recipes?
More easy shrimp and chicken recipes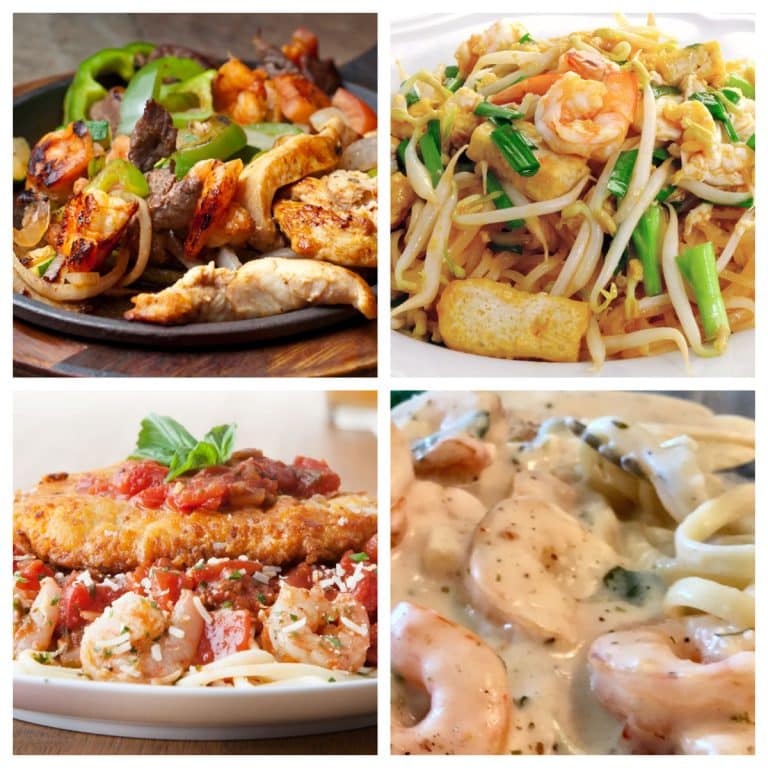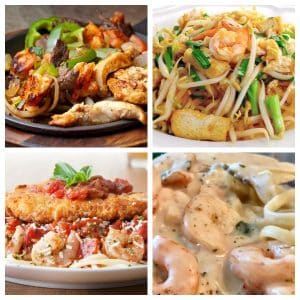 Chicken And Shrimp Recipes
Some of the best chicken and shrimp recipes. Easy and delicious recipes like chicken and shrimp stir fry, copycat queensland chicken and shrimp and more.
Ingredients
3/4

cup

teriyaki sauce

2

chicken breast, diced into 1/2-inch pieces

1

pound

peeled, deveined shrimp

1

cup

red bell pepper, diced

1/2

onion

diced

1/2

cup

mushrooms, sliced

2

tablespoons

vegetable oil

1

teaspoon

salt

1

teaspoon

ground black pepper
Instructions
Season chicken and shrimp with salt and pepper.

In a large skillet, warm the oil over medium heat. Add diced chicken and cook until chicken starts to brown and cook through. Remove chicken and set aside.

Add the vegetables to the skillet and cook for 2-3 minutes. Add chicken, shrimp, and teriyaki sauce. Stir to combine everything and cook another 2-3 minutes or until shrimp is cooked through.
Nutrition
Calories:
59
kcal
|
Carbohydrates:
11
g
|
Protein:
4
g
|
Fat:
0.1
g
|
Saturated Fat:
0.03
g
|
Polyunsaturated Fat:
0.1
g
|
Monounsaturated Fat:
0.01
g
|
Cholesterol:
0.1
mg
|
Sodium:
2653
mg
|
Potassium:
207
mg
|
Fiber:
1
g
|
Sugar:
9
g
|
Vitamin A:
1169
IU
|
Vitamin C:
48
mg
|
Calcium:
19
mg
|
Iron:
1
mg
Nutrition information is automatically calculated, so should only be used as an approximation.
Like this? Leave a comment below!