Couscous is one of those pantry staples that you can prepare and serve pretty much any way you would like. It makes an excellent hearty side dish, a delicious base for an entree, and can even be made into a dessert. Yes, I'm serious!
These couscous recipes are some of the best! They're healthy, quick, fresh, delicious…okay, you get the idea. There is just so much potential.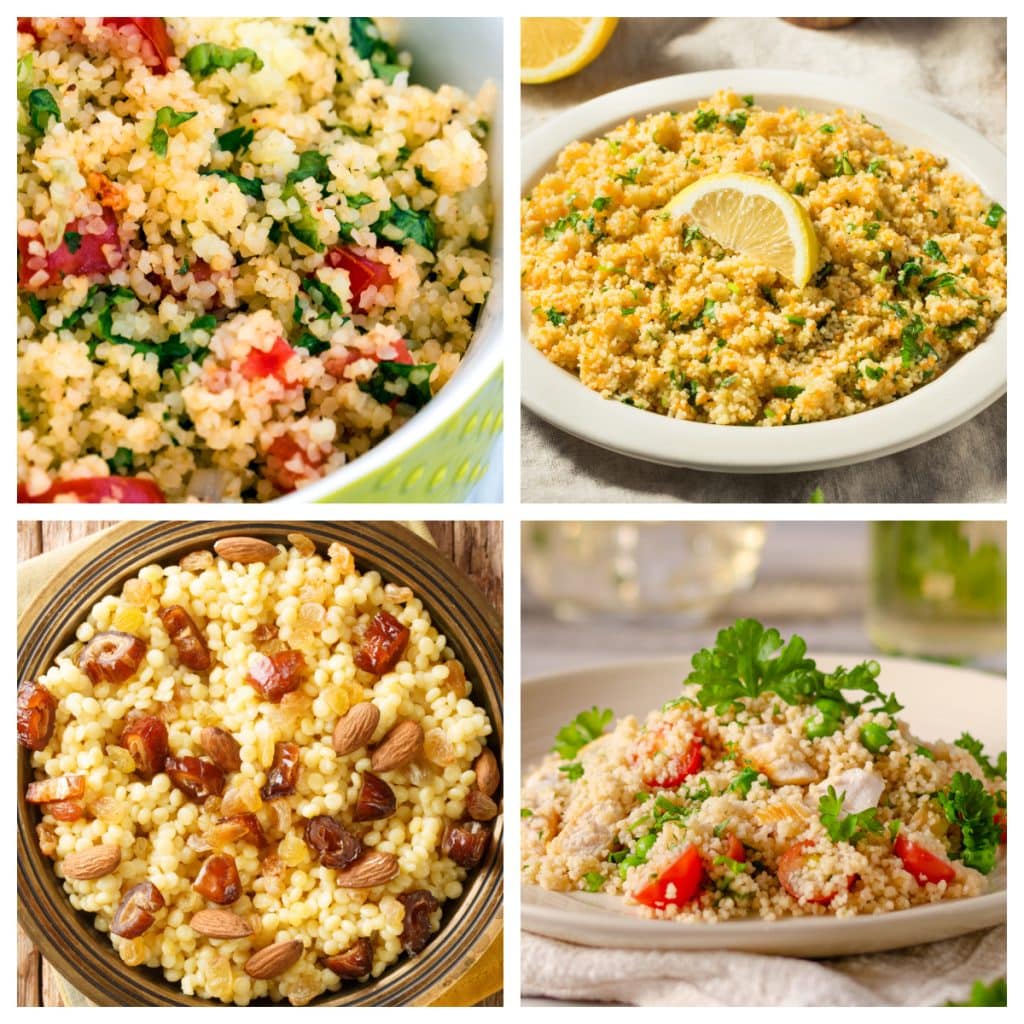 What is couscous? You might be surprised to find out that couscous is not a grain, it's actually tiny pasta. Couscous is one of the smallest pasta shapes and can be used in similar ways to some of these orzo recipes.
Here you can discover all of your favorite couscous recipes in one place!
Full of nutrients, seasonings, and flavor, this Mediterranean couscous salad makes for the perfect cold lunch. This salad is packed with flavor!
The colorful vegetables mix with the zingy lemon dressing to make a tasty meal you're guaranteed to love.
This Moroccan couscous recipe combines juicy chicken with a variety of flavorful Moroccan spices for a dish enriched with great flavor.
The fluffy couscous is mixed with cinnamon, ginger, red onion, raisins, and more for a flavor and texture packed meal. Just 15 minutes to prep!
Sweet, easy, and delicious! What more could you ask for? We love this simple couscous recipe. It has a zesty lemon flavor that mixes super well with the chicken broth and other flavors. And the best part? It comes together in only 10 minutes! A delicious and easy side dish for things like pork, chicken, and fish.
This couscous chicken soup is my favorite dish to make when I am feeling a bit under the weather. It's got great immune-boosting ingredients like ginger, turmeric, garlic, lemongrass, and more! Plus, this soup recipe is so comforting and tastes amazing. What could be better than that?
This southwest couscous salad is completely vegan-friendly, super tasty, and very easy to make! It is packed with ingredients with great flavor, such as peppers, scallions, tomatoes, lemon, and lots more. Throw this together and you'll have a dish perfect for any occasion!
Israeli couscous salad is a great vegetarian side dish for your next meal! Full of fresh ingredients like cherry tomatoes, cucumbers, mint, lemon, and others! Toss everything together in just a few minutes, pair with toasted pita chips, and you're set!
This is a must-try recipe for herbed couscous. It uses a delicious fluffy pearl couscous with garlic and herbs, and a little lemon for a kick of tangy brightness. This recipe makes a delicious side dish for any meal or can be served on its own as a light lunch or tasty late afternoon snack.
For you seafood lovers out there, this shrimp and couscous recipe is a great option! The creamy buttery taste just melts in your mouth, while the lemon brings a nice pop of flavor. This dish is absolutely delicious, and comes together in under an hour!
This avocado and corn couscous is a delightful summer side dish for potlucks, parties, or family get-togethers! It's made with fresh, crunchy summer veggies tossed with tender pearl couscous, and mozzarella pears all smothered in a tangy white balsamic vinaigrette. You will love this recipe!
With this Thai peanut chicken couscous recipe, you really can't beat its flavor. It's made with fluffy couscous mixed with a creamy peanut butter, chili paste, coconut milk, ginger, and so much more. All of the flavors balance so well together so you get a little bit of everything. We swear it gets better with each bite!
When you're looking for a bright flavored summer dish, this Israelian-inspired recipe is just right. You'll get freshness in every bite with this cherry tomato couscous salad! It tastes good, and will make you feel even better! It's packed with nutrients and lots of flavor. There's nothing better!
With sweet potatoes and chickpeas, this Moroccan couscous is healthy, flavorful, and all around delicious! It's made with a wide variety of seasonings, lemon juice, honey, garlic and lots of love! Garnish with lemon slices and parsley and enjoy!
Not only does turmeric have lots of health benefits, but it also tastes great, especially in this turmeric pearl couscous recipe! This dish is flavored with broth, turmeric, cinnamon, and shallots, then garnished with golden raisins, fresh herbs, and toasted pine nuts. It's hard to resist going back for seconds of this one!
A cheesy couscous recipe that comes together in only 15 minutes? Sign me up! This parmesan couscous recipe uses simple ingredients, like parmesan cheese, for the ultimate flavor. Its creamy texture is combined with a comforting taste to make an all around superb dish!
This Italian couscous recipe has the classic flavor of garlic and herb, mixed with juicy tomatoes and lemon. This recipe tastes so good, and you can enjoy it served hot or cold! No matter the temperature, this couscous makes for the perfect side dish.
I don't know about you, but in my opinion creamy dishes make the most comforting dishes. That's why I love to make this creamy couscous as one of my go-to comfort meals! It uses parmesan and creme fraiche for that velvety texture, and loads of veggies and seasonings for flavor and texture.
I am a BIG mushroom fan, so when I found this mushroom and herb couscous recipe, I was all about it! No matter how many times I make this recipe, it never gets old. It's got immense flavor, but the recipe is super simple, coming together in barely any time at all!
These cakes are a fun way to use up any leftover couscous you might have in your fridge…Although they're good enough to make a fresh batch too!
An easy side dish that is made with cooked and seasoned couscous formed into patties with eggs and cheddar, then pan-fried until golden and crispy. These mouthwatering cakes come together in just 15 minutes!
This Greek couscous salad combines pretty much all of my favorite foods in one mouth watering dish. Juicy tomatoes, tangy feta cheese, olives, and garbanzo beans all come together with perfectly cooked, fluffy couscous to form a fresh, simple, but delicious dish. Top it off with a zesty lemon dressing and dig in!
Couscous for breakfast? You bet! This breakfast couscous recipe is the perfect way to start your day off right. It's a fun twist on oatmeal starting with a warm and creamy couscous base mixed with walnuts, dried fruit, and any other toppings you might enjoy!
Bring an Israeli-inspired dish to your table by making this shrimp with couscous recipe! This is a great dish for family gatherings, parties, or any occasion. It's made with juicy shrimp and fresh veggies that is layered onto a flavorful bed of couscous. Serve with some warm French bread for the perfect fresh, hearty, and tasty meal.
A dessert couscous? I'm all for it! This will soon be one of your favorite couscous recipes. It makes for the perfect sweet treat after dinner! Using only a few ingredients, this recipe is super easy and fast to make. It's made with butter, water, couscous, and powdered sugar for sweetness! Place your favorite toppings on top, and you're all set with the perfect dessert.
This creamy couscous risotto recipe uses mushrooms, spinach, and chestnuts for mouthwatering flavors you won't be able to resist. It's a great vegetarian meal option, and it is definitely a crowd pleaser. Serve on any occasion and it's guaranteed to be a hit!
If you're anything like me, pesto is a go-to sauce. If that's you, you will love this pesto couscous recipe! It's made with a vegan arugula walnut pesto, Israeli couscous, and fresh, chopped tomatoes for delectable flavors and textures in every bite. This dish is simple, healthy, creamy, and so tasty!
This Moroccan-inspired dish is a great meal to expand your palate. Cauliflower couscous salad uses so many flavorful ingredients like almonds, zucchini, peppers, onions, and apricots all tossed in a fresh balsamic dressing. This one is a family favorite in our house, and it will be in yours too!
Will you be making any of these delicious recipes? Let me know in the comments.
More pasta recipes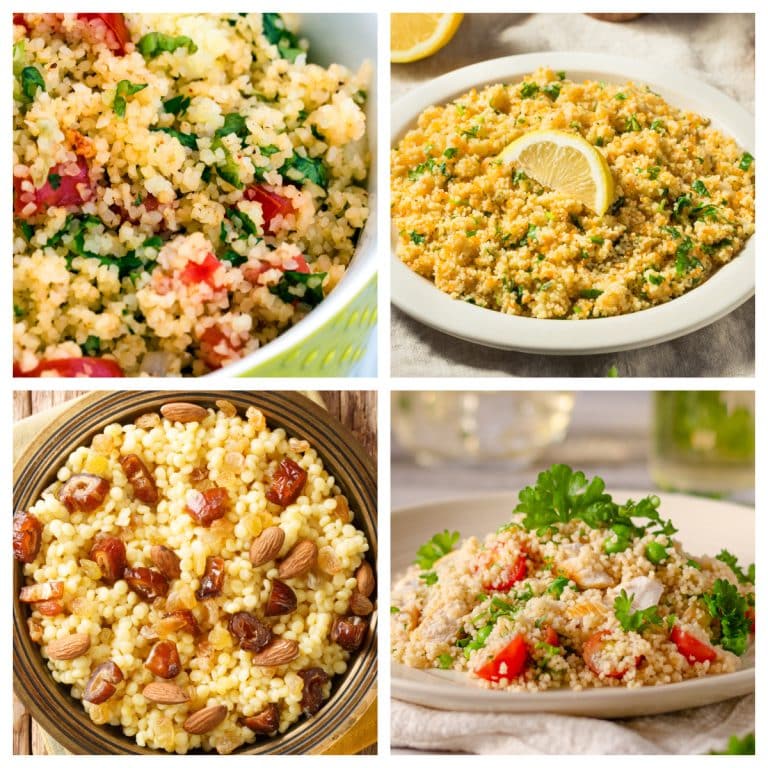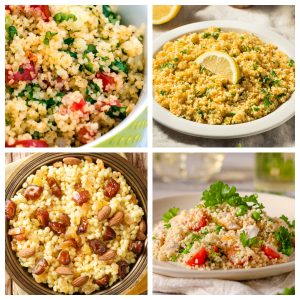 Couscous Salad
A collection of delicious couscous recipes. These couscous recipe range from breakfast, side dishes, main dishes, and even couscous dessert.
Ingredients
2

cups

couscous

2 1/2

cups

chicken broth

1/2

teaspoon

salt

1/4

teaspoon

ground black pepper
Instructions
Heat chicken broth in a medium size sauce pan over medium heat.

Bring the broth to a boil and then pour in couscous. Cover with a lid.

Remove the sauce pan from the heat and let the couscous sit covered for 5 minutes.

Carefully take off the lid, add in salt and pepper and stir to fluff.
Nutrition
Calories:
334
kcal
|
Carbohydrates:
68
g
|
Protein:
12
g
|
Fat:
1
g
|
Saturated Fat:
0.1
g
|
Polyunsaturated Fat:
0.2
g
|
Monounsaturated Fat:
0.1
g
|
Cholesterol:
3
mg
|
Sodium:
844
mg
|
Potassium:
172
mg
|
Fiber:
4
g
|
Sugar:
1
g
|
Vitamin A:
4
IU
|
Calcium:
27
mg
|
Iron:
1
mg
Nutrition information is automatically calculated, so should only be used as an approximation.
Like this? Leave a comment below!