50 Best Canned Pumpkin Recipes
Jun 08, 2022, Updated Aug 04, 2022
We all know pumpkin is the star of autumn cooking. But once you take a peek at these delicious canned pumpkin recipes, you'll want to enjoy this beloved fall ingredient all year round! From gooey butter cakes to savory soups and rich gnocchi to decadent cobbler, there's so much to enjoy. You'll be amazed how far a can of pureed pumpkin can take you!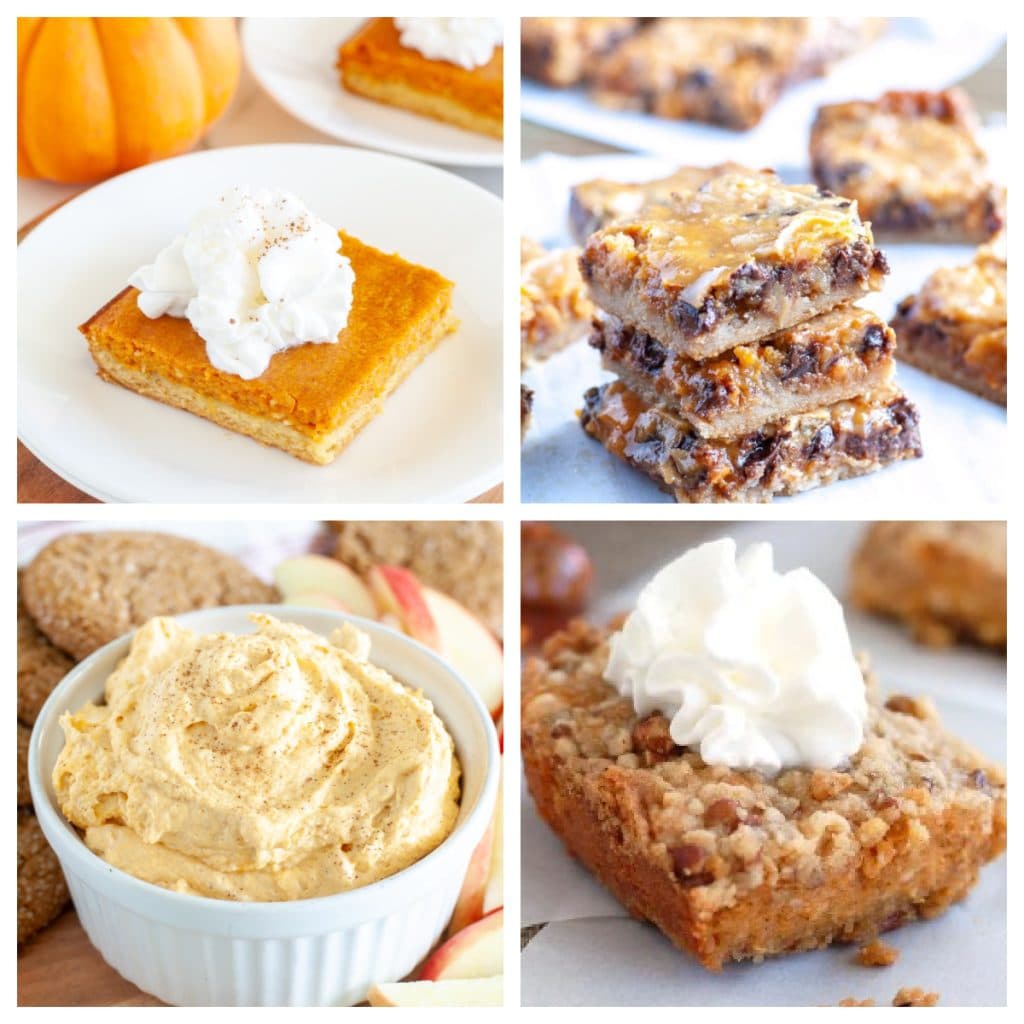 Ever since Starbucks introduced the Pumpkin Spice Latte all those years ago, it's become impossible to think of fall cooking without thinking of pumpkin. And thanks to this list of canned pumpkin recipes, I'm definitely not complaining!
With over 50 delicious dishes, this collection is sure to help you make the most of fall's favorite ingredient. You may even want to make a few of these all year round! Trust me, pumpkin tastes just as amazing no matter the season.
From savory dishes like mac and cheese or ravioli to sweet delights like bread pudding or custard cake, there's a recipe for every occasion. You'll definitely want to stock up on your next trip to the store!
Inspired by Paula Deen's classic recipe, this decadent dish is made with a cake mix crust and topped with dense, creamy, sweet pumpkin filling that uses a can of pumpkin puree. It's perfect for fall and winter, but you'll crave it all year round!
It'll be love at first bite when you try these bars! Featuring a rich and creamy pumpkin cheesecake on top of a delicious crust and topped with a sweet crumb topping, this one will be an instant fall classic!
The name says it all. Made by layering different ingredients and then baking to perfection, these gooey dessert bars are packed with chocolate chips, butterscotch chips, and rich pumpkin!
It doesn't get much better than this Thanksgiving classic. The no-fuss recipe is super easy and turns out oh-so-delicious every time! Top with a dollop of whipped cream or enjoy a slice all on its own. One of our favorite recipes for pumpkin pie!
Smooth, creamy, and downright delicious, this pumpkin dip tastes like pumpkin pie in a bowl! Serve it with apple slices, ginger snaps, sugar cookies, or even pretzels for a sweet appetizer or crowd-pleasing dessert.
This wonderful appetizer is as beautiful as it is delicious! Creamy pumpkin hummus is finished off with roasted pumpkin seeds and bright red pomegranate seeds for a tasty dish that will impress any holiday crowd.
Would you believe you only need 7 ingredients to make this phenomenal dessert? Spiced pumpkin cheesecake is layered on top of thick sweet cheesecake over a graham cracker crust for a truly gorgeous pie.
For an easy dessert recipe, try this silky pumpkin pie base with a crumbly cake topping loaded with nuts for a super satisfying crunch! The amazing layers will make it the star of family get-togethers for years to come.
Pumpkin sheet cake spiced with cinnamon and cloves, topped with cream cheese frosting, and rolled into a festive log is the quintessential fall dessert. It's insanely delicious and even easier to make than you think!
Canned pumpkin puree makes this pumpkin soup recipe a breeze to throw together! Caramelized onion, cinnamon, nutmeg, and ginger give every thick and creamy bowl such amazing warm flavor.
Forget leaving the house to pick up Starbucks or Dunkin and whip up this rich and tasty copycat pumpkin spice latte right in your own kitchen! All you need is pumpkin puree, pumpkin spice mix, and a few other pantry staples.
This beautiful fall pasta dish is creamy, cheesy, and baked in the oven with a buttery bread crumble on top! It's great comfort food that's super easy to prep and can be ready to serve in less than an hour.
Moist, tender, and loaded with warm spices, this easy bread will be your new favorite snack or dessert! Similar to what you might find at your favorite coffee shop, the recipe makes two loaves so you can enjoy one fresh and freeze the other to enjoy later in the season.
Fluffy homemade cornbread is packed with a tasty blend of brown butter, pumpkin, and pumpkin spice. The brown butter gives it a fragrant nuttiness that totally takes this recipe to the next level!
These pumpkin streusel muffins are delightfully soft and full of warm pumpkin spice flavor. The crunchy cinnamon streusel and drizzle of vanilla glaze on top make them a standout dessert you'll want to make again and again.
You won't believe how rich and creamy this sauce is… even non-pumpkin lovers will go crazy for it! It comes together in less than 20 minutes and is perfect over fettuccini, penne, spaghetti, or any of your favorite noodles.
For a savory meal you'll want to make over and over, healthy pumpkin chili is oh-so-satisfying! The silky texture blends beautifully with any ground meat. Best of all, the leftovers will taste even better the next day!
Super easy baked risotto requires less than 20 minutes of prep! It's decadently creamy and bursting with cozy pumpkin flavor, warm spices, earthy crispy sage, nutty Parmesan, toasted pepitas, and luxurious browned butter.
This savory pumpkin recipe includes black beans, green chiles, and plenty of delicious melty cheese! A touch of cinnamon really brings all the flavors together for a quick and easy meal.
Pre-made gnocchi, pumpkin, kale, and sausage make this one pan dinner super hearty, cozy, and flavorful. Best of all, it can be ready in about half an hour for a perfect dinner any night of the week!
Pumpkin puree and pumpkin spice are the stars of this cheesy, savory dish. It's delightfully comforting and can be served for breakfast or as a side for almost any meal. Garnish with fresh thyme or sage and enjoy!
You're going to want to slather this on top of bagels, toast, and graham crackers all season long. It's also fantastic for dipping sliced apples! You only need 6 ingredients, and everything comes together in minutes flat.
Enjoy all the classic dessert flavors of pumpkin pie in the form of this nutritious and easy breakfast! You have the option to make this recipe on the stove, in the microwave, or as easy overnight oats.
These pumpkin cookies are sinfully soft and will absolutely melt in your mouth! And who doesn't love combining pumpkin and chocolate? They're super easy to make from scratch with basic pantry ingredients.
Ditch the boxed mix and give this easy homemade pumpkin pudding a try! It has the perfect creamy texture for an indulgent dessert your family will ask you to make again and again. Make sure to top with whipped cream!
Pumpkin puree and vanilla ice cream come together for an irresistible treat that's ready in less than 5 minutes! This one is perfect for the end of summer when you're craving fall flavors but the temperatures haven't quite dropped yet.
For a healthy autumn dinner, this vegetarian pumpkin and ricotta lasagna is flavorful and so easy to make. It uses less dairy than regular lasagna but still turns out super creamy and includes plenty of hearty spinach.
This dessert deserves to be a staple for all pumpkin lovers! Bread puddings are a breeze to throw together, and adding pumpkin gives the dish irresistible fall vibes. Top with ice cream and caramel and dig in!
Yellow cake mix, pumpkin, pumpkin pie spice, and some seasonings with a sprinkling of your favorite nut on top come together for everything you love about pumpkin pie in the form of a quick-prep baked dessert!
Light, fluffy, and packed with warm spices, you're going to want to make this recipe for breakfast or brunch all season long. The pumpkin keeps the pancakes incredibly moist. Don't forget the maple syrup on top!
This indulgent breakfast is extra fluffy with perfectly golden edges, just the right amount of spices, a hint of brown sugar, and tons of pumpkin. It's practically begging to be topped with whipped cream and maple syrup!
Dig in to this rich sweet treat that's just the right amount of fudgy and chewy with a ribbon of pumpkin cheesecake swirled in. I love that the brownies still get that classic and shiny exterior! Try topping with a scoop of pumpkin ice cream!
It doesn't get much better than this sweet, buttery decadence! Enjoy it as a topping for biscuits and scones, use it as the base for smoothies and shakes, or go ahead and lick it right off the spoon. There's no wrong way to eat it!
Soft and tender pastries topped with both white and pumpkin glaze are a fantastic copycat version of the beloved Starbucks scones! They're simple to make, and the dough doesn't require any chill time.
Crunchy, buttery streusel topping over a wonderful coffee cake packed with pumpkin flavor is just what you need for holiday brunches or fall get-togethers! It's also a great excuse to eat cake for breakfast.
Need a delicious snack idea? This no-bake, easy recipe uses the classic pumpkin and chocolate chip combo to satisfy your sweet tooth any time of the day. And you probably already have all of the ingredients in your pantry!
These amazing cookies are soft, chewy, and loaded with the best flavors of fall! This recipe does require some chilling, but it is overall very easy to make. And trust me, the cookies are absolutely worth the wait!
Treat yourself to a dozen soft and fluffy donuts coated in cinnamon sugar! This simple homemade recipe can be ready in 30 minutes and is baked instead of fried for added convenience.
What could be better than homemade ravioli stuffed with a pumpkin-flavored filling and topped with a garlic brown butter sauce? The hint of nutmeg really takes the flavor of this fall pasta dish to the next level!
Smooth, creamy, layered pumpkin magic custard cake will remind you of a crustless pumpkin pie! It's a foolproof recipe packed with fall flavors and an incredible combination of cake textures.
Let's give the classic New England dessert a fall upgrade with pumpkin, spices, and maple cream cheese frosting! It's a budget-friendly recipe that's a fun alternative to cupcakes when you're baking for a crowd.
When you need a cozy breakfast to warm you up on a chilly fall day, these cinnamon rolls are the perfect solution! They're soft, delicious, and packed with wonderful pumpkin flavor. And who can resist that frosting?
One of the best ways to use canned pumpkin. You're going to fall in love with this creamy dessert lasagna! Cream cheese, Cool Whip, and pumpkin layers over a graham cracker crust come together for a uniquely irresistible treat.
Whether you serve it as a breakfast, snack, or dessert, this tasty treat made with a box cake mix delivers the perfect mix of fall flavors. It's easy enough that you can throw it together on a busy weeknight!
A combination of pumpkin puree, dates, almond butter, and warm fall spices give you a wonderful healthy twist on the classic fall dessert. It's super creamy with a delightful natural sweetness.
With less than 10 minutes of prep and no baking required, you can have a quick and easy, creamy pumpkin dessert ready for the whole family to enjoy! Crumbled gingersnaps add a satisfying crunch.
Soft and sweet fudge bursting with pumpkin flavor will be the highlight of all your fall celebrations! You can also freeze your extra fudge and store it for up to 3 months so you have this tasty treat on hand all season long!
The moist spice cake mix is doctored up with ingredients like canned pumpkin and pumpkin spice, then swirled with cream cheese filling and topped with milk chocolate chips. True to the name, this one will shake up your world!
These pastries are a fun and tasty alternative to classic pumpkin pie. Simple pumpkin filling wrapped in a flaky crust can be ready in about 20 minutes and will be gobbled up just as quickly!
Traditional sugar cookies just got even better thanks to the addition of pumpkin! Soft, chewy, and slightly spicy cookies with a sweet glaze are such a delightful way to celebrate the season.
Store any leftover pumpkin puree in an airtight container in the refrigerator.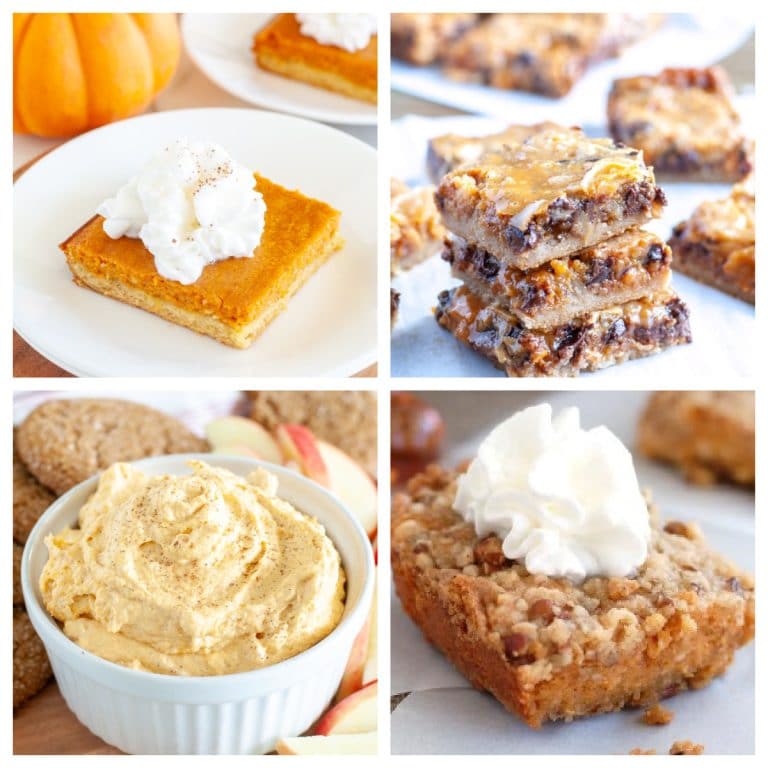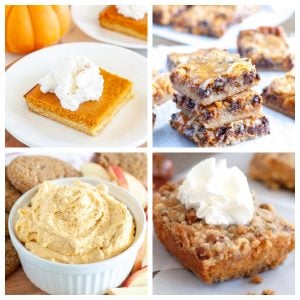 50 Canned Pumpkin Recipes
50 amazing canned pumpkin recipes. This list of recipes has everything from pumpkin pasta to pumpkin cake.
Instructions
Store any leftover pumpkin puree in an airtight container in the refrigerator.

It will keep for up to 5 days in the refrigerator. Use for any of these canned pumpkin recipes.
Nutrition
Calories:
145
kcal
|
Carbohydrates:
34
g
|
Protein:
5
g
|
Fat:
1
g
|
Saturated Fat:
1
g
|
Polyunsaturated Fat:
1
g
|
Monounsaturated Fat:
1
g
|
Sodium:
21
mg
|
Potassium:
876
mg
|
Fiber:
12
g
|
Sugar:
14
g
|
Vitamin A:
66143
IU
|
Vitamin C:
18
mg
|
Calcium:
111
mg
|
Iron:
6
mg
Nutrition information is automatically calculated, so should only be used as an approximation.
Like this? Leave a comment below!