Homemade Popsicles for Dogs
Jun 04, 2018, Updated Jul 25, 2023
Homemade dog popsicles are super simple to make at home. With just a few ingredients you can make a frozen treat your furry friend will love.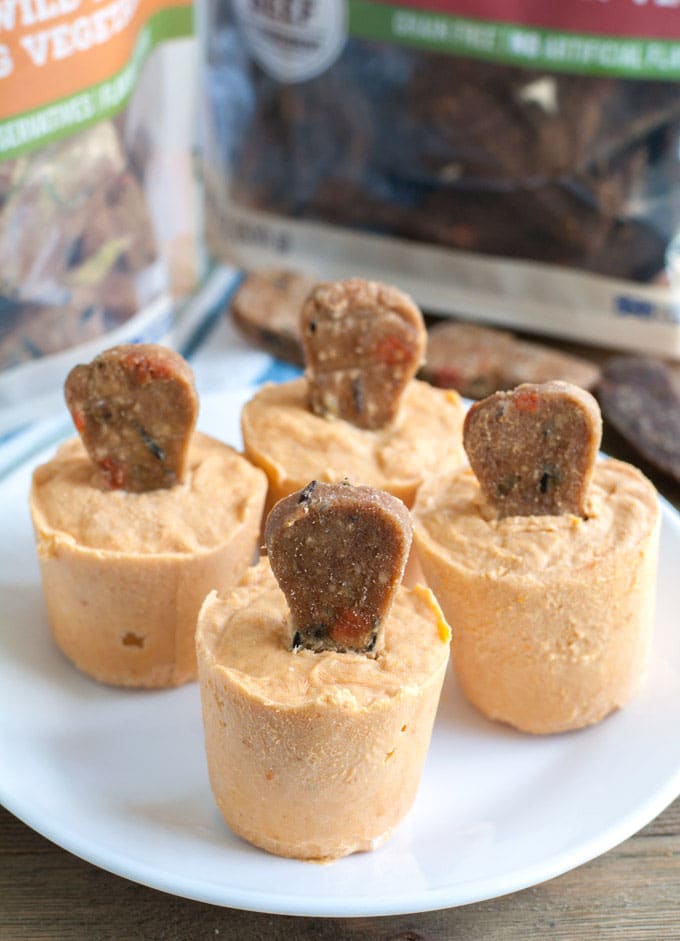 Thank you Milo's Kitchen® homestyle dog treats for sponsoring this post. All opinions are my own.
A Dog Popsicle Recipe your pup is sure to love
Allow me to introduce the furry member of Food Lovin' Family, Penny. She is our giant Schnoodle who just turned one year old. Penny is like my fourth child. She goes everywhere with us and is always by my side during the day. Penny and I share a similar love, treats! So today I am sharing one of her favorites, dog popsicles made with Milo's Kitchen homestyle treats.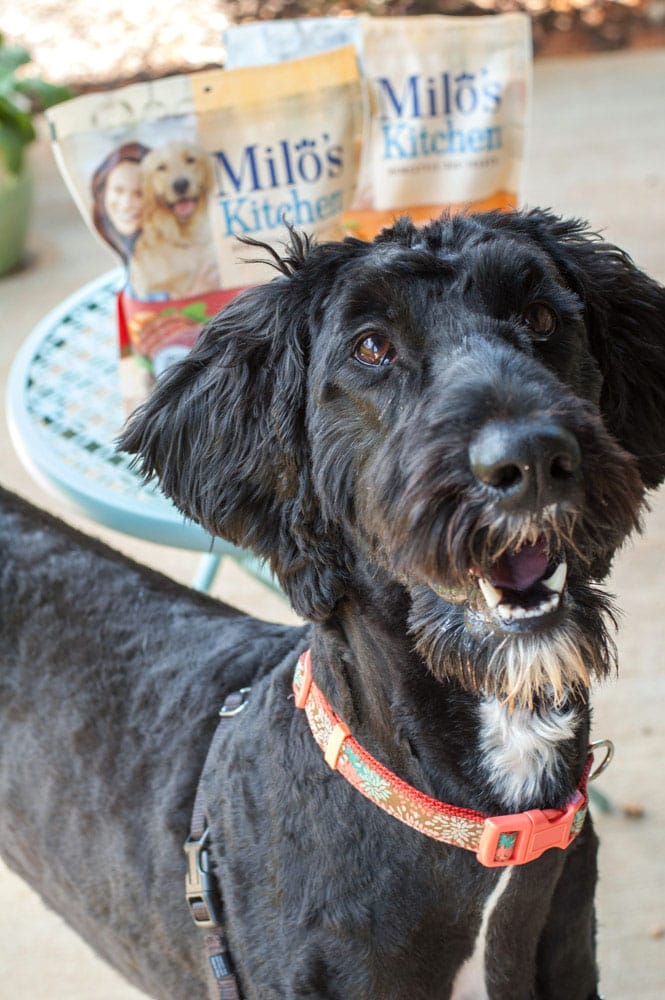 Since Penny is such a big part of our family, we only want to give her the best when it comes to food and treats. That is why I love Milo's Kitchen® homestyle dog treats! They use 100% real chicken or beef as the number 1 ingredient. They are also free of artificial flavors and colors and made in the USA.
These snacks not only look like meatballs, sausage slices and jerky, they actually are 100% real meatballs, sausage slices and jerky. Good enough for even me to eat! You can find Milo's Kitchen homestyle dog treats at your local Walmart in the pet food section.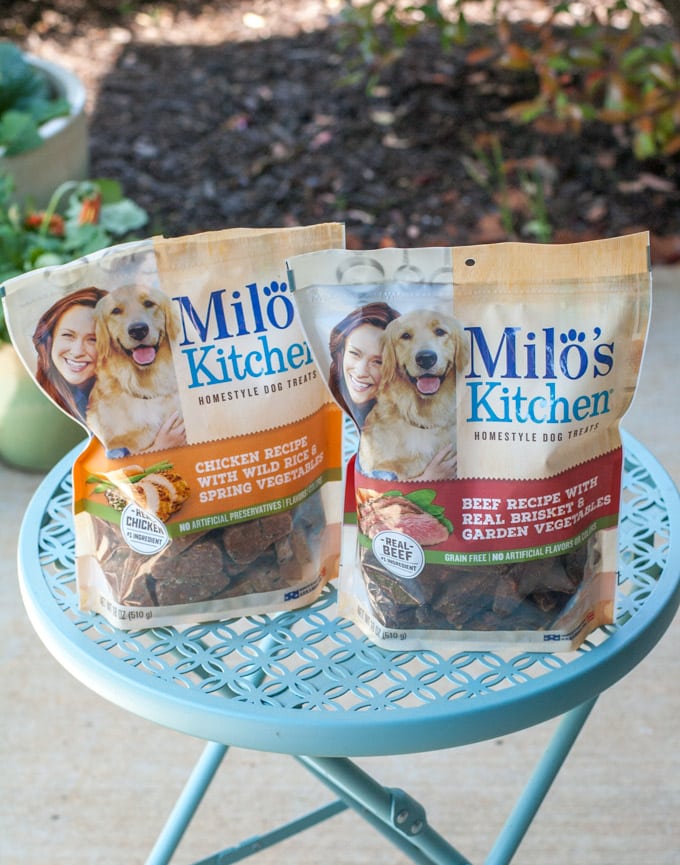 How to make Dog Popsicles
You have probably seen frozen dog treats at the grocery store but these homemade dog treats are so easy to make there is no need to buy them.
Mix together plain Greek yogurt, peanut butter and pumpkin puree in a small bowl until well combined.

Spoon the mixture into small paper cups or ice cube trays. If using the small paper cups, this recipe makes about 4 pops.

Place a Milo's Kitchen Homestyle Dog Treat (either the chicken recipe or beef recipe) in the center of each cup. The treat acts as a popsicle stick.

Freeze the pops for at least 2 hours and then cut the cup off of the popsicles.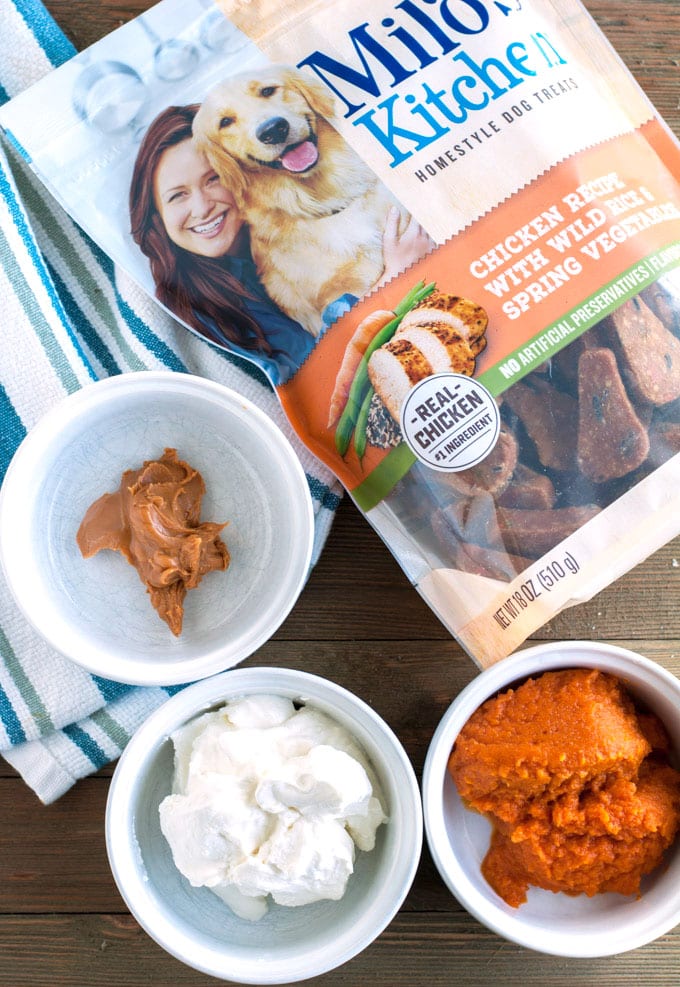 For these treats I used both the Milos' Kitchen Chicken Recipe with Wild Rice and Spring Vegetables and the Milo's Kitchen Beef Recipe with Real Brisket and Garden Vegetables.
I attempted to get a picture of Penny with the tasty homemade dog treat but she ate it so fast I couldn't snap the photo in time. I think that means she gives it 2 paws up!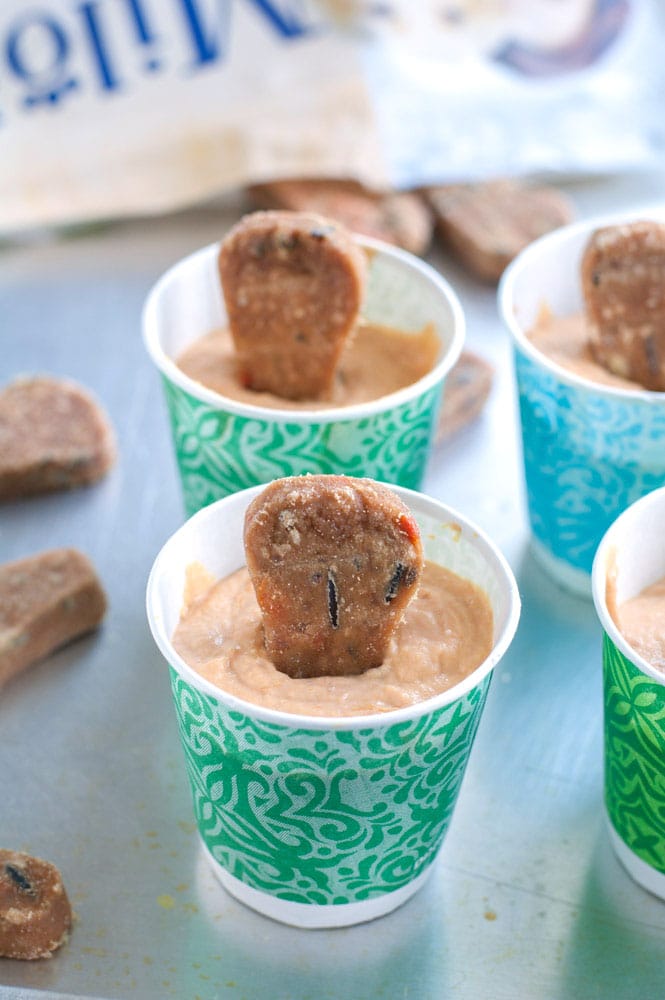 Puppy Popsicles variations
Here are a few more ideas you can use to make dog popsicles:
Banana, Peanut Butter, Shredded Carrot

Peanut Butter and Chicken Broth

Pumpkin, Banana, Honey and Yogurt

Pureed Apples, Banana, Yogurt
Now that the weather is warming up celebrate the day with these dog popsicles. They make a wonderful treat to cool off your pup. Don't forget to pick up some Milo's Kitchen homestyle dog treats next time you are at Walmart so you can make your own.
More Recipes You Might Enjoy
Watch how to make Dog Popsicles
Homemade Puppy Popsicles
Easy homemade dog popsicles
Ingredients
1/2

cup

plain greek yogurt

1/2

cup

pureed pumpkin

2

tablespoons

peanut butter

4

treats

Milo's Kitchen homestyle dog treats
Instructions
In a small bowl, stir together yogurt, pumpkin and peanut butter.

Divide mixture and spoon into 4 small paper cups. You could also use an ice cube tray.

Stick one of the Milo's Kitchen treats into the center of each cup. Freeze the treats for at least 2 hours.

Remove the paper cup from the treat and serve. Store extra's in the freezer.
Nutrition
Calories:
72
kcal
|
Carbohydrates:
4
g
|
Protein:
4
g
|
Fat:
4
g
|
Cholesterol:
1
mg
|
Sodium:
47
mg
|
Potassium:
150
mg
|
Fiber:
1
g
|
Sugar:
2
g
|
Vitamin A:
4765
IU
|
Vitamin C:
1.3
mg
|
Calcium:
39
mg
|
Iron:
0.6
mg