Best Air Fryers For Large Family
Nov 20, 2020, Updated Nov 15, 2023
Cooking with an air fryer has gained popularity for several reasons over the years. There are many models to choose from on the market but today, we are narrowing down some of the best air fryers for a large family. If you have a family of four or more, check out some of these wonderful options.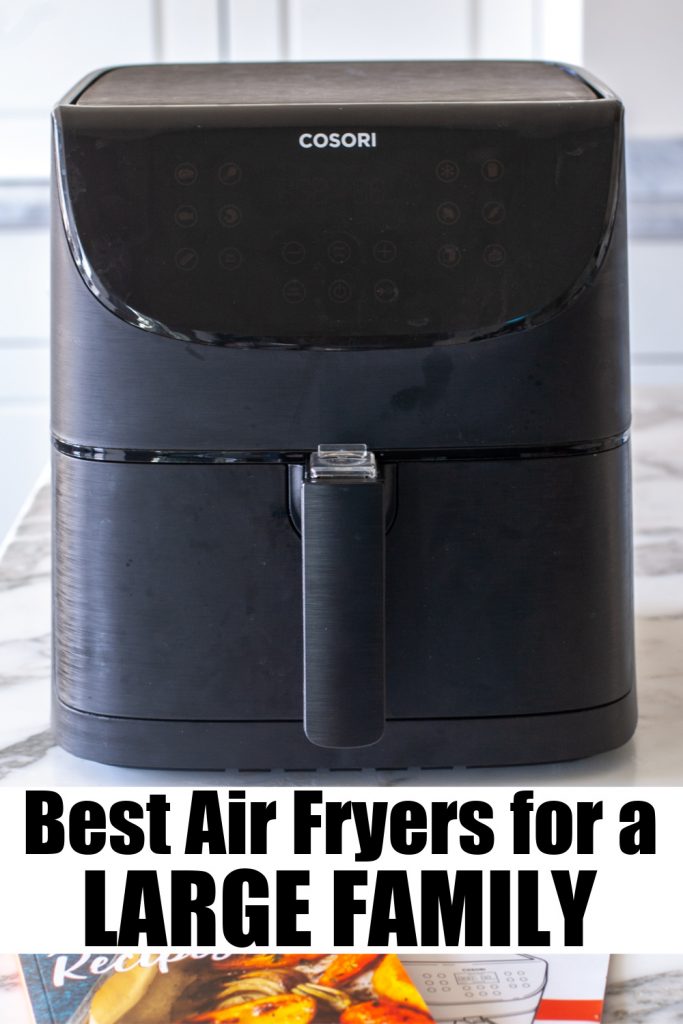 I have really enjoyed sharing air fryer recipes on this site.
People have been emailing and asking what brand they should buy and often ask, which one is best for a large family. That's why I decided to put together this list of some of the best large capacity air fryers on the market today.
Why do I need an air fryer?
There are several reasons to consider buying an air fryer.
Easy to use. Even my 10 year old can cook chicken nuggets, grilled cheese and more without me worrying about the stove. Simply place your food in the basket, press a couple of buttons and you are cooking.
It cooks and crisps food by circulating hot air. This cooking method helps to eliminate or decrease the amount of oil needed when cooking which means less grease and less fat.
They cook fast. No need to sit around waiting for your oven to preheat. This appliance can cook your food quickly.
Easy clean-up. I love how quick and easy it is to clean the fryer basket and most of them can even be put in the dishwasher.
Why you need a large capacity air fryer?
If you are cooking for more than two people, a large capacity air fryer is nice to have in the kitchen.
Most large air fryers have a 5-10 quart frying basket which allows you to cook bigger quantities of food at one time. This helps avoid having to cook in several small batches.
How to pick the best large capacity air fryer?
Presets: You will find many of the models have set presets that allow you to press a button and it will adjust to the time and temperature needed to cook a particular food. This is a nice feature to have, especially for beginners.
Basket shape: Most models have either a round or square basket shape. I have used both and think they both work well.
Weight and size: This is important to consider especially if you will be keeping the machine on your counter tops. Some models are thinner but taller, some are shorter but wider.
Basket capacity: Don't let the name mislead you. There are some machines with XL or Plus in the name when they really only can hold enough for 2-3 people. Make sure to check out the specifications and how much the air fryer basket can hold.
Please note that this article contains affiliate links which means I earn a small commission if you decide to buy something. You can read my full disclosure in my privacy policy.
Best air fryers for families
COSORI Max XL
This is the air fryer I use for our family at least 3 times a week. We have a family of 5 and I have found that it is a perfect size for us. It works great and has held up very well after using it multiple times a week for a year. You can read my full Cosori air fryer review to get a good idea if it would work well for you.
The Cosori has a 5.8 quart capacity and can easily hold anything from a 5 pound chicken to enough meatloaf to serve a family of 4. The other feature I like is the "shake" reminder. It will beep halfway through cooking to remind you to shake or flip your food.
PowerXL
This 7 quart machine can hold a lot of food. It has 10 cooking presets from air frying, bake, broil, even dehydrate. It's also well reviewed and comes at a great price point.
GoWISE USA 7-quart
Another great, budget friendly option. This comes with 3 stackable racks and a recipe book. This is a wonderful family friendly air fryer. With a 7-quart capacity, this can cook up to 5 burgers or a whole chicken at one time.
This machine comes with a touch screen menu and 8 cooking functions. A perfect choice for someone who is on the fence about purchasing an air fryer.
Ninja Foodi
This is a newer machine that has quickly gained popularity. Along with air frying it also dehydrates, steams, slow cooks, pressure cooks, and roasts. There is a 6.5 quart and 8 quart option.
One thing to note about the Foodi is that it is heavy. It weighs in at 25 pounds and is large so something to consider if you will be storing it on your countertop.
Philips Twin TurboStar Air Fryer XXL
This machine is a little more pricey but it has a huge 3 pound capacity, enough for 2 bags of frozen French fries to cook at once! Along with great reviews, this machine has a fat removal technology and includes multi-cooking technology; air fryer, grill, roast, dehydrate, bake and reheat. If you have a really large family, this might be worth the investment because of it's large cooking capacity.
Finding the best air fryer for your family doesn't have to be challenging. While there are many options available on the market today, the models listed above are all well reviewed, have great features and price conscious.
If you have any questions about air frying, or if you would like to share your experience with a particular model, please leave a comment or send me an email.