27 Beef Stew Meat Recipes
I don't believe there is anything better than cozying up with a warm bowl of beef stew on a cold winter's day. As cozy and hearty as a bowl of beef stew is, did you know there are many other ways to enjoy beef stew meat?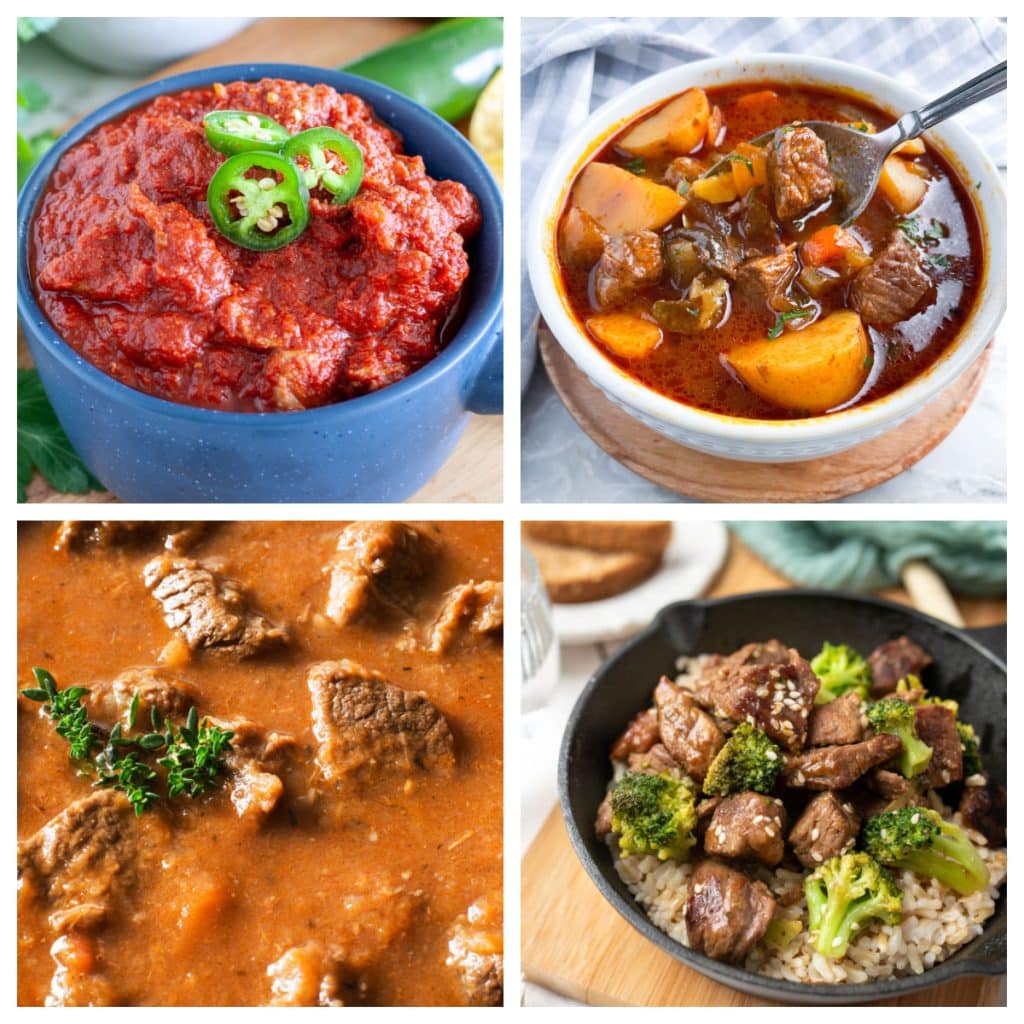 Beef stew meat recipes are abundant in creating hearty, cozy, delicious, and memorable meals. With variations of beef stew from around the world, such as curry, Korean beef, Mexican beef stew, and chili, there is something for everyone on this list.
However you enjoy beef stew meat, the tender beef combined with spices is an enticing, warming, and tasty way to enjoy a hearty meal.
So, take your stew-making skills to the next level with these delicious beef stew meat recipes.
The traditional, old-school beef stew recipe is a delectable, delicious one. This slow cooker recipe yields the most tender beef in a hearty bowl of goodness. It is full of veggies in a mouthwatering beef broth. When it comes to beef stew, this one never disappoints.
Hungarian goulash is a comfort food not to be missed. It is a beautiful blend of beef stew meat simmered with onions, tomatoes, seasonings, and broth. The result is a satisfying and warming concoction dripping in flavor. Serve over mashed potatoes or egg noodles, and enjoy this delightful dish.
This version of beef stroganoff is a tantalizing blend of flavors to tickle those taste buds. As a slow cooker recipe, it only takes a little food preparation, and the slow cooker does the rest. Tender beef with mushrooms, onion, and garlic swim in an alluring sauce. Ladle over egg noodles for a completely cozy meal.
Beef bourguignon is a French beef stew. Tender beef is cooked with red wine, bacon, garlic, onion, and carrots and then simmers with a touch of beef broth and fresh herbs. This mouthwatering blend of flavors rivals any traditional American beef stew. Serve over mashed potatoes and enjoy the ultimate meat and potatoes meal.
Beef stew meat is a wonderful addition to homemade soups. This vegetable beef soup is a hearty, healthy, soul-warming recipe. Full of vegetables, tender beef, and a savory tomato-based broth, this is a soup recipe worth having on repeat. Using the instant pot, it only takes an hour to make.
This slow cooker recipe may take its sweet time, but it is worth every minute. Irish beef stew is a heavenly recipe full of flavor. The addition of Guinness beer to the traditional beef stew recipe adds to the flavor profile. The fall-apart beef, veggies, and Guinness broth is a palate-pleasing blend of flavor. Eat this, and you're sure to have the luck of the Irish on your side!
Curry isn't as hard to make as some think it is. This easy slow cooker recipe makes it simple to whip up a delicious, flavorful curry. Tender beef is cooked with onion, bell peppers, seasonings, and spices in a delectable curry sauce. It makes a wonderful dish to enjoy any night of the week.
Carne Guisada is a Mexican stewed beef bursting with beguiling flavor. Beef is combined with tomatoes, onion, garlic, peppers, and spices in a tomato and beef broth sauce. Once simmered, the tender beef falls apart on your fork. This recipe is great to enjoy as is, over mashed potatoes, or use the mixture to make enchiladas or burritos.
Beef tips are a classic comfort food recipe that is easy to make but creates big flavors. Cubes of beef are cooked and simmered in a mouthwatering gravy. The tender beef and enticing gravy are incredibly flavorful. Serve over mashed potatoes for the full comfort food experience.
Another slow cooker recipe for the win. With sweet and spicy flavors, this tender beef packs a flavor punch. The slow cooker does all the work for an easy weeknight dinner. Serve with rice, egg noodles, or eat as is. However you choose to enjoy this toothsome dish, you won't be disappointed.
Jamaican beef stew is a captivating culinary mix of flavorful spices that will surprise and delight. This is a slow cooker recipe, and the beef is fall-off-the-fork tender. The blend of flavors includes citrus, umami, spicy, and savory. They create an exquisitely unique flavor profile for a memorable meal.
No rule says ground beef is the only beef to use in chili. In fact, using beef stew meat adds to the heartiness and flavor of chili. Enjoy a fabulous bowl of delicious, warm, cozy chili with this simple recipe.
This slow cooker recipe is an Italian twist on traditional beef stew. Italians are known for their tomato sauce culinary skills. It's no surprise an Italian beef stew would have a rich tomato gravy. This stew is an alluring mix of ingredients creating sublime flavors. Try this recipe next time you want to make beef stew, you won't regret it.
I love the instant pot for quick and easy meals on busy weeknights. Especially during the winter months when hearty, warm meals are needed. With 15 minutes of prep time, the instant pot does the rest. Tender beef tips in a savory sauce are ready in 45 minutes. Perfect for serving over piping hot mashed potatoes for a well-rounded, cozy dinner.
Simplicity is the name of the game here. Simple to make, easy clean-up, and a hearty, delicious meal; instant pot beef and rice has it all. This inviting one-pot meal has tender beef, rice, veggies, spices, and a whole lot of goodness. It is a wonderful weeknight meal for the winter months.
Beef stew meat is reinvented into amazing bite-sized BBQ beef bites. The thick, sweet, spicy homemade BBQ sauce is a tangy, tantalizing treat that smothers tender beef. These make a great appetizer, a game-day bite, or you can make it a meal with a veggie side.
Chilly nights call for slow cooker beef carbonnade. This slow cooker recipe has all the classic beef stew ingredients with the addition of a dark ale beer. The beer adds to the silky sauce for a luscious stew. This recipe is best served over egg noodles or mashed potatoes.
If you love mushrooms then you will love this delightful tender beef stew. Fragrant mushrooms, fresh herbs, and cognac all add inviting flavors to this gourmet stew. Combined, they create a cozy, warming stew that feels refined and distinguished while satisfying those taste buds.
An Asian-inspired slow cooker recipe, this dish is easy to make and a tasty treat. Beef, broccoli, onion, and snow peas combine with a delectable sweet and spicy sauce. The tender beef is mouthwatering, while the veggies soak up the flavors of the sauce. Enjoy with rice for a scrumptious meal.
Mulligan stew is a smorgasbord of ingredients. Traditionally, it is a stew made up of odds and ends of foods. This recipe, however, allows for easy-to-make and follow instructions. Using frozen vegetables and precut beef stew meat, it's a breeze to whip and is a delicious blend of flavors.
This favorite Indian take-out dish is an easy at-home recipe with all the warmth, depth, flavor, and kick you know and love. Tender beef is slow-cooked in a rich blend of spices and beef stock. It is a delectable, savory dish everyone loves.
This beef stew hails from the Jalisco region of Mexico and has a big, bold, beautiful flavor profile. The beef is slow-cooked for maximum tenderness in a seasoned chili sauce. Enjoy as is, or shred the meat for tacos and keep the juice for another soup or stew. Either way, it is an iconic stew not to be missed.
Adding ale to a beef stew amplifies the flavor profile. This slow cooker recipe is a delightful stew with tender beef, vegetables, lots of seasonings, and brown ale. After it cooks low and slow, this amazing beef and ale stew is ready to be devoured.
Think of all the tasty flavors in a mushroom and beef stew and add a puff pastry. This one-dish wonder takes hearty beef and mushroom stew, puts it in a baking dish, tops it with puff pastry, and voila! Beef and mushroom pie. The fall-apart beef, tender mushrooms, and veggies in a savory gravy are taken to the next level when topped with puff pastry. This is a meal sure to impress.
Another savory Mexican stew is the Chile Colorado stew. This slow cooker recipe starts with a divine Chile paste. That Chile paste adds to the kick of flavors in the stew. The beef is cooked with chili paste, onion, garlic, and an array of spices. The result is undeniably delicious Chile Colorado beef.
This is a slow cooker recipe you want to bookmark. Beef is slow-cooked with green chiles, onion, seasonings, and red enchilada sauce. It makes for the most tender beef full of flavor for the burritos. Add your beef mixture to the tortillas, fold, and add back into the slow cooker with more enchilada sauce for the most epic smothered burrito.
It is surprisingly easy to make braised beef stew. With red wine, generous amounts of cracked pepper, and fresh rosemary, it is a mouthwatering, flavorful, and tender beef stew. There aren't a lot of vegetables making the beef the standout star of this meal. Serve over mashed potatoes and bask in the praise of your incredible dish.
More Beef Recipes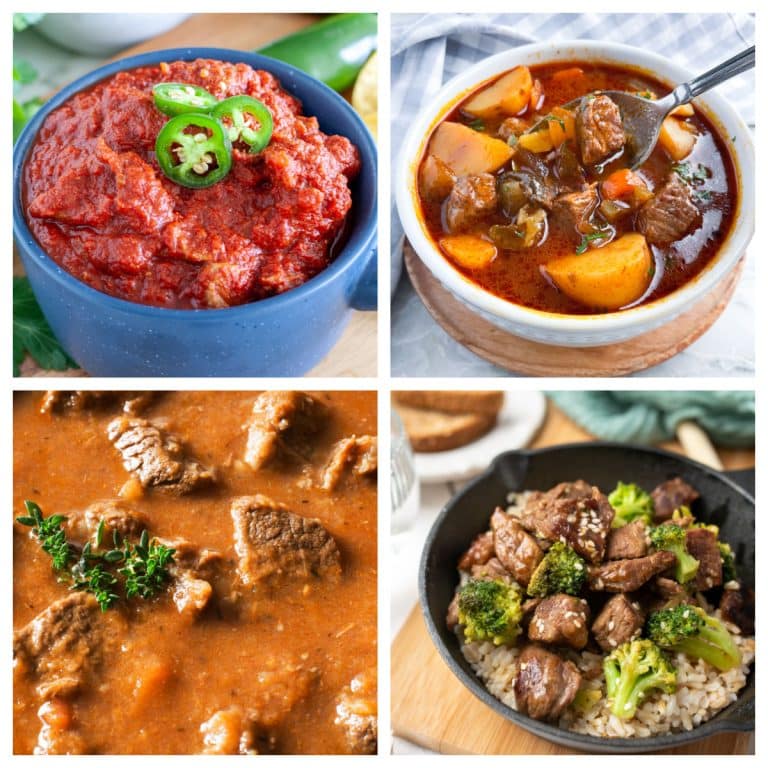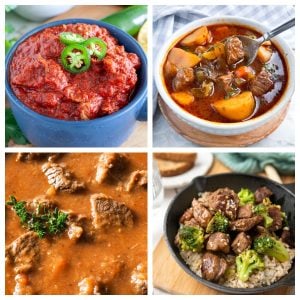 Beef Stew Meat Recipes
A collection of recipes using beef stew meat. From stews, to burritos, and even beef curry.
Ingredients
Store leftover beef stew
2

cup

beef stew

leftovers
Instructions
Store
Make sure to let the stew completely cool before packaging.

Carefully ladle stew into airtight containers. Store in the refrigerator for up to 3 days.
Reheat
Reheat on the stove in a medium saucepan over medium heat for about 10 minutes or until heated through.
Nutrition
Calories:
158
kcal
|
Protein:
25
g
|
Fat:
6
g
|
Saturated Fat:
2
g
|
Polyunsaturated Fat:
0.2
g
|
Monounsaturated Fat:
2
g
|
Cholesterol:
70
mg
|
Sodium:
63
mg
|
Potassium:
384
mg
|
Calcium:
21
mg
|
Iron:
2
mg
Nutrition information is automatically calculated, so should only be used as an approximation.
Like this? Leave a comment below!