31 Must Try Kidney Bean Recipes
Get ready to be amazed by the delicious versatility of these kidney bean recipes! From simple bean salads to hearty chili, tasty bean burgers to classic dirty rice and beans, and cheesy quesadillas to satisfying goulash, there's a kidney bean recipe for everyone. Come see how many dishes you can make from this simple little ingredient!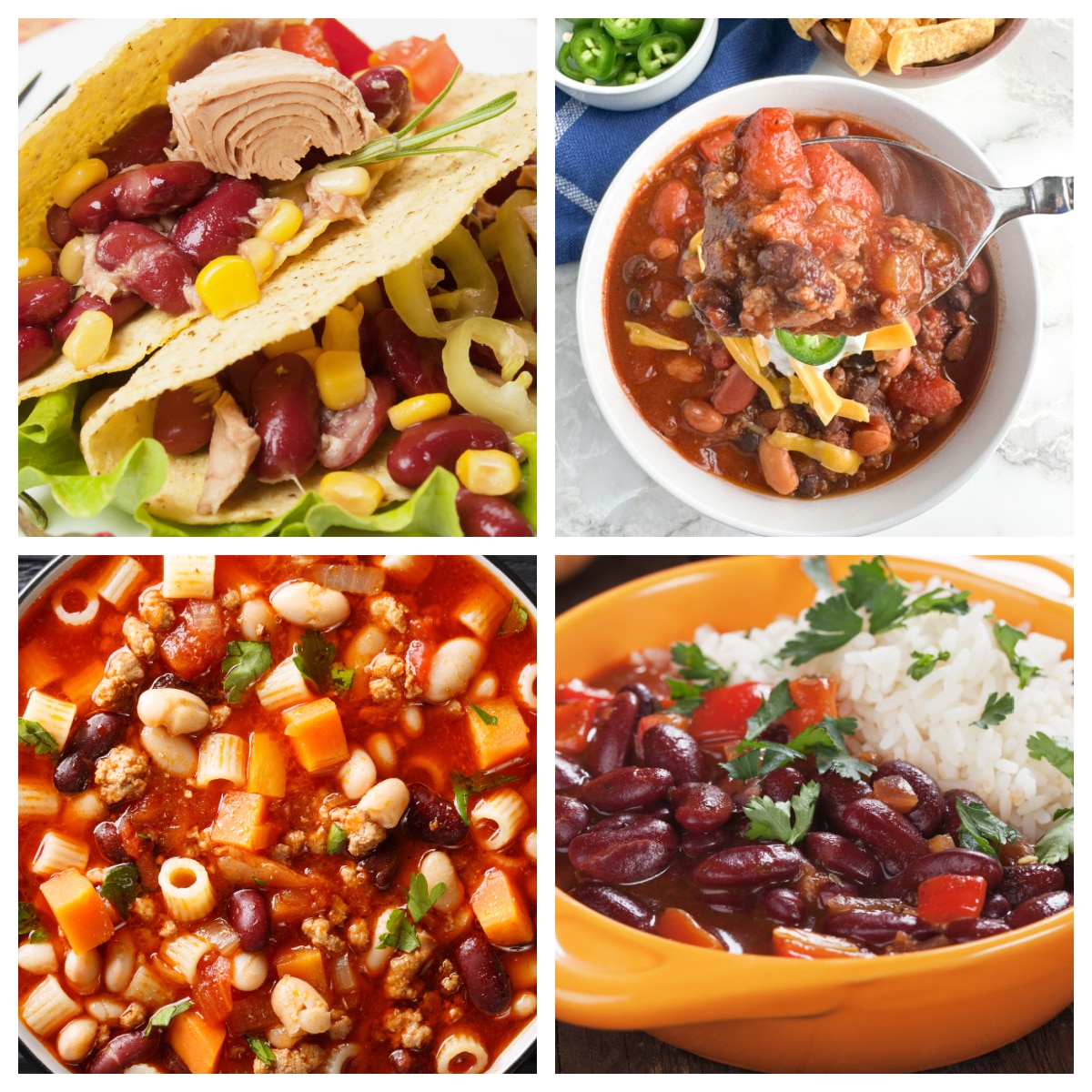 Beans are a hearty, versatile ingredient. This collection of kidney bean recipes will turn the humble legume into the star of any dish! Crafted with fresh ingredients, these easy recipes highlight the versatility of delicious and satisfying kidney beans.
You'll find some classics on this list, from kidney bean soup to three bean salad to good ole' chili. But if you're in the mood to be adventurous, there's also kidney bean hummus, kung pao beans, or African peanut stew to tantalize your taste buds!
Whether you cook with kidney beans all the time or have a can sitting in the back of your pantry you need to use, this list has all the recipe inspiration you need. Let's get cooking!
Kidney beans meld beautifully with zesty Mexican flavors in this easy dip. Wonderfully creamy and spiced, it's the ultimate treat for tortilla-chip dunking, perfect for your next party appetizer or game night snack!
The combination of kidney beans, black beans, and pinto beans packs a super tasty punch. Ground beef is added for a hearty take on this classic recipe.
Gently simmer kidney beans in a rich, aromatic curry sauce for a dish that's both sweet and spicy. This plant-based Rajma kidney bean curry uses pantry staples and can be ready in just 30 minutes!
Super fresh and packed with plant-based protein, this salad combines kidney beans with crunchy veggies and a tangy dressing. Whether you enjoy it as a light lunch or a side dish, you'll fall in love with all that great flavor!
Dive into a bowl of cozy comfort! The combination of kidney beans with hearty potatoes, juicy tomatoes, and sweet corn makes this recipe an easy and delicious meal that's ideal for busy weeknights.
Simplify dinner with this one-pot wonder! Red kidney beans take center stage, absorbing the flavors of aromatic spices and herbs for a straightforward, wholesome dish that doesn't skimp on taste.
Triple the beans, triple the fun! Combine kidney, garbanzo, and cannellini beans along with some chopped bell peppers and celery for added crunch, then toss everything together with fresh herbs and a red wine vinaigrette.
Seasoned and baked to perfection, this casserole is packed with fiber! Best of all, you only need 6 simple ingredients to make it. The chili sauce gives it that satisfying flavor that will keep you coming back!
9. Beans And Rice
Celebrate a classic combo that comes together in less than 30 minutes! Kidney beans and rice is a comforting, filling dish with a hearty smokiness thanks to the richness of the bacon and plenty of spices.
Drenched in a zesty dressing, every bite of this dual-bean salad is bursting with fresh flavor! Made with just a handful of ingredients, it makes a great side dish or light main course for any occasion.
Rich, hearty chili doesn't have to take all day! Keep this recipe in your back pocket for a cold winter evening when you need some cozy comfort that's easy to throw together and guaranteed to warm you up.
Elevate taco nights with these bean-packed delights! Kidney bean tacos seasoned with cumin, smoked paprika, and cinnamon and topped with tangy, spicy grapefruit salsa just screams fiesta.
Think cheesy, spicy, and absolutely scrumptious! These quesadillas are crispy on the outside with a melt-in-your-mouth bean filling on the inside. Perfect for a quick protein-packed meal or snack!
There's a reason this comforting stew is so popular in Spain! Kidney beans and rice simmer in a fragrant broth to ensure every spoonful is packed with rich flavor. And it's ready in just 45 minutes!
Pasta meets kidney beans with a lusciously thick tomato broth in this mouthwatering Olive Garden copycat recipe! Garnished with parmesan and fresh basil, it pairs beautifully with a batch of soft dinner rolls.
You won't believe how simple it is to make your own refried beans at home! The velvety texture and rich, spicy flavors make this a versatile dish that complements almost any Mexican-inspired fare.
Chili has to be one of the best set-it-and-forget-it slow cooker recipes! Kidney beans add a hearty touch to this nourishing dish while the CrockPot ensures every bite is bursting with big taste.
Experience the Hungarian classic with a kidney bean twist! This delightful stew featuring beans, meat, and vegetables all simmered in a paprika-infused sauce will win over even the pickiest of eaters.
If you're looking for a soup that feels like a hug in a bowl, this Italian classic is teeming with kidney beans, pasta, and vegetables in a rich tomato broth. It's a delightful mix of textures and flavors that warms the heart and soul!
The slow cooker is such a great way to infuse your kidney beans with aromatic spices while cooking them to tender perfection! Serve this one over steamed rice for an easy weeknight dinner.
The combination of soft beans with crunchy celery, the surprising sweetness of the pickles, and the earthy punch from the onions all tossed in a creamy dressing make this ridiculously easy salad downright irresistible!
Enjoy the Southern classic with a kidney bean twist! Featuring a flavorful blend of rice, beans, and spices, this super easy skillet dinner is a filling meal that's rustic, refined, and ready in just 30 minutes.
This delicious ode to Puerto Rican culinary traditions can be ready fast! Everything comes together in one pot on the stove, and the combination of beans and potatoes makes the stew super filling.
Experience a delightful spin on traditional hummus! Kidney beans are blended to creamy perfection with tahini, garlic, and lemon juice for a spread that's perfect for sandwiches, wraps, pita chips, and more.
Just wait until you taste the combination of fresh corn and hearty kidney beans in this salad! Tossed in a tangy dressing, every bite is a delightful mix of sweet and savory that's perfect for BBQs or summer lunches.
On cozy nights in, you can't beat a one-pot stew that's healthy, hearty, and ready in under 35 minutes. With options to make this vegetarian or vegan, you'll love the combination of ingredients with Middle Eastern-inspired spices!
Looking for a meal that's bold and memorable? This delicious fusion of Chinese-inspired flavors and bean goodness features kidney beans tossed in a fiery Kung Pao sauce for a meal that packs a serious kick!
Also known as Maafe, this recipe features kidney beans in a peanut-infused broth that's full of plant-based protein. If you like peanut butter, then you have to give this one-pot stew a try!
Treat yourself to a burger that's both delicious and nutritious! The combination of kidney beans and sweet potatoes makes the patty ultra-satisfying, and you'll love the creamy yogurt sauce on top!
Savor the lean goodness of ground turkey combined with hearty kidney beans! Brimming with spices and vegetables, this chili is very nutritious and super flavorful. Finish with all your favorite toppings and enjoy!
The combination of quinoa and kidney beans is so satisfying, you won't even miss the meat in this veggie chili! The hearty texture, blend of seasonings, and bounty of vegetables is pure comfort in a bowl.
Which one of these recipes will you be trying?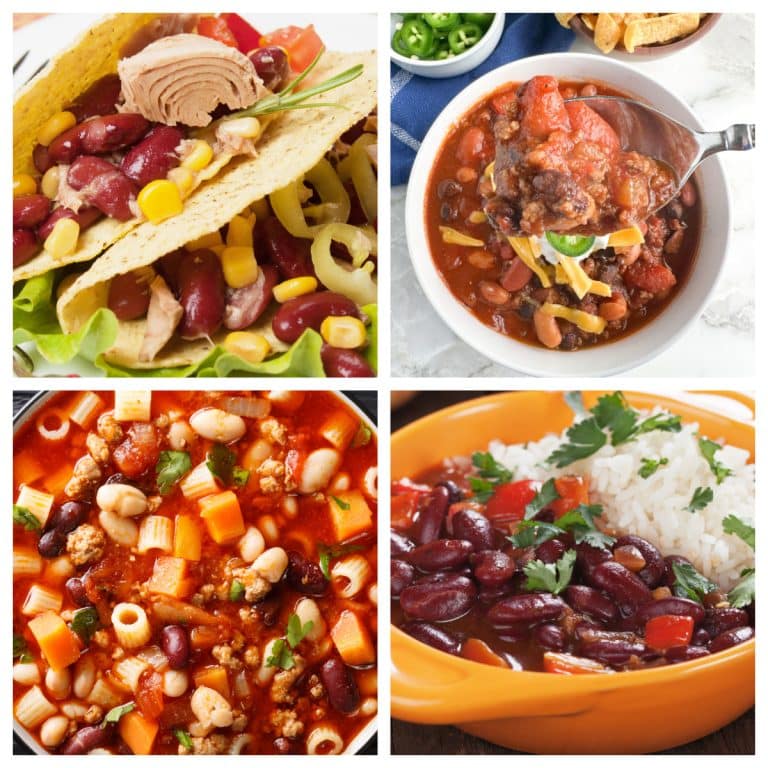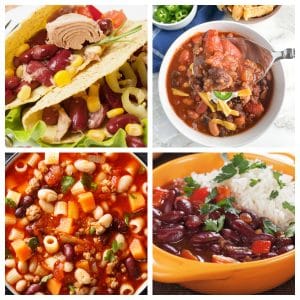 Kidney Bean Recipes
A collection of 31 delicious kidney bean recipes. From chili, red beans and rice, even kidney bean tacos, these bean recipes are sure to inspire and satisfy. Be sure to check out this easy kidney bean dip below.
Ingredients
1

15 ounce can

kidney beans

drained and rinsed

1/4

teaspoon

ground cumin

1/4

cup

vegetable stock

1/2

teaspoon

garlic powder

1/4

teaaspoon

salt
Instructions
Place beans, stock, cumin, garlic powder, and salt in a saucepan over medium heat. Cook for 5 minutes.

Using a potato masher, mash the ingredients together until smooth. You could also use a food processor.
Nutrition
Calories:
3
kcal
|
Carbohydrates:
1
g
|
Protein:
0.1
g
|
Fat:
0.03
g
|
Saturated Fat:
0.003
g
|
Polyunsaturated Fat:
0.01
g
|
Monounsaturated Fat:
0.02
g
|
Sodium:
83
mg
|
Potassium:
8
mg
|
Fiber:
0.1
g
|
Sugar:
0.1
g
|
Vitamin A:
33
IU
|
Vitamin C:
0.02
mg
|
Calcium:
2
mg
|
Iron:
0.1
mg
Nutrition information is automatically calculated, so should only be used as an approximation.
Like this? Leave a comment below!