30 Jamaican Foods
Apr 15, 2022, Updated Aug 26, 2023
From deep and earthy to big and bold, Jamaican flavors aren't easy to forget. If you're ready to discover more of this unique cuisine, I've put together some of the best Jamaican foods to try! Learn how to make widely-popular jerk chicken or try dishes like bammy or callolo that you might not have heard of before. Whatever you choose, this list is sure to whet the adventurous side of your appetite!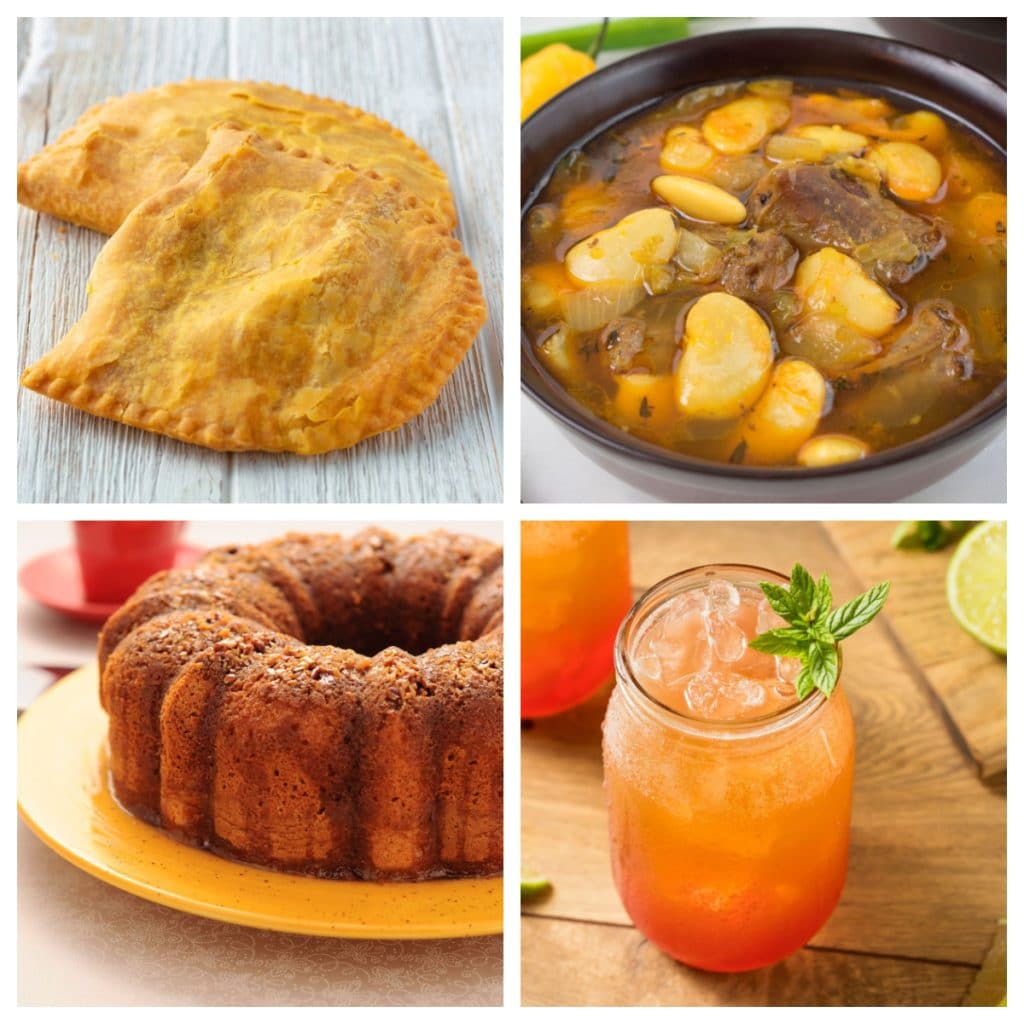 You will love these Caribbean Food Recipes
If you've ever explored Jamaican cuisine, you know these dishes are bursting with unique flavors that will delight your tastebuds. Whether you're already a fan or you're looking for some of the best Jamaican foods to try, this list has a little bit of everything!
Try pairing jerk chicken with coconut sweet rice and a red stripe beer, then finishing it all off with a rich rum cake for an unforgettable feast. Or maybe you want to get a little more adventurous with some stewed oxtail, callolo, and a rum punch on the side! With so many crave-worthy recipes on this list, it's impossible to go wrong.
One thing's for certain: the signature deep and earthy spices you find in Jamaican cuisine are sure to break you out of even the deepest cooking rut. Pick out a few of these popular dishes to try and get ready to transport your taste buds!
Jamaican Dishes with Meat
This traditional Jamaican dish is similar to empanadas from Latin America, but each one is bursting with Jamaican flavor. The curry powder in the pastry dough gives the Jamaican patties amazing color and flavor, and the low spice level in the meat means they're great for the whole family!
This rich combination of cubed goat, scotch bonnet peppers, potatoes, and curry spices is absolutely addicting. You can choose to make the dish on the stove top, in a pressure cooker, or in the slow cooker.
Call this one Caribbean comfort food! Fall-off-the-bone tender and succulent oxtails are slowly braised to maximize the flavor while the carrots and butter beans make it a full, hearty meal. Pair with rice and peas for the full Jamaican experience!
Tender pieces of browned chicken are simmered with chopped onion, carrots, and bell peppers in a thick gravy made with zesty spices. Enjoy it as is or serve over rice for a delicious and comforting meal.
This recipe is super simple to make and gives you tender, moist, juicy chicken bursting with savory flavors! It's the perfect balance of heat and sweetness for the kind of dish you'll want to make time and time again.
Seafood Jamaican Dishes
This recipe features Jamaica's national dish and is typically served for breakfast, but you can enjoy it any time of day! Made with ackee fruit and saltfish, once you try a bite, you'll see why it's considered a staple in any Caribbean kitchen.
Enjoy mackerel or red snapper cooked to perfection in coconut milk, tomato, garlic, and bold seasoning. Simmer until the broth thickens into a custard-like sauce, serve with a side of dumplings and boiled green bananas, and dig in!
Treat yourself to some hot and peppery island-style seafood! Also known as pepper prawns, this dish traditionally includes shrimp cooked with scotch bonnet peppers, but you can use habaneros in a pinch.
This dish is like a spicy variation of ceviche that gets its delightful taste from a combination of spices and malt vinegar. Despite the name, it's a very straightforward recipe that's fun both to make and to eat!
Also known as fritters or Stamp-and-Go, these savory fried fritters are made with salted fish, hot peppers, onion, and a little flour for breading. The crispy, chewy bites are perfect to enjoy as a snack or for breakfast.
When you're looking for easy comfort food, Jamaican style curry shrimp will get you through the coldest winter nights! Thick, spicy, and full of hearty potato chunks, this dish is sure to chase away the winter blues.
Other Jamaican Food Recipes
Don't let the bland name fool you — this side is infused with coconut, Caribbean herbs, and spices for a super flavorful combination! It's a traditional Jamaican dish that's perfect to liven up any dinner table.
Looking for some vegan Jamaican cuisine? This delicious and heartwarming veggie soup is made with authentic Caribbean flavors and includes homemade jerk seasoning, potato, corn, red beans, and vegan "sausage" or "chicken."
This dish is an old time island favorite! A simple mix of ingredients turns into long fritters that are fried to golden perfection and taste slightly sweet thanks to the cornmeal. They're perfect for soaking up extra jerk meat sauce!
Callaloo is a popular local staple green leafy vegetable that's similar to spinach but with a stronger flavor. It makes for a perfect healthy side when cooked with onion, garlic, tomatoes, thyme, and Scotch bonnet pepper!
Made from scratch and so easy to prepare, bammy involves grated cassava that's shaped into a disc, cooked in a skillet, soaked in coconut milk, then fried until crispy and golden. It's a Jamaican staple that is downright delicious!
This super quick and easy breakfast porridge is packed with vitamins and minerals for a very nutrient-rich breakfast. It's such a delicious and healthy way to start the day!
You're going to love this easy, flavorful, and healthy side dish! It's made with cabbage, onions, shredded carrot, and julienned bell peppers and gets just the right kick from the Jamaican spices.
Whenever you need a versatile side, this classic and easy recipe is perfect for any Jamaican meal. They're a little crispy on the outside, fluffy on the inside, and best served hot with your main course!
Who could resist jasmine rice cooked in vanilla coconut milk, sweetened with a little sugar, and dusted with toasted coconut on top? It pairs beautifully with spicy foods to help give your taste buds a break!
Jamaican Recipes for Desserts
Treat yourself to a traditional Jamaican dessert that's rich, moist, and full of amazing spice thanks to the brown sugar, ginger, cinnamon, and nutmeg! In Jamaica, this dish is also called "hell a top, hell a bottom, and hallelujah in the middle."
With a soft crumb, decadent flavor, and irresistible butter glaze, this slightly-boozy cake is nothing short of irresistible. While technically a dessert, it also pairs beautifully with a hot cup of coffee in the morning.
These mini coconut pies or tarts are made by grating coconut, cooking it in sugar and nutmeg, then pressing the filling into a short crust pastry and baking to perfection. Top with a cherry and enjoy!
You only need 3 ingredients for this delightful treat! Coconut, brown sugar, and ginger pack a powerful and delicious punch for a super easy snack or dessert. If you love coconut, this recipe is for you!
This is the banana bread recipe to end all other banana bread recipes. It's also super versatile, so feel free to swap in your favorite flour, throw in some chocolate chips or pineapple chunks, or try any other variations you like.
Jamaican Drink Recipes
For a drink that both looks and tastes like you're drinking a Caribbean sunset, this easy cocktail will transport you to paradise. It's sweet, citrusy, and smooth, which makes it oh-so-wonderful for summertime sipping.
The distinct bitter flavor from the Guinness pairs so perfectly with the sweet, smooth, thick and creamy punch! Best of all, it only takes about 5 minutes to throw together. You can also top it with some whipped cream and nutmeg if you like!
This drink is the perfect blend of Jamaican rum and rich cream with just a hint of exotic Jamaican fruits and spices for an experience that will make your taste buds sing! For a non-alcoholic version, omit the rum and use rum extract instead.
Sweetened with condensed milk and spiced with nutmeg, this recipe will have you looking at carrot juice in a whole new light! It's a refreshing treat that also tastes great with a splash of rum added in.
As one of the rarest coffees in the world, the unique growing conditions on the island give this drink its unmistakable flavor. It's also packed with plenty of health benefits!
What is special about Jamaican food?
One of the wonderful things about Jamaican food is that it is so flavorful and is inspired from different Caribbean cultures.
What is the most popular dish in Jamaica?
Ackee and codfish is considered Jamaica's national dish.
Is all Jamaican food spicy?
Jamaican food can be spicy but doesn't have to be. There is a wide variety of flavors, textures, and spice levels.
Did you make any of these delicious Jamaican recipes?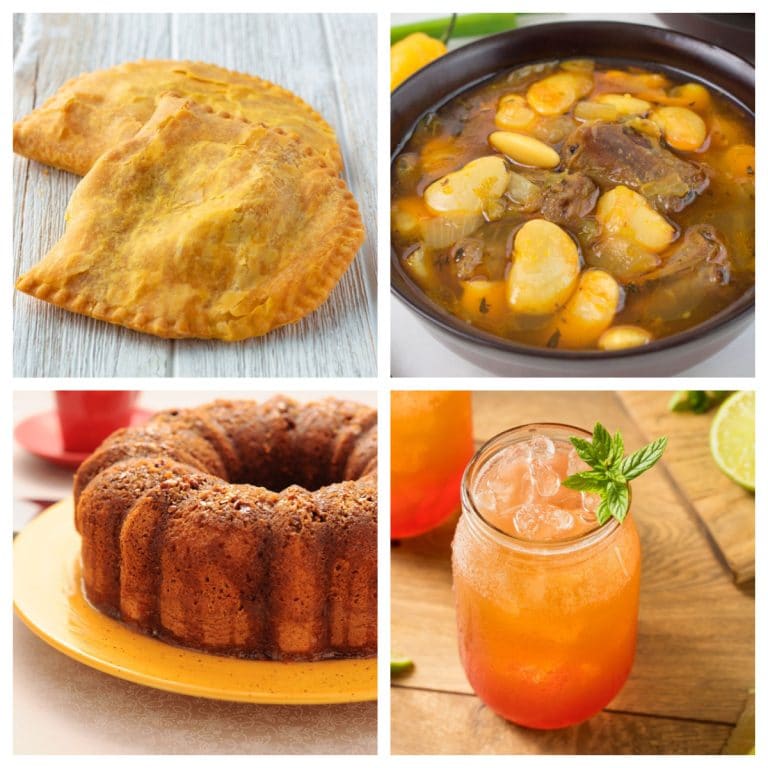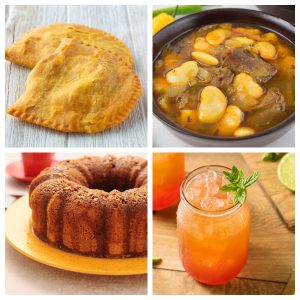 Jamaican Recipes
A collection of delicious traditional Jamaican food and recipes.
Ingredients
1

Jamaican Beef Patties

1

Jamaican Goat Curry

1

Jamaican Oxtail

1

Brown Stew Chicken

1

Jerk Chicken

1

Ackee and Codfish

1

Run Down

1

Hot Pepper Shrimp

1

Escovitch Fish

1

Fish Fritters

1

Jamaican Curry Shrimp

1

Jamaican Rice And Beans

1

Vegetable Soup

1

Jamaican Festival

1

Callaloo

1

Bammy

1

Green Banana Porridge

1

Jamaican Cabbage

1

Fried Dumplings

1

Coconut Sweet Rice

1

Sweet Potato Pudding

1

Rum Cake

1

Coconut Gizzada

1

Coconut Drops

1

Jamaican Banana Bread

1

Rum Punch

1

Guisness Punch

1

Rum Cream

1

Carrot Juice

1

Blue Mountain Coffee
Instructions
Pick one of these delicious recipes to try. Enjoy!
Nutrition
Nutrition information is automatically calculated, so should only be used as an approximation.
Like this? Leave a comment below!