These creamy, homemade fudge recipes are a delightful sweet treat to enjoy any time of the year. It doesn't need to be the holiday season to enjoy this indulgent, decadent treat.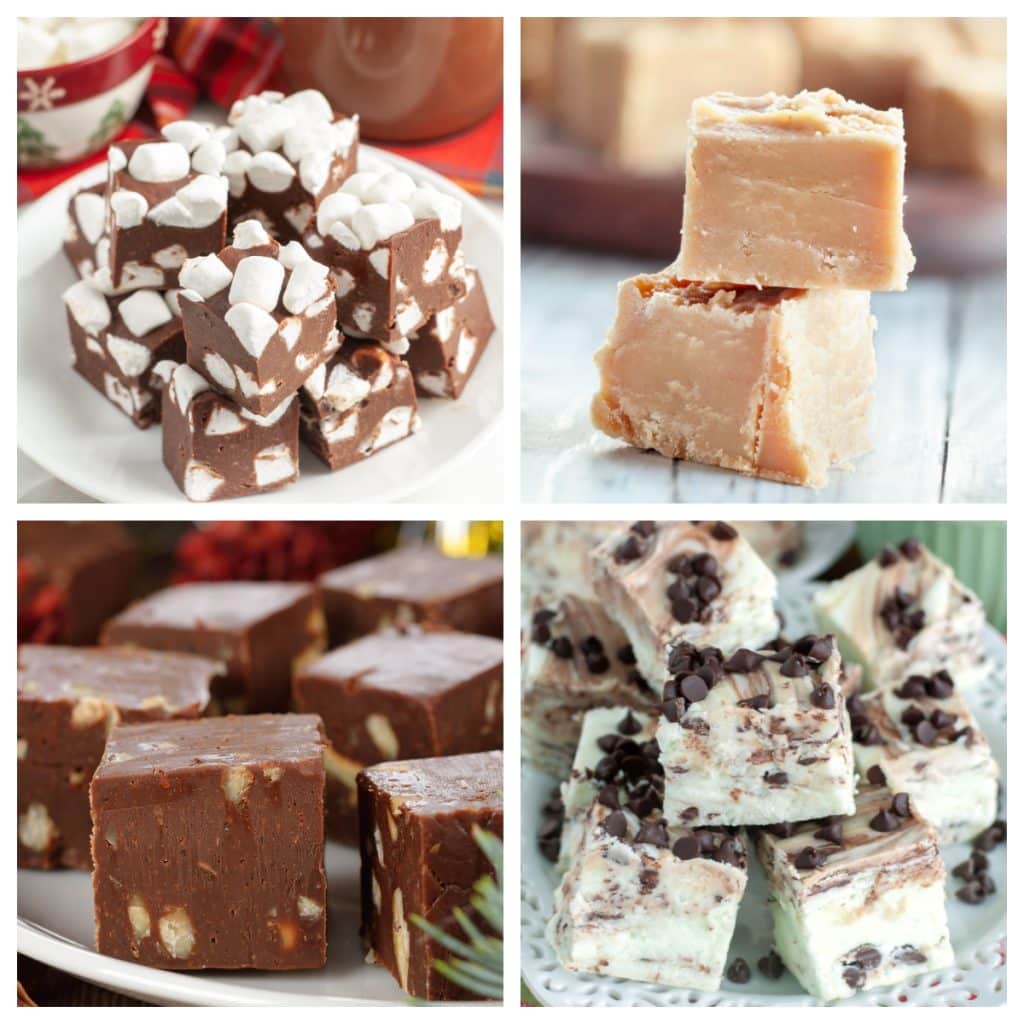 There's something for every sweet-toothed foodie on this list. From traditional fudge recipes to quick and easy simple recipes, you don't have to be a culinary wizard to whip up a batch of fabulous fudge.
Many unique and enticing culinary combinations create heavenly fudge flavors. From Oreo cookie fudge to gingerbread fudge, you'll be impressed with these palate-pleasing creations.
Dream a little dream of decadent, delicious fantasy fudge. It gets its name from how sublime it tastes. It's a marshmallow cream fudge with chocolate that is a divine combination. This fudge is no fantasy, it's an amazing heaven-sent treat.
There's nothing rocky on the road to making this decadent treat. It's a very simple recipe that takes 20 minutes to make. Chocolate, peanut butter, marshmallows, and nuts combine for an irresistible mix of crunchy, chewy, and delicious no-bake sweet treats.
It only takes a few simple ingredients to make this luscious fudge. Decadent semi-sweet and milk chocolate chips are mixed with mini marshmallows, sweetened condensed milk, and vanilla extract. This splendid combination creates a mouthwatering treat.
This may be the easiest fudge recipe you'll ever make. With only 3 simple ingredients, you've got a wonderful, smooth, delicious fudge. White chocolate, sweetened condensed milk, and butter are all you need to create this timeless treat. It's sweet, creamy, and oh-so-good!
This one is for peanut butter lovers and it doesn't disappoint. A quick and easy recipe results in an enticing, smooth, and sweet peanut butter fudge. This isn't your traditional fudge recipe. These scrumptious little morsels of goodness whip up in no time in the microwave. It's a dreamy, creamy divine indulgence perfect to enjoy anytime you desire.
This holiday treat is an impressive dessert to serve any time of the year. There is a layer of white chocolate and peppermint on the bottom, with a creamy chocolate fudge layer in the middle. It's topped with crushed candy canes for the ultimate stylish and delicious candy cane fudge!
Vanilla gets a bad rap for being boring, but nothing is boring about this traditional fudge recipe. With simple ingredients, this creamy, flavorful fudge whips up in 35 minutes. Once it's cooled and cut, you have a wonderful, smooth, traditional sweet treat.
Buckeye candy is turned on its head in this lovely layered fudge treat. There is a creamy layer of delicious peanut butter fudge on the bottom and a rich, decadent, silky chocolate layer on top. It's one of those recipes that kids and adults enjoy. It's heaven in every bite!
If you love the combination of salty and sweet (and let's be honest, who doesn't?), then this recipe is for you! It's a simple recipe that yields a big flavor. Creamy, salty, sweet, and an absolute joy to devour. This fun treat is always a hit!
A traditional fudge recipe, this butter pecan fudge is a thick, rich, and decadent dessert. The crunchy pecans add a beautiful flavor and texture to the creamy fudge. It's a wonderful treat during the holidays and makes a great gift any time of year.
This unique and flavor fudge is a mash-up of a root beer float and root beer candy. It's an incredible blend of flavors, creating an irresistible sweet treat. White chocolate and marshmallow cream add to the silky smooth, delicious flavors. If you're a root beer lover, this is a must-try!
Cookie dough lovers will go crazy for this simple recipe. It's a no-bake recipe that comes together quickly. This delightful cross between creamy fudge and cookie dough is a delicious blend of flavors. Sure to satisfy any sweet tooth, it's great to enjoy any time.
Sinfully decadent with heavenly flavor, this fudge is a creamy, smooth, and enticing treat. Made with real maple syrup, it's a traditional fudge recipe perfect for the holiday season. Add chopped walnuts to elevate this delectable sweet treat.
This isn't your traditional fudge recipe. Cake batter fudge actually has cake mix in it! It's a truly impressive blend of white chocolate, funfetti cake mix, and other ingredients. It's a delicious, fun treat for any occasion and a creative alternative to a birthday cake.
A magical recipe from the realms of the Harry Potter world creates this indulgent, spellbinding fudge. It's a simple recipe that is modeled after the Universal Studios version. You don't need to be a Harry Potter fan to fall in love with the flavors of white chocolate and butterscotch. Enjoying this indulgent fudge feels like culinary wizardry.
Mint and chocolate are a match made in heaven. The fresh mint flavor cuts through the richness of the chocolate for a balanced, refreshing, sweet treat. This traditional fudge recipe is easy to make. The mini chocolate chips sprinkled throughout add a fun texture and chocolate bite. Great for Christmas or St. Patrick's Day holidays, it's also wonderful any time you're craving a sweet treat.
This indulgent Christmas treat is a show-stopping dessert on any holiday table. It's a simple recipe with only 5 ingredients that yields a big flavor. It's toothsome without being too sweet. An inviting fudge everyone enjoys.
This isn't your ordinary fudge. It's an elevated recipe combining everyone's favorite cookie with fudge. Oreos are crushed and added to this simple recipe for an over-the-top addictive treat. These delightful morsels won't last long, so you may want to make a double batch!
This could be the easiest batch of fudge you ever make. A simple recipe with 3 ingredients that whips up in 11 minutes. Sweetened condensed milk, chocolate chips, and vanilla blend together to make sweet, chocolate fudge squares. Great for gifts, the holidays, or any time you're craving chocolate.
Pumpkin spice lovers rejoice for this insanely good fudge recipe. It's a divine creation with the delicious flavors of pumpkin spice and creamy fudge. No need to wait until the Autumn season to enjoy this delectable treat. It's a simple recipe you can easily make any time the pumpkin cravings hit.
This festive fudge will put you in the holiday spirit. It's a mouthwatering mash-up of warmly spiced gingerbread cookies and sweet fudge. It's a simple recipe that only takes 15 minutes to create. This fudge hits all the right notes with the warm gingerbread spices and white chocolate fudge. Perfect for an edible gift or to indulge your senses during the holiday season.
This tastes just like your favorite creamsicle ice cream treat but it won't melt on you! It's a traditional fudge recipe that uses marshmallow cream, white chocolate, and orange extract. The fudge has a creamy richness and bright orange flavors. Everyone enjoys this dreamy concoction.
Just when you thought chocolate fudge couldn't get any better, hot chocolate fudge was born! This decadent and delicious melt-in-your-mouth treat is chocolate heaven. With semi-sweet and milk chocolates, hot chocolate mix, and marshmallows, it's a magical spin on a traditional fudge recipe.
There are no tricks here, only treats with this festive simple recipe. This creamy, fun fudge looks like candy corn with its orange, yellow, and white layers. It's a scrumptious Halloween sweet treat your little costume-clad monsters will love.
Chocolate fudge gets an upgrade with delicious Baileys. This simple recipe is easy to make and oh-so-delicious. The flavor from the Baileys Irish cream adds to the depth of chocolate flavors and gives it its own unique must-have rich flavor. It's a delightful, appetizing treat to enjoy anytime.
A traditional fudge recipe is enhanced into this fun, sweet, irresistible treat. Marshmallow cream, cotton candy flavoring, and pink food coloring all help create this eye-catching dessert. It's a simple recipe to follow and is a great, tasty option for kid's birthday parties, brunches, and other fun events.
This 3-ingredient coffee fudge is a rich, decadent, and jolt of joy for any coffee lover. It makes a great gift for any caffeine addict and won't disappoint in flavor. The chocolate coffee flavor, just like your favorite mocha, makes this fudge a must-have for anyone who enjoys a cup of joe.
Skip the pie and make this sublime fudge instead. It's not a traditional fudge recipe, but it is easy enough to make for any novice cook. Rich, thick, chocolate fudge is topped with a layer of delicious, ooey-gooey coconut pecan icing. It has wonderful, rich flavors and is a bite-sized version of the classic pie.
The Christmas holiday's favorite beverage is turned into an exquisite tasting fudge. With warm nutmeg spices and creamy eggnog, this luscious fudge hits the spot. It's the perfect addition to your tray of sweet treats this holiday season.
If you have a cookie monster fan in your house, then this recipe is for you! It's a fun, simple recipe with 4 ingredients. It's blue, full of cookies, and I know all your little monsters will gobble these up! Super fun for kid's birthday parties or slumber parties. It's a sweet treat that kids adore.
This ice cream favorite gets a makeover into decadent, delicious fudge. Silky smooth fudge is created in the 3 flavors; vanilla, chocolate, and strawberry. They are layered to create the classic Neapolitan look and they taste divine. It's a masterful explosion of flavors.
There is no need to hop a flight to Bavaria to enjoy their decadent mint fudge. This simple recipe is easy to make at home and is downright exquisite. It's smooth and chocolatey with a minty freshness. This is one of those sweet indulgences worth having on repeat.
Be sure to let me know in the comments if you tried any of these amazing recipes for fudge.
More dessert recipes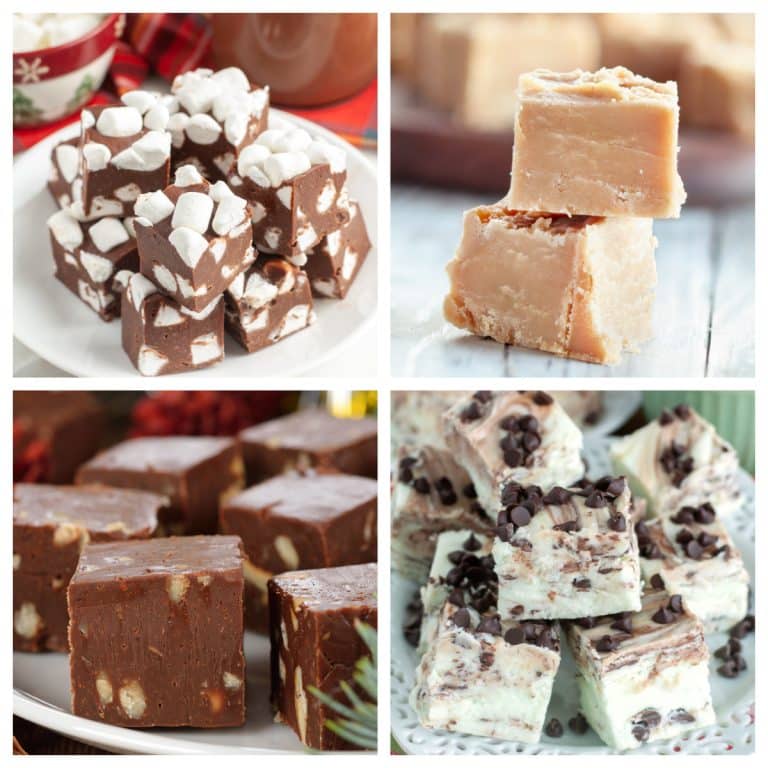 Best Fudge Recipes
Fudge recipes for all occasions from easy chocolate fudge to root beer fudge and this simple 2-ingredient fudge below.
Ingredients
3

cup

milk chocolate chips

1

14 oz

can sweetened condensed milk
Instructions
Line an 8×8 baking dish with foil or parchment paper. Lightly spray with non-stick cooking spray.

Place chocolate chips and sweetened condensed milk into a microwave safe bowl. Microwave for 45 seconds and stir. Keep microwaving in 15-20 second intervals, stirring in between, until chocolate chips have melted.

Pour fudge into prepared dish. Refrigerate until hardened.
Nutrition
Calories:
110
kcal
|
Carbohydrates:
14
g
|
Protein:
0.01
g
|
Fat:
6
g
|
Saturated Fat:
4
g
|
Monounsaturated Fat:
0.001
g
|
Cholesterol:
6
mg
|
Sodium:
8
mg
|
Potassium:
0.2
mg
|
Sugar:
13
g
|
Vitamin A:
0.2
IU
|
Vitamin C:
0.002
mg
|
Calcium:
0.2
mg
Nutrition information is automatically calculated, so should only be used as an approximation.
Like this? Leave a comment below!