31 Of The Best Cream Pie Recipes
Satisfy your sweet tooth with the very best cream pie recipes! Treat yourself to classic favorites just like Grandma used to make, or try a more inventive creation that will have everyone begging for the recipe. Whether you prefer a graham cracker crust or a flaky pastry shell, one thing's for sure: these pies promise pure indulgence in every bite.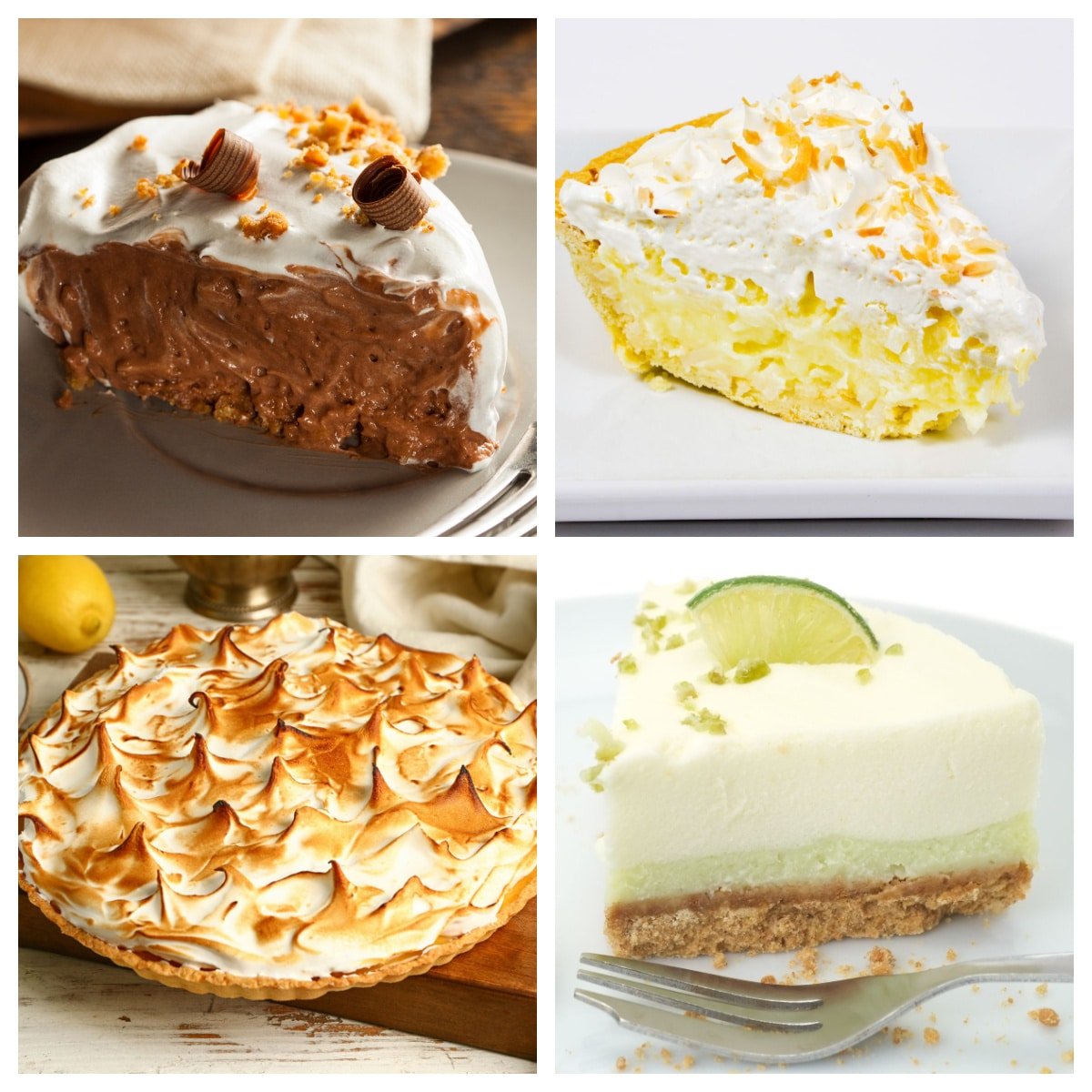 Get ready to indulge in heavenly dessert decadence with the best cream pie recipes! These delightful confections are perfect for holidays, special occasions, or really any time your sweet tooth strikes.
From a classic pie like rich chocolate cream to inventive creations featuring fresh whipped cream and luscious pie fillings, every slice is pure bliss. Whether you prefer a flaky pie crust or a graham cracker shell, you're sure to find everything you're craving and more.
If you're been dreaming of silky, luxurious textures and the irresistible flavors that only a cream pie can deliver, you've come to the right place. Honestly, the hardest part about exploring this collection is deciding which one to make first!
Savor the richness of dark chocolate in the form of an irresistibly luscious, velvety texture. With a buttery crust as the base and a whip cream topping and chocolate curls, this classic pie is every chocoholic's dream!
Who doesn't love a good old fashioned coconut cream pie? With layers of smooth coconut custard, fresh whipped cream, and toasted coconut flakes, this not-too-sweet pie is always a crowd pleaser.
This timeless classic features a rich, creamy, downright craveworthy pudding filling made from scratch. There's also plenty of banana slices and a generous dollop of whipped cream all over a buttery graham cracker crust!
Treat yourself to a luxurious, creamy, velvety chocolate filling inside a delicious Oreo pie shell! The cookie crust plus the whipped cream and chocolate shavings on top make this elegant dessert a treat for both the eyes and taste buds.
Would you believe this no-bake pie only takes about 15 minutes of hands-on prep? Inspired by an Amish peanut butter pie recipe, this dreamy treat is super easy to make and will have everyone begging for seconds!
6. Sugar Cream Pie
Looking for a simple yet elegant dessert? You only need sugar, flour, and cream to whip up the filling for this old fashioned confection! The custard-like pie has a thick, creamy sweetness that's absolutely irresistible.
Dive into layers of fluffy cream and crushed Oreo cookies, all nestled in a chocolate cookie crust! The filling truly tastes like the middle of an Oreo cookie, and the dark crust creates a beautiful contrast.
Silky caramel cream pie on a Golden Oreo crust is crowned with whipped cream and a caramel drizzle for the epitome of dessert decadence! The hint of salt really takes the flavor to the next level.
Who can resist layers of gooey brownie and luscious chocolate pudding? Serve over an Oreo cookie crust with sweet whipped cream on top for a mountain of indulgence that's surprisingly easy to make!
A delightful twist on traditional pecan pie, this creamy version offers a blend of crunchy pecans and smooth custard with just the right amount of maple syrup. It's pretty much the definition of cozy comfort!
This pie is every candy lover's dream! The creamy Butterfinger filling is spread over an Oreo crust and topped with whipped cream and even more crushed Butterfingers. If you have leftover Halloween candy, this is the perfect way to use it!
Savor the taste of summer with refreshing strawberry pudding encased in a buttery crust and topped with fresh strawberry slices. It's a burst of vibrant flavors that tastes like a sun-soaked picnic!
A cool, citrusy, creamy filling meets a crunchy crust for a glorious no-bake pie that tastes just like an orange creamsicle! Best of all, it only takes about 10 minutes to prep and an hour to set in the fridge.
A delightful combination of gingerbread spices and smooth cream is sure to get you in the holiday spirit! Topped with whipped cream and gingerbread crumbs, this festive treat is truly heartwarming.
The iconic flavors of pineapple and coconut come together for some seriously tasty tropical vibes! Accented with toasted coconut and set on a crumbly crust, every bite is a sweet escape to paradise.
The zesty and tangy delight of lemons balances the creamy mascarpone filling for a light and refreshing pie. Served atop a flaky crust and finished with a lemon zest garnish, it's perfect for summer!
Delicately flavored with a beautiful snow-white creamy topping, this pie captures the essence of a serene Christmas. Top with a simple sauce made from fresh berries to balance the richness of the filling!
Swap out your traditional pumpkin pie for this velvety version that melds the earthy flavors of pumpkin with rich cream! Nestled in a graham cracker crust, it's a wonderful blend of classic and modern tastes.
Taste the tropics with this easy no-bake pie that only requires 4 ingredients and about 5 minutes of prep time! Sweet and tangy filling paired with a buttery and crunchy crust is a truly irresistible combination and a perfect dessert for the summer.
Dive into Italian-inspired flavors with this super easy no-bake cream pie! Filled with ricotta, cream cheese, and plenty of mini chocolate chips, it's a delightful fusion of taste and texture.
Pile your pie shell high with mounds of fluffy raspberry filling and let it freeze for the ultimate summer dessert! This refreshing pie is a visually stunning masterpiece that tastes as heavenly as it looks.
Transform the classic holiday drink into a decadent pie that's brimming with rich eggnog flavor and festive spices! The velvety texture complemented by a buttery pre-made crust is sure to bring you holiday warmth and joy with every bite.
Who doesn't love a green pie? Celebrate the uniquely delicious flavor of pistachios in this creamy confection that's as fun to look at as it is to eat! Best of all, you only need a few basic ingredients to throw it together.
Celebrate the season with this festive pie that evokes the iconic striped candy in every bite! Peppermint extract adds a cool kick that pairs so well with the creamy filling and Oreo cookie crust.
Savor the sweet almond essence of amaretto liqueur blended into a creamy, dreamy pie! Served over a crunchy crust and topped with toasted almonds, you'll be surprised how easy it is to make this sophisticated dessert.
Layers of root beer-infused cream and a vanilla pudding come together for a pie that tastes exactly like a root beer float! You can serve it chilled or frozen, and we recommend adding maraschino cherries on top!
This rich pie is bursting with vibrant pineapples, cream cheese, and crunchy pecans for a truly opulent dessert. Once you try a bite, you'll understand the name: every mouthful feels like a bite of luxury!
While this pie is right at home at any summer picnic or party, it's delicious enough to deserve a spot on your table all year round! Recreate the magic of the iconic banana split in pie form for a wonderfully nostalgic treat.
You're going to fall in love with the vibrant tang of blueberries complemented by the richness of sour cream. Set atop a golden crust and dotted with juicy blueberries, this pie is a perfect balance of tart and creamy!.
Embrace the fluffy charm of cream puffs in pie form! The eclair style crust is topped with creamy vanilla pudding and fluffy whipped cream, then drizzled with chocolate sauce for a truly divine dessert.
What flavor duo is more romantic than cherries and chocolate? Served over a chocolate crust and topped with a generous dollop of whipped cream, this pie filling is a testament to classic dessert pairings done right.
Which one of these delicious pie recipes will you be making?
More amazing dessert recipes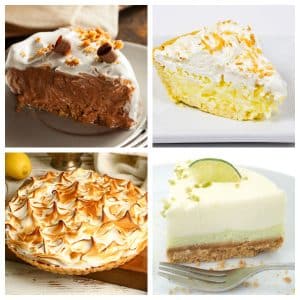 Cream Pie Recipes
A collection of delicious cream pie recipes. These recipes range from banana cream pie to a cream puff pie and so many more.
Ingredients
1

9-inch

graham cracker crust

1

14-ounce

sweetened condensed milk

16

ounces

cream cheese

softened
Instructions
Using a stand mixer, whip cream cheese for 2-3 minutes.

Stir in the sweetened condensed milk. Mix with mixer for 2-3 minutes until incorporated.

Pour the mixture into the crust and spread out in even layer.

Refrigerate for 6-8 hours.
Nutrition
Calories:
407
kcal
|
Carbohydrates:
22
g
|
Protein:
6
g
|
Fat:
33
g
|
Saturated Fat:
17
g
|
Polyunsaturated Fat:
2
g
|
Monounsaturated Fat:
12
g
|
Cholesterol:
76
mg
|
Sodium:
371
mg
|
Potassium:
132
mg
|
Fiber:
1
g
|
Sugar:
8
g
|
Vitamin A:
1016
IU
|
Vitamin C:
0.01
mg
|
Calcium:
82
mg
|
Iron:
1
mg
Nutrition information is automatically calculated, so should only be used as an approximation.
Like this? Leave a comment below!