Do you have a bag of green peppers wasting away in your veggie drawer? These Green Pepper Recipes will have you using those up, then going back to the store for more! They really are all that good.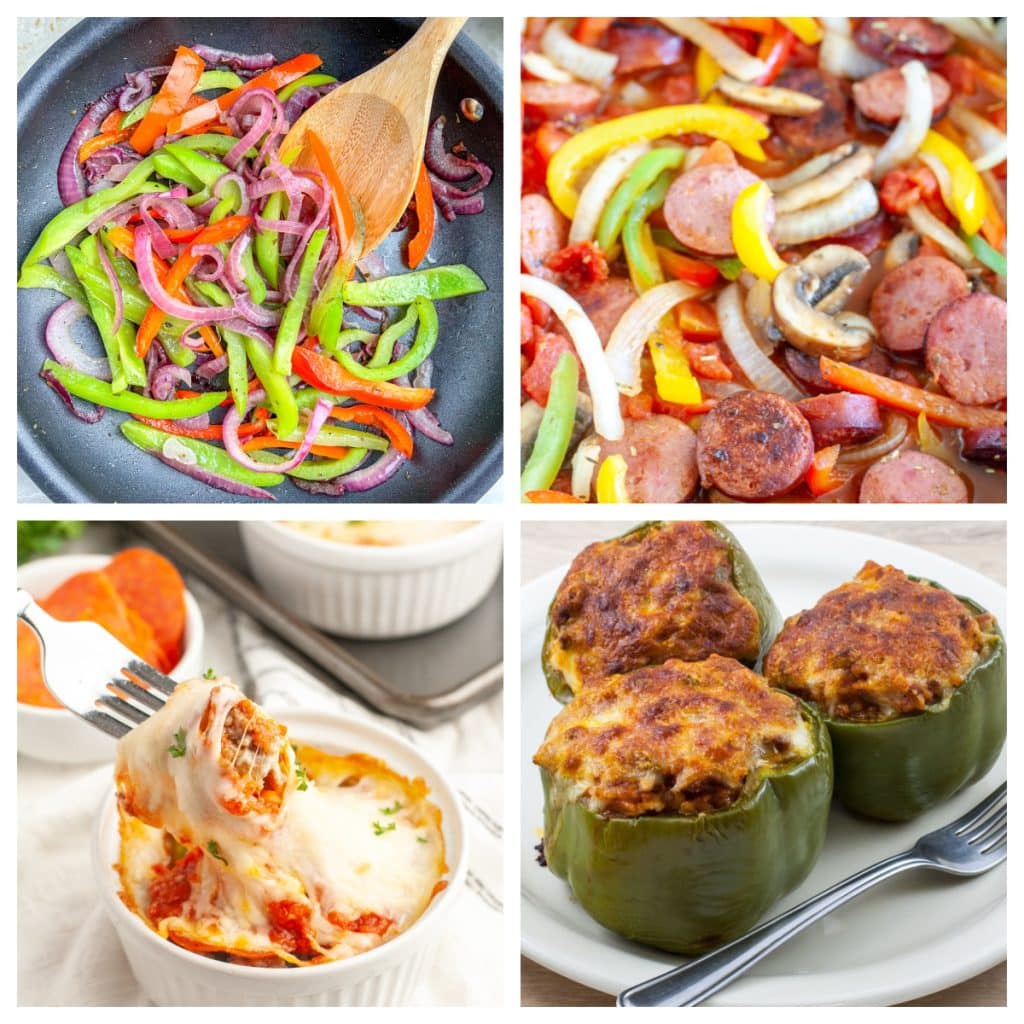 Whether you're looking for soups, sandwiches, pasta, pizza, stuffed peppers, deconstructed stuffed peppers, you name it, these green pepper recipes have you covered.
Stick to just green peppers or switch things up with your favorite colored bell peppers. You can't go wrong.
Use up those peppers by combining two of the greatest comfort foods: casserole and enchiladas! This recipe is a deconstructed stuffed pepper filled with cream cheese, black beans, green chilis, cooked rice, and drenched in a cheesy sauce. It's saucy, tasty, and so simple. The best part? It's done in a total of 40 minutes!
Try taking your home cooked meals to the next level by making this pepper steak stir fry recipe. This Asian dish uses mainly peppers, but you can add any additional veggies or toppings to make it your own! It's simple, quick, and you're guaranteed to love it.
Nothing can compare to the inviting flavors of a Chipotle…except for this copycat recipe for their crispy, tasty fajita vegetables! This recipe is simple, but creates powerful flavors that are hard to resist. Sauteed peppers and onions are cooked with a flavorful seasoning. In less than 15 minutes, it'll feel like you have your very own restaurant right at home!
Forgot it was your night to make dinner? No problem. With this quick 30 minute recipe, you can have a delicious home-cooked meal with ingredients you probably already have in your kitchen. The flavors from the sausage, peppers, onions, and garlic really pack a punch. And if you're looking to make it a little more filling, feel free to add some egg noodles to the mix!
With Polish sausage, colorful peppers, mushrooms, and tomato, this recipe will nourish those hungry bellies in no time! This recipe is bright, colorful, flavorful,. and it's ready in only 25 minutes!
Looking for a fun combination of classic stuffed peppers and your favorite sandwich? You've come to the right place. This dish combines green peppers with the classic philly cheesesteak for a dinner that will surely impress your guests. This dish is perfectly seasoned, cooked to perfection, and can be made on any occasion at any time!
Taco Tuesday is fun and all, but have you ever tried Fajita Friday? Now you can! This fajita recipe fries up chicken, onions, and peppers right on the skillet for the perfect meal! Pack it in a warm tortilla, add your toppings, and enjoy! It's that simple!
This recipe is perfect for when you're craving stuffed peppers and a nice warm soup! It's made up of tender rice, peppers, tomatoes, juicy ground beef, and more of your favorite ingredients all packed into one pot! Perfect for those chilly nights, but tasty at any time!
Have you ever wanted to eat pizza out of a bowl? Well now you can! This easy recipe is such a fun one to make with your family, and even more fun to eat! It uses simple ingredients such as cheese, pasta sauce, diced bell peppers, and any other toppings you desire! Easily customizable, and easily consumable. What more could you ask for?
A tangy, tasty, terrific option for dinner is this recipe for sweet and sour chicken! This meal has restaurant quality taste, and it's whipped up right in your own kitchen. Vinegar for sourness, and brown sugar for sweetness, this recipe gives you just the right amount of flavor.
This sofrito recipe summons a flawless flavor that will keep you coming back for more. The tomato-based sauce uses an array of different seasonings for a high-quality taste, and the delicious green bell peppers work together with the other ingredients to create your next favorite meal!
When you're looking for a light lunch option, this bell pepper sandwich is the way to go! Just use a few simple ingredients, and in no time at all you'll have your hands all over this delicious dish. You can easily customize it to your own liking or make it dairy-free!
An easy way to get a bunch of your veggies in for the day is this cheesy green pepper bake. The recipe calls for tomatoes, green peppers, spinach, and other ingredients to make this dish filling, wholesome, and addictive! It's great for sharing, but we won't blame you if you want the whole thing to yourself.
I don't know about you, but I love pairing my fancy cheeses with a tasty jelly for even more flavor. This green pepper jelly is perfect for just that! The recipe is fun and really easy to make, and will look great on your next charcuterie board.
Roast your own peppers right at home with this simple recipe! Using just three ingredients (peppers, olive oil, and garlic), you'll soon learn how easy it is to create perfectly roasted peppers in your own kitchen. Serve these peppers on crust bread as an easy appetizer, blend them into soup or sauce, or layer them on your next homemade pizza.
Looking for something a little different than a simple green salad. This recipe makes eating a salad easy to look forward to! It's healthy, light, and full of flavor. In only 30 minutes, you'll have a fresh lunch ready to go. Make this once and you'll be craving it for lunch every day.
Can't figure out what to make for dinner? These colored stuffed peppers are such a great option. They're loaded with brown rice, onion, ground turkey, garlic, and so much flavor. Use orange bell peppers, yellow bell peppers, red bell peppers, green bell peppers, or all for a super colorful entree.
You can add potatoes to pretty much anything and it just gets that much better. That's why this Potatoes O'Brien recipe is a favorite around our house! This blend of potatoes and peppers is buttery, perfectly seasoned, and delicious for brunch or dinner!
This black pepper beef stir fry recipe is made with layers of all your favorite veggies, beef, and a delicious black pepper sauce. In only 25 minutes, you'll have a main course that will satisfy everybody's hunger!
This classic goulash recipe uses bell peppers, onions, tomatoes, and other ingredients to create a nostalgic and satisfying flavor. It's a great option for a family dinner or your next big party, and you can have it done in barely any time at all. Tie it in with your favorite noodles and enjoy!
Serve up these bell pepper eggs the next time you're hosting brunch! The mouth watering taste makes the kids love 'em almost as much as the adults do! Just set aside 20 minutes in the morning and you'll have an easy breakfast that everyone will love.
This ooey-gooey, yummy philly cheesesteak bread makes for the best easy and delicious dinner option! Throw together those veggies, seasoned meats, and provolone and in 45 minutes you'll have a masterpiece! It's a dish that everyone is guaranteed to love.
Looking for a warm and cozy meal? Try this delicious green pepper chili recipe! It's a mixture of onions, tomatoes, beans, and seasonings, and the green peppers add a juicy flavor that really tops it all off! Try making on the stove or in a slow cooker. It's so warming, comforting, and delicious loaded up with your favorite chili toppings like cheddar cheese and sour cream.
This supreme pizza bake is a great recipe to make with friends or family! With a flaky biscuit crust, and a cheesy filling, this meal tastes as good as it looks. Follow the recipe exactly, or feel free to make it your own! We guarantee it will taste good no matter how you decide to prepare it.
These smothered pork chops taste just as good as they sound. This easy meal uses juicy pork chops and all your favorite colored peppers, along with a delicious creamy gravy for practically perfect flavor. It's restaurant-quality cooking ready in under an hour!
If you tried any of these bell pepper recipes let me know in the comments.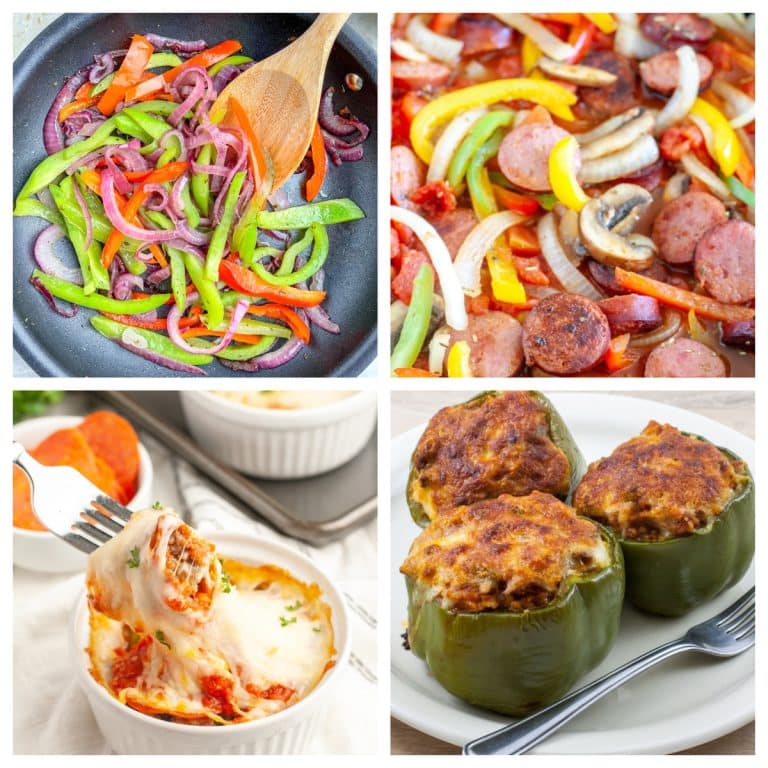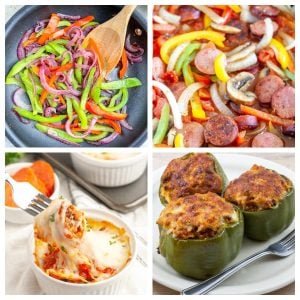 Best Green Peppers Recipes
Some of the best green pepper recipes around. Have green peppers? Try using them for recipes like stuffed peppers, soup, stir fry, and more.
Ingredients
1

green bell pepper

diced

1/2

red onion

diced

1

English cucumber

diced

1/2

cup

crumbled Feta cheese

1/2

teaspoon

salt

1/4

teaspoon

dried oregano

1/4

cup

extra virgin olive oil

2

tablespoons

red wine vinegar
Instructions
Place place all of the ingredients in a large bowl. Toss to combine and coat.
Nutrition
Calories:
387
kcal
|
Carbohydrates:
12
g
|
Protein:
7
g
|
Fat:
35
g
|
Saturated Fat:
9
g
|
Polyunsaturated Fat:
3
g
|
Monounsaturated Fat:
21
g
|
Cholesterol:
33
mg
|
Sodium:
1017
mg
|
Potassium:
397
mg
|
Fiber:
2
g
|
Sugar:
5
g
|
Vitamin A:
541
IU
|
Vitamin C:
54
mg
|
Calcium:
227
mg
|
Iron:
1
mg
Nutrition information is automatically calculated, so should only be used as an approximation.
Like this? Leave a comment below!