27 Delicious Barley Recipes
Barley is a cereal grain with a nutty flavor and a wonderfully chewy texture when cooked. While there are many types of barley, pearl barley is the most common variety sold in grocery stores. Here are some of the best barley recipes that you can make at home with simple ingredients.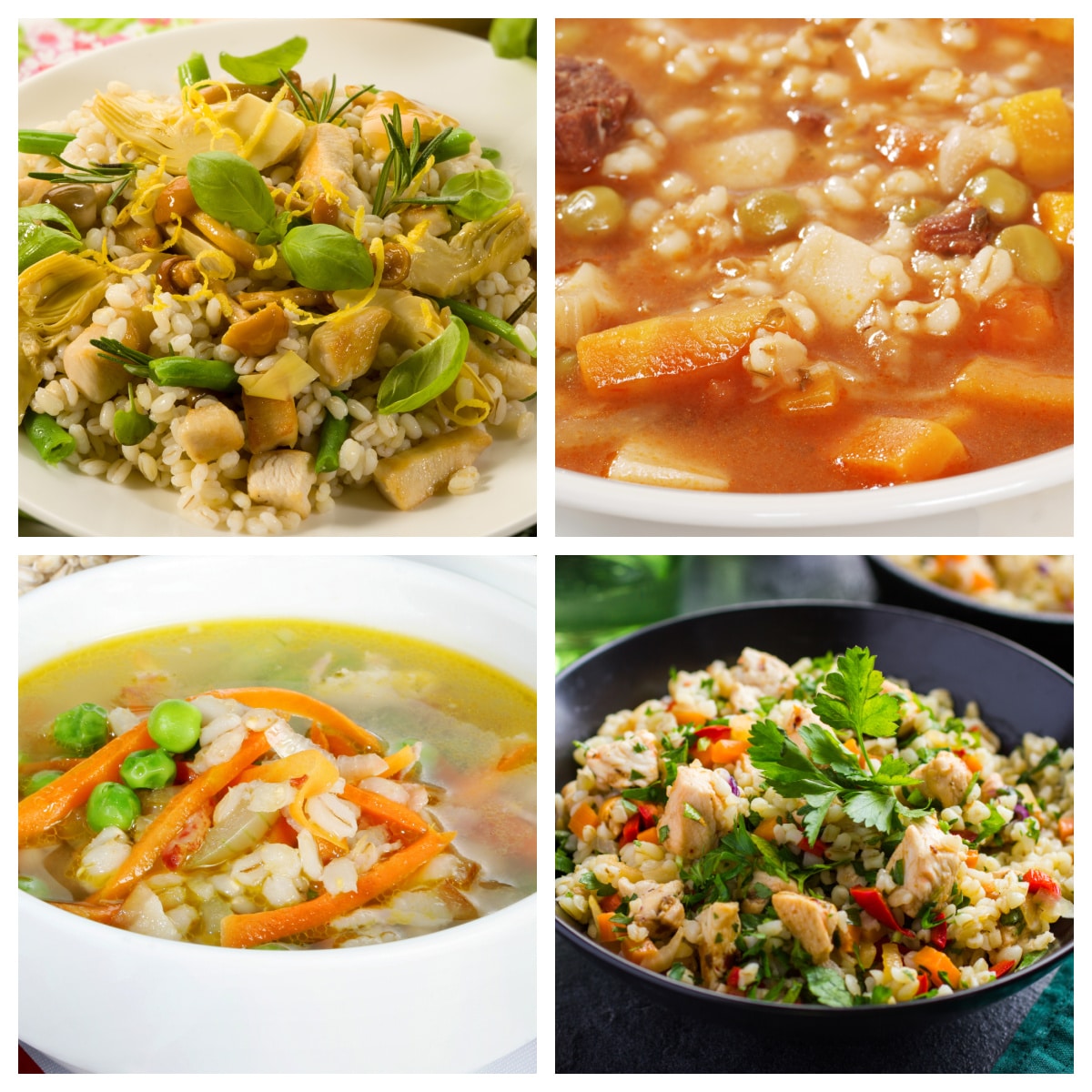 Barley is an incredibly versatile ancient grain that can be used in so many different ways!
Not only is barley versatile, but it's also packed with fiber, vitamins, and minerals, making it a healthy nutrient-packed ingredient to add to your cooking.
Our list of barley recipes features a variety of ideas, ranging from beverages to salads to stews. Savory, sweet, hot, or cold –– there's no limit to what you can create with barley!
Here's an easy vegetarian barley recipe that takes just over half an hour to make from start to finish. Use a pressure cooker for this recipe to cook your barley to perfection. This savory barley pilaf with mushrooms makes a delicious side dish that you can enjoy hot or cold.
Loaded with veggies and pearl barley, this hearty stew is a comforting recipe that will warm you right up. The use of so many healthy ingredients means that this stew is packed with nutrients.
While this stew tastes incredible on its own, you can also pair it with a side of bread to make the meal complete.
This vegetable barley stew features a rich and savory broth and plenty of colorful veggies that add flavor and nutritional value.
We love that this recipe can be made in one pot, making it an easy mess-free dinner option. Best of all, this stew freezes well for up to three months, so you can store it and have it on hand whenever you're ready to enjoy it.
Made with barley, potatoes, porcini mushrooms, and veggies, Krupnik is a traditional Polish soup with a tasty and unique flavor. Bay leaves and juniper berries will add a ton of flavor to the soup base, but be sure to take them out at the end.
This recipe comes together in about 45 minutes. Enjoy it on its own or pair it with rye bread.
There's nothing quite as comforting as homemade chicken soup! This one pot chicken soup recipe is thick and filling and gets its savory flavor from a mix of fresh herbs.
Using chicken thighs instead of chicken breasts will add even more flavor and help the broth reach a nice, thick consistency.
Roasted veggies, barley, and Mediterranean flavors come together to make this incredible salad! Not only is this recipe healthy and delicious, it's also beautiful due to the rainbow colors of the veggies.
This is a great recipe to meal prep ahead of time. You can make it up to three days in advance without the feta and fresh herbs, then simply add those once you're ready to eat.
When it comes to salad ideas, this is one of our absolute favorite barley recipes. It's packed with plenty of healthy ingredients and also has a beautiful color, thanks to the beets and oranges! The tangy goat cheese and sweet fruit and beets complement the nutty flavor of the barley so well.
You can make this hearty soup with ground beef and barley in just under an hour. Worcestershire sauce, fish sauce, and balsamic vinegar give this soup its savory flavor.
Not only will it taste incredible, but it will also fill your kitchen with an amazing aroma as it cooks! For best results, sprinkle on some parmesan cheese and serve with a side of bread.
Risotto is pure comfort food. This creamy barley risotto with mushrooms, peppers, and Italian sausage is a treat that you can whip up in just over half an hour.
Feel free to get creative and experiment with your favorite ingredients! Chopped spinach or parmesan cheese would be a great addition to this meal. Wine is an optional ingredient but will surely enhance the flavor of the dish if used.
Mixed with veggies and a variety of fresh herbs, this herb and mushroom barley is filling, nutritious, and so tasty. Olive oil and balsamic vinegar will complement the nutty flavor of the barley and help bring out all the other flavors as well.
Pro tip: you can simplify your cooking process by making your barley in the rice cooker instead of on the stove!
One of our favorite barley recipes for fall is this barley pumpkin risotto. Creamy, delicious, and so easy to make, this plant-based recipe will make a great weeknight dinner or dish for your Thanksgiving spread.
Not a fan of pumpkin? No worries –– this recipe also works well with butternut squash as a substitute.
Classic tabbouleh is made with bulgur wheat, but this version puts a twist on it by using barley instead. Tabbouleh is not only flavorful, but will also add some color to your meal.
With a lemony dressing drizzled over tomato, cucumber, and fresh herbs, this healthy side dish can be enjoyed on its own as a salad. You can also use it as a filling inside of a pita!
Sweet peas and barley are an unmatched combination, with sweet and nutty flavors combining so well. This easy recipe takes only 30 minutes to prepare and is made with simple ingredients. You can add butter and parmesan cheese if you want to give it a creamy, cheesy finish.
Here's one of our favorite Mediterranean-style barley recipes that you can serve warm, cold, or at room temperature. This dish features colorful roasted veggies, barley, and the delicious flavors of paprika and harissa spice.
Pine nuts and feta cheese are optional ingredients but will take this recipe to the next level with some added crunch and tanginess.
Packed with plenty of protein and fiber, this comforting soup is so flavorful and loaded with tons of nutrients. The combination of lentils and barley will help the soup achieve a slightly creamy texture.
We love this recipe because it's made with simple, inexpensive ingredients, and it also freezes well for up to two months.
This barley salad with green beans, chickpeas, and feta is light, fresh, and delicious. Requiring minimal ingredients and only a few minutes to prepare, this recipe is a great meal prep option that you can keep in the fridge for multiple days.
Making mushroom barley soup has never been easier! This easy soup recipe is great for quick weeknight dinners. Featuring tender mushrooms and veggies and a rich creamy broth, every bite of this soup is hearty and oh-so comforting.
While this soup unfortunately doesn't freeze very well because of its dairy contents, it will last for up to 5 days in the fridge so that you can enjoy it for multiple meals.
Stuffed peppers are a filling and tasty treat, not to mention beautiful with their vibrant colors! These stuffed peppers are loaded with barley, chickpeas, onion, and fire-roasted tomatoes.
Sprinkle on a little bit of cheese to bring the whole recipe together, resulting in delicious melty stuffed peppers once baked!
The slow cooker makes it so easy to prepare these sweet and satisfying whole-grain bowls! Made with apples, cinnamon, barley, and brown sugar, this recipe has a rich caramelized flavor with the perfect amount of spice to complement it.
Similar to a thicker version of oatmeal, a whole-grain breakfast bowl makes a simple but filling breakfast.
Lemon juice, dill, and fresh herbs give this chickpea barley stew a distinctly wonderful flavor. Packed with healthy fiber, this recipe is sure to keep you full as well as satisfy your taste buds.
This stew is easy to make, requiring only 5 minutes of prep time before you let everything simmer to perfection. Because of how the flavors soak into the barley and chickpeas, the leftovers will taste delicious. You can also freeze this recipe for up to 3 months!
One pan is all you need to make this easy ground beef taco barley skillet. Taco seasoning, beef broth, chilies, and salsa give this dish a delicious savory and spicy flavor.
Once your mixture has finished simmering, top it off with cheese and let it melt. Be sure to add sour cream, tomatoes, onions, olives, or any of your other favorite taco toppings!
Greek salad has the best crunch and flavor, made with cucumbers, tomatoes, olives, and red onion in addition to barley. Feta crumbles and a dressing made with lemon juice and apple cider vinegar will enhance the recipe by adding tangy, zesty flavors.
Flavored with simple seasonings, stovetop tacos with barley and black beans are so satisfying and delicious! Cooking your barley in vegetable or chicken broth will infuse it with so much flavor.
Load up your tortillas with the bean and barley mixture and top them off with corn, tomatoes, cheese, and your other favorite toppings.
A staple in Korean households, barley tea is a refreshing drink that's easy to brew and that can be enjoyed hot or cold. It's the perfect beverage to warm you up or cool you down.
Made by infusing roasted barley kernels in water, this tea has a distinct nutty taste. Best of all, it's completely caffeine-free, so you can enjoy it any time of day!
Homemade barley lemonade is a healthy beverage that's easy to make with just a few simple ingredients. Barley beverages naturally have a nutty flavor, but we love that this recipe can be personalized to adjust the saltiness, sweetness, or spice to your own liking.
Serve your lemonade cold with ice cubes. It's the ideal treat to keep you cool on hot summer days!
One of our favorite barley recipes is barley pudding! Apple cinnamon barley pudding is a sweet dessert with a little bit of spice to balance out the nutty flavor. This recipe is similar to both rice pudding and tapioca pudding but with a chewier texture.
The key to getting the perfect texture is stirring your pudding mixture non-stop as it cooks. Top it off with a dollop of your favorite cream –– sour cream, yogurt, or creme fraiche!
Colorful veggies and barley come together in a delicious and beautiful salad mixture. The lemon dijon dressing will add a delightful tanginess to tie all of the ingredients together.
This is a great recipe to prepare in advance for meal prep, but it's important to use crunchy veggies that won't get soggy. Carrots, bell peppers, and radishes are among some of the best additions!
More delicious recipes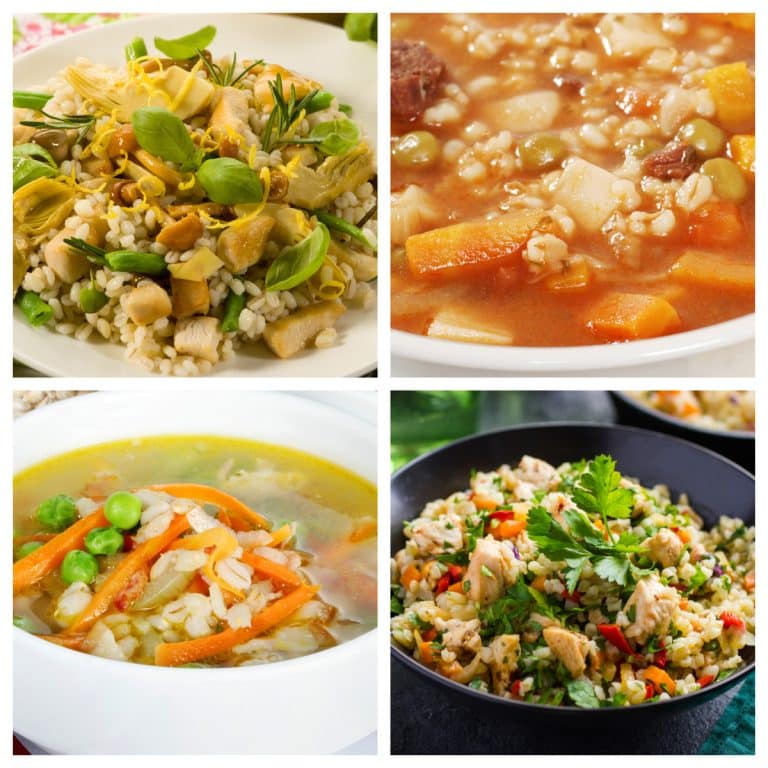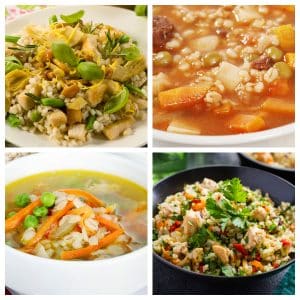 Barley Recipes
A collection of some of our favorite barley recipes. Barley is a delicious grain that can be used in a number of ways to make a wonderful recipe.
Ingredients
1

cup

pearl barley

3

cups

chicken stock
Instructions
Rinse off the barley. Put it in a saucepan with the chicken stock.

Bring the liquid to a boil over medium heat. Reduce the heat, place a lid on the saucepan and cook for about 35-40 minutes.

Remove the saucepan from heat. Let sit for 5 minutes and then stir.
Nutrition
Serving:
4
g
|
Calories:
175
kcal
Nutrition information is automatically calculated, so should only be used as an approximation.
Like this? Leave a comment below!