31 Leftover Mashed Potato Recipes You Have To Try
Mashed potatoes are creamy, comforting, and so delicious. Best of all, mashed potatoes are versatile enough to be used in a number of ways. Next time you have a surplus of holiday leftovers sitting in the fridge, grab your potatoes and transform them into something new! Here are some of our absolute favorite leftover mashed potato recipes that you can easily make at home.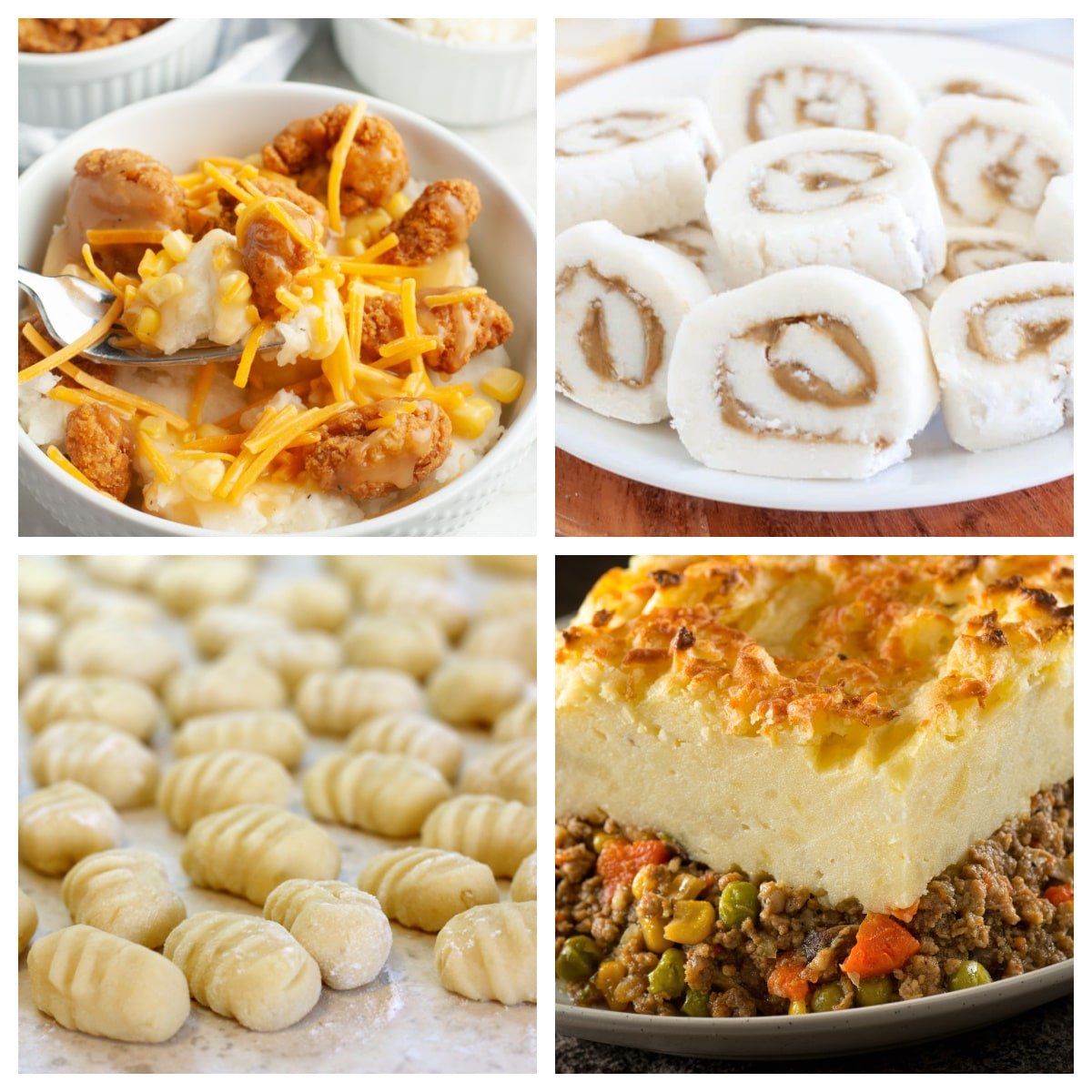 Our list of mashed potato recipe ideas features a mix of sweet and savory ideas that will fill your kitchen with an incredible aroma as they cook.
While many of these recipes are simply recreations of popular dishes you know and love, some of them might surprise you –– you'd never suspect they contained potatoes if you didn't know!
Despite the surprises, there's one thing that we're certain of: leftover mashed potatoes in any form will keep the whole family happy.
1. Thanksgiving Casserole
This casserole combines Thanksgiving leftovers into one delicious dish! Made with shredded turkey, mashed potatoes, green beans, and stuffing, this recipe will allow you to enjoy the holiday flavors for multiple meals.
Since this casserole freezes well, you can simply store it and have Thanksgiving dinner ready to go at any time!
Classic shepherd's pie is savory and comforting. Add a heaping layer of cheesy mashed potatoes to your mixture of ground beef and veggies, then bake until bubbling and golden.
This recipe is filled with flavor, thanks to the rich gravy made with Worcestershire sauce and plenty of herbs.
The only thing better than baked potatoes is twice baked potatoes! This creamy, cheesy potato casserole is a twist on your typical double-baked potatoes, but without the extra step of stuffing potato skins.
We love that there are so many toppings that you can incorporate into this recipe. Some of the best ideas include bacon bits, chives, sour cream, green onions, and prosciutto.
Satisfy your KFC cravings with these copycat famous bowls that are just as good as the original. Featuring only 5 simple ingredients, these bowls are perfect for a quick and easy lunch or dinner. You can enjoy all the flavors of this KFC meal from the comfort of your own home.
Ready in 15 minutes and made with only 4 ingredients, potato pancakes are one of the simplest leftover mashed potato recipes that are still loaded with flavor. Simply mix all of your ingredients together, drop them onto a sizzling hot skillet, and flatten to your desired size.
These fluffy pancakes can be frozen for up to 3 months once cooled. Try them with cranberry sauce or sour cream to add extra flavor!
Mashed potatoes are the key ingredient that gives these dinner rolls their soft, pillowy texture. Each bite of these potato rolls is sweet and buttery and will practically melt in your mouth.
For best results, check out the helpful recipe tips for information on how to prepare the dough and space out the rolls before baking them.
Potato candy is an old-fashioned sweet treat that originated during the Great Depression era. You can make your own mashed potato candy at home with just five simple ingredients: potato, powdered sugar, milk, vanilla, and peanut butter.
These candies are rolled up like pinwheels, similar to cake rolls or cinnamon rolls!
Here's a creamy, cheesy potato soup that will warm you right up. Using whole milk in this recipe is recommended as it will help your soup achieve the perfect consistency –– not too thick, and not too thin.
The addition of bacon bits on top will add a little bit of crunch and just the right amount of saltiness to your meal.
Duchess potatoes have a fancy appearance but are actually much easier to make than you might think! Flavored with garlic and Parmesan cheese, these swirled mashed potato mounds are golden and delicious.
You can use a piping bag fitted with a large star tip to create the textured pattern suggested in this recipe.
Turn your leftover mashed potatoes into dumplings by mixing in flour and an egg! It only takes 20 minutes from start to finish to prepare this easy side dish or entree. To add even more texture and flavor, include sauteed mushrooms, garlic, onions, and bacon.
One of the most versatile leftover mashed potato recipes is these potato waffles. Potato waffles are easy to enjoy at any time of day, and they can also easily be personalized with your favorite toppings or mix-ins.
We love that mashed potato waffles have a soft inside but are slightly crispy on the outside.
Making homemade pierogi is easy, with only 25 minutes of prep time and an additional 15 minutes of cook time! These potato-filled pierogi dumplings are wrapped in a homemade dough and fried to perfection. The caramelized onions add a light sweetness to enhance the recipe.
Check out the recipe notes to see how you can create different kinds of pierogi with cheese or sauerkraut.
It only takes 20 minutes and three ingredients to turn mashed potatoes into gnocchi. Gnocchi is incredibly simple to make, and is soft and delicious with a creamy pillowy texture. Toss your gnocchi in a homemade sauce made with butter and fresh herbs.
Potato balls are pure comfort food. These savory fried treats make a great appetizer or dinner side. With creamy mashed potatoes on the inside and golden breadcrumbs on the outside, each bite of potato balls is so satisfying.
A helpful tip for best results: chill your leftover potatoes before starting this recipe. This will help them keep their shape while frying.
Both kids and adults are sure to love these muffin tin mashed potatoes. Crunchy on the outside but creamy on the inside, mashed potato cups are a fun way to make the most out of your holiday leftovers. Best of all, you only need to spend 15 minutes prepping before popping these in the oven.
Crispy fried croquettes make a tasty side dish or appetizer. These potato croquettes are easy to make in under half an hour and taste heavenly with a homemade garlic aioli for dipping.
This recipe idea is among the best leftover mashed potato recipes because of how easily it can be reheated in the oven.
Who knew that mashed potatoes could be used to make a cake?! Transform your Thanksgiving leftovers into a delicious chocolate dessert that will satisfy any sweet tooth. The mashed potatoes will help your cake achieve a light, fluffy, and moist texture.
Bubble and squeak is a tasty breakfast dish made from mashed potatoes and cabbage. This easy skillet dinner takes only 20 minutes to prepare and will taste incredible with gravy drizzled on top. Want to take your dish to the next level? Add an egg and bacon bits for some extra flavor.
With creamy leftover potatoes layered in between lasagna noodles, this cheesy pasta and potato casserole makes a hearty meal that will be delicious for holiday parties or family dinner. This hearty dish is a fun twist on your traditional pierogi!
Potato salad is a classic side dish that goes well with so many meals. This mashed potato idea is simple and easy to whip up in under half an hour.
We love how easy it is to customize this recipe! While celery and eggs are recommended, you can add additional ingredients such as bell peppers or bacon bits to give the recipe some color and crunch.
Making mashed potato bread is easy –– and you don't need a stand mixer! This delicious bread tastes just like your classic white bread and has a perfect fluffy texture. Although it will take a bit of time for the dough to rise, this recipe is certainly worth the wait.
One of the quickest but tastiest leftover mashed potato recipes that you can put together is mashed potato quesadillas. These quesadillas only take 10 minutes to prepare, and we love that there are so many ways to personalize them to your liking. Try adding avocado, bacon, or veggies such as spinach or bell peppers!
Craving pizza but don't want to let your holiday leftovers go to waste? This mashed potato pizza recipe will allow you to combine both to make a unique fusion of flavors and textures.
Simply spread mashed potatoes across your pizza dough, then top with cheese and all of your desired toppings. To finish it off, add some bacon bits and chives, and a dollop of sour cream.
A twist on your traditional meatloaf and shepherd's pie, this potato and meat casserole is filling, moist, and loaded with flavor. This recipe is made with simple ingredients and is easy to assemble before baking.
Best of all, it's easy to store and reheat, so you can have multiple servings ready to go for busy nights when you don't have time to cook.
This is one of our favorite leftover mashed potato recipes because of how surprising it is –– a unique and creative use of Thanksgiving leftovers.
These cinnamon rolls are so perfectly sweet and scrumptious, you won't be able to taste the mashed potatoes at all! Kids and adults alike will fall in love with them.
Doughnut holes are the perfect sweet treat. This recipe makes the best out of leftover potatoes, turning them into bite-sized doughnut holes that are tender on the inside and crispy on the outside. Coated in a decadent homemade icing, these doughnuts will practically melt in your mouth!
Cottage pie is a comforting recipe that is perfect for family dinner. Featuring meat and veggies coated in a rich gravy, as well as thick and cheesy mashed potatoes, this meal is baked to a beautiful golden brown color and tastes just as good as it looks.
We love how mashed potato spring rolls bring crispy and creamy textures together in such a fun and flavorful way. These spring rolls are so easy to assemble in a matter of minutes once you have all of the ingredients prepared.
This stromboli recipe brings all of the amazing flavors of Thanksgiving leftovers together in one pocket of pizza dough. Enjoy the savory flavors of turkey, stuffing gravy, mashed potatoes, and more –– baked until perfectly warm and golden.
Juicy meatballs and creamy potatoes come together in a comforting casserole that you won't be able to resist. Simply top your mashed potato base with meatballs, marinara sauce, and cheese, then pop into the oven until bubbling.
We're a huge fan of leftover mashed potato recipes that combine creamy and crispy ingredients. These loaded wontons are filled with a savory cheesy potato mixture and fried to perfection in the air fryer.
Let me know if you try any of these potato recipes.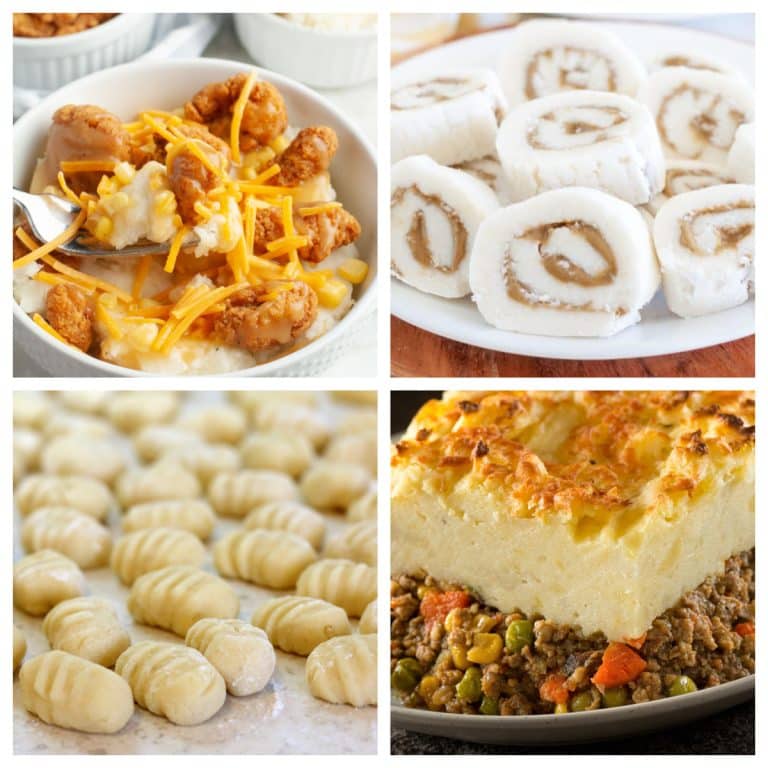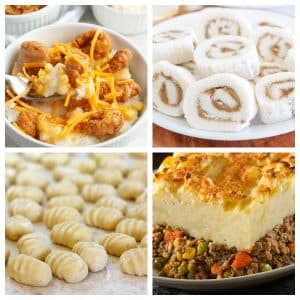 Leftover Mashed Potato Recipes
These leftover mashed potato recipes are a great way to use up any mashed potatoes you might have leftover from a meal or holiday. From casseroles to candy, there are so many ways to use mashed potatoes including these potato cakes.
Ingredients
1.5 – 2

cups

leftover mashed potatoes

1

egg

2

tablespoons

bread crumbs

1/4

cup

vegetable oil

1/8

salt
Instructions
Pour oil in a large skillet and heat over medium heat.

Whisk the egg in a large bowl. Stir in bread crumbs and mashed potatoes.

Roll mixture into 2-inch balls. Place into hot oil and then push down with the back of a spatula to flatten the potatoes into a "cake".

Cook for 3 minutes on each side or golden brown.

Place on a paper towel lined plate to drain off excess grease. Add a pinch of salt to the top of freshly cooked potato cake.
Nutrition
Serving:
6
g
|
Calories:
100
kcal
Nutrition information is automatically calculated, so should only be used as an approximation.
Like this? Leave a comment below!