30 Best Sheet Cake Recipes
One of my personal favorite desserts to make is an easy and delicious sheet cake. They are great for sharing, are perfect for parties or any type of get-together, and are oh, so tasty! These 30 sheet cake recipes are some of our favorites to make.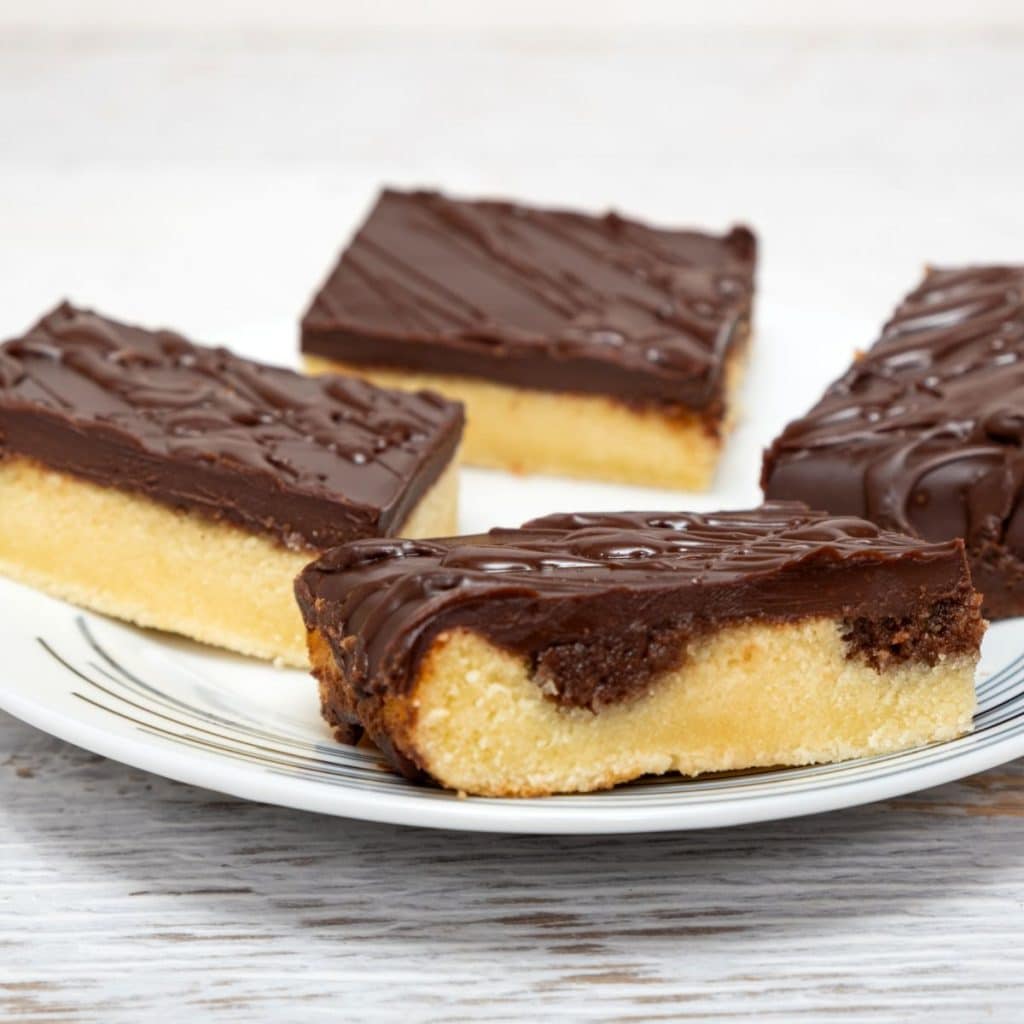 Whats the difference between sheet cake and regular cake?
The cake pan is the thing that distinguishes a sheet cake from regular cake. Sheet cakes are typically made in a large, shallow pan producing a thin cake. Regular cakes are usually made in a round pan, a bundt pan, or a 9×13 baking dish.
If you're looking for a soft, mouthwatering, and sweet treat for the next special occasion, you will want to give one of these sheet cake recipes a try. You and your guests will love 'em!
This classic Texas Sheet Cake recipe is the best in the business! It's got an ultra-chocolatey flavor and each bite is moist, decadent, and delicious. The chocolate base pairs beautifully with the even more chocolatey buttermilk frosting. This cake is so good that you'll want to lick the pan clean!
For my fellow vanilla lovers, this white Texas Sheet Cake recipe is to die for! It's got a delicious, moist texture, and the perfect sweetness in every bite. It is a simple recipe that creates the perfect, melt-in-your-mouth cake. And if you're anything like me, this will soon become a go-to recipe in your house!
What goes great with peanut butter? Even more peanut butter! This peanut butter sheet cake is the perfect nutty flavor twist. The dense, moist cake is topped with a soft and creamy peanut butter frosting. Throw together your ingredients, bake for 25 minutes, and enjoy!
I am a firm believer that whipped buttercream frosting makes any dessert taste 10x better. Especially this simple vanilla sheet cake recipe! This is one of our favorite sheet cakes. The vanilla cake, although a classic, never gets old! When you top that with a fluffy whipped buttercream, you get an even more decadent and delicious dessert. You won't be able to get enough!
What's more fun than a good ol' funfetti flavored dessert? Absolutely nothing! This homemade funfetti sheet cake is a party favorite, and is sure to be a hit with the kiddos! Not only is the taste of vanilla great, but the sprinkles take this dessert to the next level! Top with the sweet and delicious frosting, and dig in!
Everybody loves chocolate…and if you don't, then your mind may just be changed after you try this superb chocolate sheet cake. It's not called the best for nothing! This chocolate sheet cake has a beautiful soft texture and rich, chocolatey flavor made even better with chocolate frosting, melted chocolate, and chocolate sprinkles. You'll fall in love after one bite!
You'll go absolutely nuts for this easy coconut sheet cake recipe! Coconut is simply one of my favorite flavors. And when you put it in a cake and pair it with velvety cream cheese frosting, you won't be able to get enough! An easy and delicious treat for the whole family!
This perfect dessert is a delicious mashup of two classic treats: cookies and cake! It's made with a perfectly chewy, chocolate-chip-loaded cookie base topped with homemade vanilla buttercream frosting. This recipe is perfect for serving a crowd!
Marble cake allows you to enjoy two flavors at once…and I just know you'll enjoy this decadent marble cake. It's a chocolate and vanilla sheet cake layered with a creamy double chocolate buttercream frosting. This marble sheet cake is simple to make, but is sure to impress!
This almond sheet cake recipe is absolute perfection! The cake has a soft, fluffy texture that keeps you wanting more. The almond extract creates just the right amount of sweetness in an already tasty treat. Spread on the buttery almond frosting, top with shredded almonds, and enjoy!
If you're looking for that special treat for a special occasion, you've come to the right place. This strawberry sheet cake recipe is the definition of sugary, fruity perfection! With a strawberry cream cheese frosting smothered on top, this cake has a flavor that just melts in your mouth.
What better way to celebrate an occasion than a luscious red velvet cake? This sheet cake recipe is perfect for sharing, and it takes under an hour to make! We promise you won't regret it after you've tasted the delightful flavors of this red velvet treat topped with an impeccable cream cheese frosting!
Looking for a sweet summer dessert for you and your family? Look no further! We've got the perfect strawberry shortcake sheet cake recipe for those warm summer nights when you're craving something sweet. With fresh strawberries layered with cream cheese frosting and a moist white cake, this recipe is one of my favorites, and will soon be yours, too!
This banana sheet cake recipe is a great way to use up those bananas sitting on your counter! It's infused with the perfect amount of banana flavor, then topped with a beautifully sweet and fluffy cream cheese frosting. This sheet cake is made with the perfect amount of sweetness and the perfect amount of love! You're guaranteed to go bananas for it.
Inspired by the world famous cookie, this snickerdoodle sheet cake is a favorite treat in our house! A cinnamon-y and sweet vanilla cake with the creamy cinnamon frosting makes for heavenly flavor in every bite.
If you love chocolate and everything sweet, you'll love this German chocolate sheet cake recipe. The dense, rich, fudgy cake is layered with a caramel coconut pecan frosting with flavors that will have your taste buds dancing. It's a great treat for any occasion, and it's guaranteed to be a hit!
Looking for a fun new delicacy to enjoy as your next dessert? We've got you covered. This black forest poke sheet cake has all of the best flavors and more! It's got a moist chocolate cake layered with a juicy cherry pie filling and a tasty whipped topping. It gets better with every bite!
Who doesn't love the classic lemon flavor, especially in a moist and delicious cake! This recipe holds all the secrets to the best lemon sheet cake of all time. The fluffy base is topped with a tangy lemon flavored glaze. Top with a lemon slice for a beautiful presentation and dig in!
This recipe is perfect for when you popsicle lovers are craving a delicious and fruity cake. The orange dreamsicle flavor is perfect and the cake is topped with a creamy vanilla pudding frosting for even more sweetness. Just 7 ingredients needed!
This thin sheet cake is a Southern-inspired dessert dish that will have the whole family happy and satisfied. It's a caramel cake topped with caramel icing for the sweetest, tastiest treat. It's really simple to put together, coming together in only about 30 minutes. Tasty and quick! Who doesn't love that?
This pumpkin sheet cake recipe is the perfect fall treat for any festive occasion. Mixing that canned pumpkin into the cake batter creates the perfect dense texture. When you top the cake with a simple brown butter frosting, the flavors are absolute perfection! It's a guaranteed hit.
Yellow sheet cake really goes great with a creamy chocolate frosting, and that's why this texas sheet cake recipe is so perfect! Texas sheet cake typically uses a chocolate cake as the base, but this combination tastes just as good, if not better! Give this recipe a try, we promise you will love it!
This Blue Ribbon Carrot Sheet Cake is a sweet treat that everyone will love. It's full of flavor thanks to carrots, pineapple, and coconut for the ultimate dessert. This moist and fluffy cake is baked to perfection, topped with a sweet buttermilk glaze, and chopped pecans or walnuts.
If there are any two flavors that go together perfectly, it's vanilla and raspberry. And that's why this vanilla raspberry sheet cake is pretty much perfect. It's layers of vanilla cake, a sweet raspberry filling, and a tangy cream cheese whipped frosting. The fruity, sugar flavors just melt on the tongue. And it's ready in only one hour!
This recipe combines the great sweet flavors of a cherry pie, with the moist fluffy texture of a sheet cake. It's a fluffy homemade cake swirled with cherry pie filling and topped with a simple and sweet icing. It's perfect for cherry lovers and great for sharing at any occasion!
A sweet pineapple sheet cake is a lovely tropical flavored dessert for any occasion. It's got the perfect blend of sweet pineapple and coconut flavor and is topped with chopped walnuts and a fluffy cream cheese buttercream frosting. Its flavors come together to create the perfect tropical cake!
A tropical themed cake of your dreams, this hummingbird sheet cake is packed with pineapple and banana. These delicious, fruity flavors combine perfectly with the caramel cream cheese frosting for a cake that tastes like heaven. We love this one and we know you will too!
Chocolate and peanut butter is a classic sweet treat combination. It's perfect for most desserts…and the same goes for sheet cakes! This chocolate sheet cake with peanut butter frosting is a rich chocolate cake topped with a tangy and creamy peanut butter frosting. Perfect for potlucks, parties, you name it.
This easy sheet cake recipe is perfect for a sweet snack or party treat. The zesty lemon and the sweet flavor of the blueberry combine perfectly for a delightful taste in every bite! Top with a sugary glaze and dig in.
I go nuts for this Watergate sheet cake recipe! The use of the pistachio pudding and pecans create the perfect nutty flavor. This sweet treat is topped with a light whipped cream topping and sprinkled with coconut. It's the perfect blend of flavors guaranteed to satisfy your taste buds.
More Delicious Cake Recipes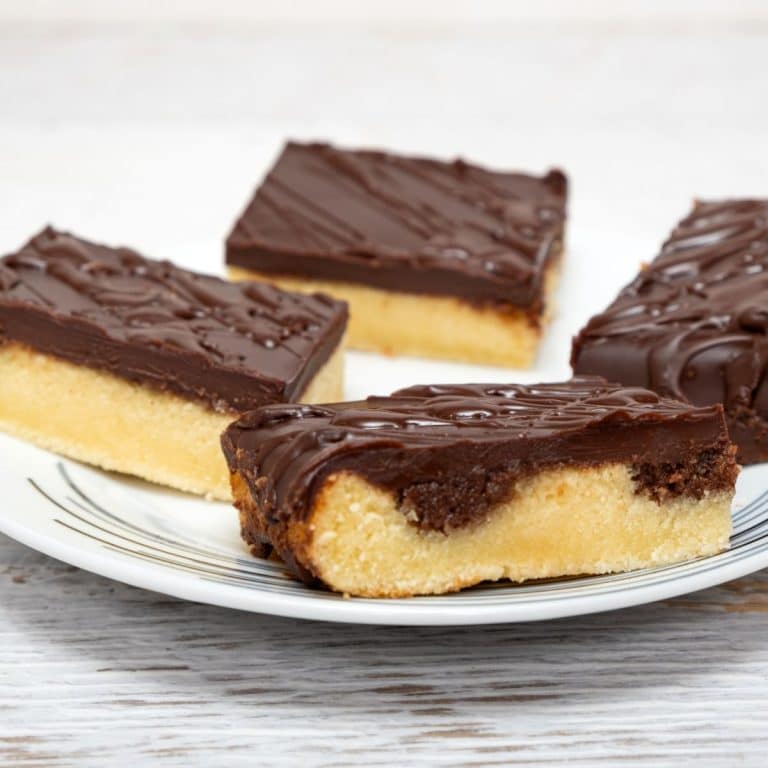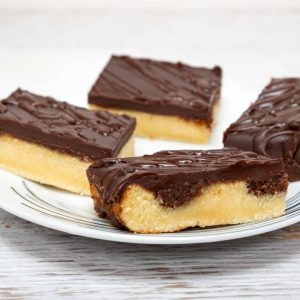 Sheet Cake Recipes
A group of delicious sheet cake recipes. From classic yellow cake to Texas sheet cake, and so many more sheet cake recipes.
Ingredients
1

box

yellow cake mix

ingredients from the back of box

1

16 ounce

tub of chocolate frosting
Instructions
Preheat the oven to 350 degrees F. Prepare the cake batter according to the box directions.

Grease a rimmed jelly roll pan. Pour batter into pan. Bake for 13-15 minutes or until toothpick comes out clean.

While the cake is still slightly warm, spread the frosting over the cake.
Nutrition
Calories:
95
kcal
|
Carbohydrates:
21
g
|
Protein:
1
g
|
Fat:
1
g
|
Saturated Fat:
0.4
g
|
Polyunsaturated Fat:
0.1
g
|
Monounsaturated Fat:
0.2
g
|
Trans Fat:
0.1
g
|
Sodium:
188
mg
|
Potassium:
12
mg
|
Fiber:
0.3
g
|
Sugar:
11
g
|
Vitamin A:
0.001
IU
|
Calcium:
55
mg
|
Iron:
1
mg
Nutrition information is automatically calculated, so should only be used as an approximation.
Like this? Leave a comment below!