21 Best Pork Belly Recipes
Jul 15, 2022, Updated Oct 08, 2023
These pork belly recipes are great to add to your culinary arsenal. There are many different ways to enjoy pork belly. You may be surprised at how easy it is to create restaurant-quality meals at home.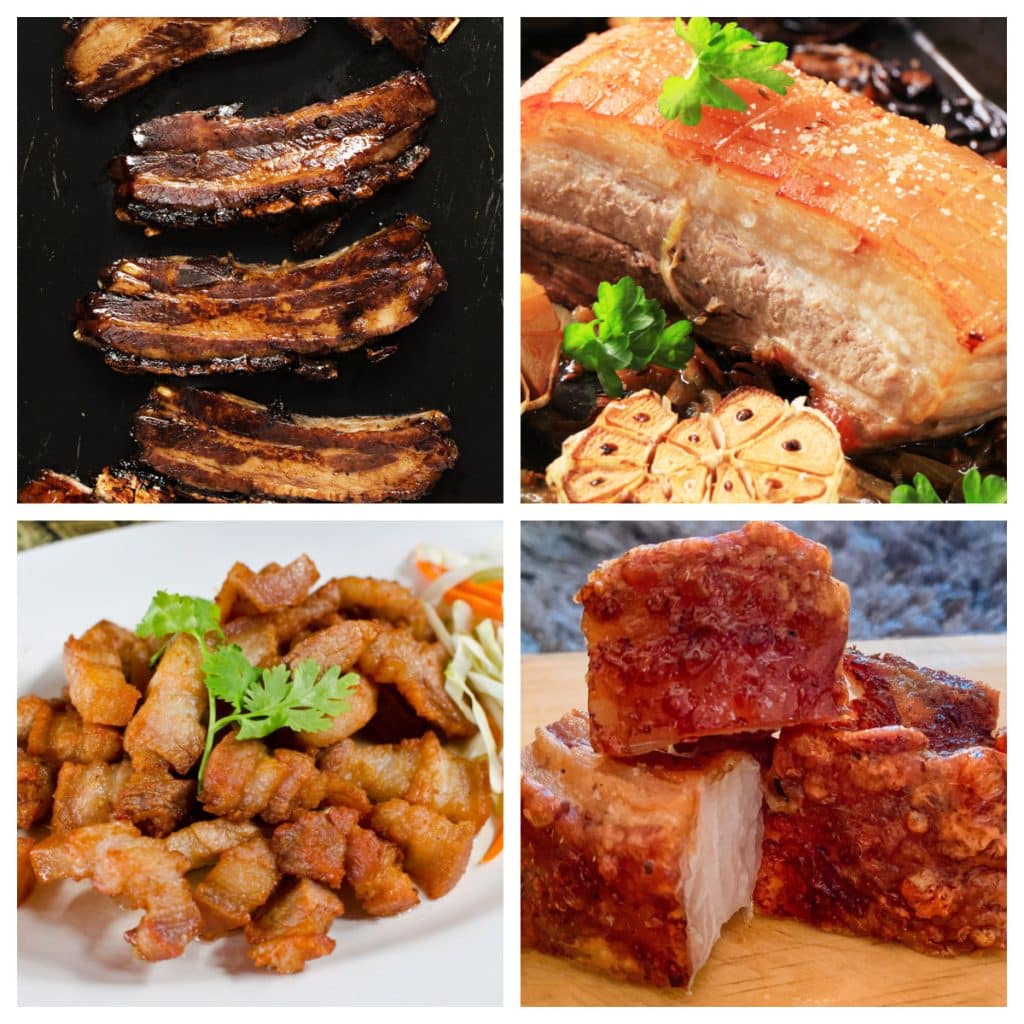 Pork belly is tender, juicy, and savory with a hint of umami flavor. There are pork belly slices with crispy skin, burnt ends, smoked, and slow-cooked pork belly, and their flavors are incredible.
It's a rich and succulent meat that can be used in a variety of ways. If you enjoy pork, especially bacon, then you'll love these pork belly recipes!
Looks can be deceiving as these might not look appetizing to some due to their burnt look. However, they are a mouthwatering, sweet, and savory delight. Crispy, sticky, and oh-so-delicious, they are dry rubbed, slow-cooked, and finished with BBQ sauce. They have sublime crispy skin and are a true grill master recipe sure to please the masses.
Cooking crispy pork belly in your oven isn't as difficult as you may think. This is an easy recipe with 4 simple ingredients and 5 minutes of prep. The result is crispy, juicy, rich, and flavorful pork belly slices.
Smoked meats are a delicious, flavorful way to cook and enjoy animal protein. This recipe for smoked pork belly is one to add to your arsenal of smoked meats. The pork belly is dry rubbed in savory spices then smoked, covered in BBQ sauce, honey, and butter, then smoked some more. The end result is savory, sweet, tasty, melt-in-your-mouth pieces of pork belly.
The air fryer is a great way to make crispy pork belly any time of the year. It's a quick and easy recipe that has you enjoying your pork in 40 minutes. Simply season the pork belly with spices, toss into the air fryer, and voila! You've got tasty protein for any meal.
These irresistible pork belly bites are the perfect addition to your next party. They are slow-cooked sous vide style with sriracha, garlic, and soy sauce. Then these magical bites are brushed with a savory glaze as they finish on the BBQ. The end result is tender, juicy, you-can't-eat-just-one delicious bites.
This is a simple recipe any novice cook can easily make. Pork belly slices are marinated in a savory and sweet sauce of garlic, brown sugar, soy sauce, chili flakes, and spices. Then they are baked to perfection in the oven. A delightful and appetizing dish.
A restaurant-quality ramen at home? Yes, please! This recipe delivers all of the magnificent flavors of your favorite ramen from the comfort of your own kitchen. Pork belly slices, onion, garlic, ginger, shiitake mushrooms, and ramen noodles are a few of the tasty ingredients. It's an easy, inviting meal you'll have on repeat.
Indulge your senses with this toothsome recipe. A superb marinade coats pork belly slices then they are baked into a glorious, tasty culinary masterpiece. They're sweet, salty, spicy, and full of flavor.
This is a quick, simple recipe that yields a flavor punch of deliciousness to your senses. In 30 minutes, you've got tasty pan-fried pork belly slices. Once the pork belly is fried, it gets tossed in a sweet honey garlic sauce to finish them off. A great recipe for weeknight meals that feels like you got take out.
It's no secret that slow-cooking meat creates tender, juicy, melt-in-your-mouth meat. This slow cooker recipe does just that. First, the skin is scored and seared to get a nice crispy skin. Then It is slow-cooked in a honey balsamic glaze. Once finished, it's cut into tender pork belly slices. It's sweet, tangy, and amazing!
This is a must-try recipe for pork belly lovers. First, it's slow-cooked with onion, bay leaves, cloves, black peppercorn, and salt. After it's chilled overnight it is deep fried to a golden brown. Then, it's finished by frying until it's crackling. The result is a crispy skin top, rendered fat, and tender, juicy meat creating a masterful balance in culinary texture and flavor.
Take your Taco Tuesday game to new heights with these pork belly tacos. They are next-level good with a flavor explosion in every bite. The tender, juicy pork belly is diced and topped with a tangy sesame ginger slaw and spicy mayo. They are delightfully delicious.
These stuffed buns are one of those recipes that takes a little extra effort but you can't stop dreaming about making and eating, again and again. Bao buns are steamed fresh bread that is similar to dumplings but slightly sweeter. They are baked and stuffed with savory, marinated pork belly slices, cilantro, red chilis, onions, and cashews. A truly magnificent culinary creation.
When you want extra crispy skin on your pork belly, then this is the recipe to make. It's a simple Filipino recipe with natural flavors. This recipe gives you the choice to use your air fryer or your oven. Either way, the result is pork belly with extra crispy skin, and tender, juicy meat.
This may become your favorite recipe yet. The pork belly slices are slow-cooked in chicken stock, ginger, garlic, wine, and sugar. Once done, they are chopped into bite-sized pieces and fried in a pan then tossed in a savory glaze. You get bite-sized pieces of delicious pork belly that are sweet, sticky, and spicy. The perfect combination.
This is an easy recipe that only takes 10 minutes to throw together but has next-level taste. The pork belly slices are cut thin and stir-fried. Then onions, kimchi, Gochujang, and other ingredients are added and cooked together. Served with rice, it's a tasty bowl swimming in flavor.
You've heard of steak and eggs, but have you tried pork belly and eggs? This is an iconic Vietnamese dish that sure is to please your palate! The pork belly is braised and then simmered in a caramel, fish sauce, and coconut water concoction with seasonings. The eggs are hard-boiled and added to the pot with pork belly. Served with rice, the pork is fork tender and it all comes together for a sweet and savory delightful dish.
When you want a restaurant-quality meal in under 30 minutes at home, this recipe is for you. It hits all the right notes with sweet, tangy, and savory flavors. The crunchy cabbage pairs well with the tender pork belly slices for the perfect texture juxtaposition. It's an all-around fabulous meal.
This sandwich is the next level BLT of your dreams. Savory pork belly slices, fresh, crispy lettuce, and juicy tomato all get piled high on your favorite toasted bread. Added to the sandwich bliss is a chimichurri mayo blend. It all creates a lovely, delectable sammy you never knew you needed in your life.
Nachos are a quintessential appetizer, or meal, in America. This recipe is a fun, delicious culinary twist on the traditional dish. Korean-inspired, it has savory, tender pork belly, creamy nacho cheese, and salsa that are all piled high on wonton chips. These nachos are a true delight and a great way to indulge your taste buds.
Gourmet pizza is all the rage these days so why not take your next pizza night to new heights with this homemade gourmet pizza. It has a beautiful combination of sweet, salty, savory, and all-around glorious flavors. Pork belly, pineapple, tomato, burrata, caramelized onions, and arugula all top your favorite pizza dough. It's fun to make, and even better to eat.
Restaurant quality fried rice is easy to make with this simple recipe. Flavorful fried rice is filled with shrimp, veggies, and of course pork belly.
This tasty appetizer will have your guests coming back for more. Crispy wonton cups are filled with crispy pork belly.
Sweet and salty, pork hamonado uses soy sauce, pineapple juice, garlic, and brown sugar to bring flavor to this pork belly.
Not your ordinary sandwich, this sandwich has pork belly, chili sauce, and a delicious mixture of herbs. Try serving with a side of soup for a full meal.
More pork recipes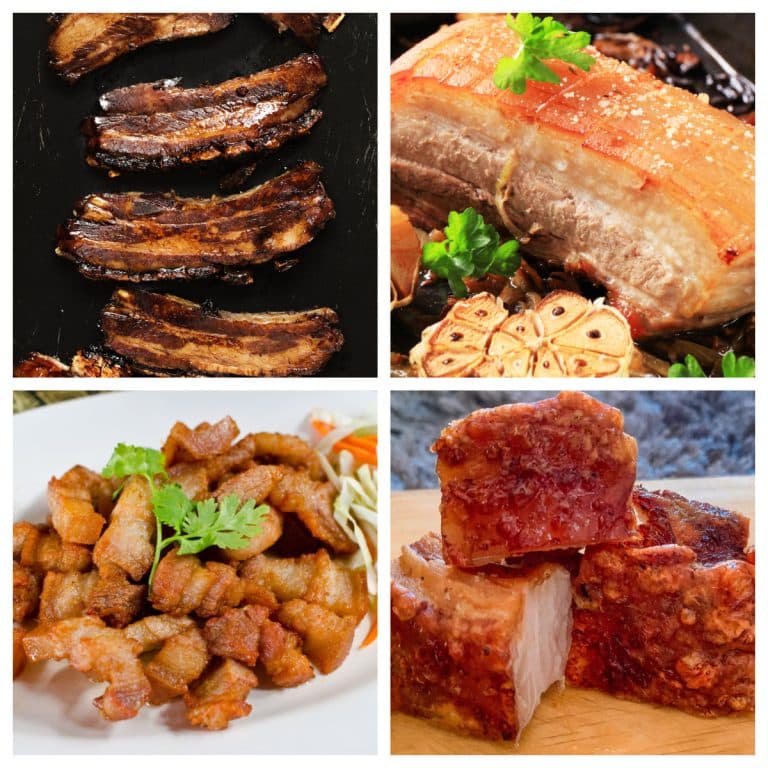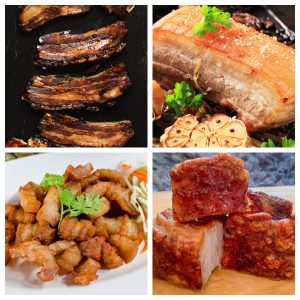 Pork Belly Recipes
A delicious group of pork belly recipes.
Instructions
Choose your favorite recipe and gather ingredients.

Prepare according to directions.
Nutrition
Serving:
4
g
|
Calories:
100
kcal
Nutrition information is automatically calculated, so should only be used as an approximation.
Like this? Leave a comment below!