These Valentine's Day Chocolate Candy Shot Glasses are an easy and fun dessert. With just 3 ingredients you will have a unique and tasty treat.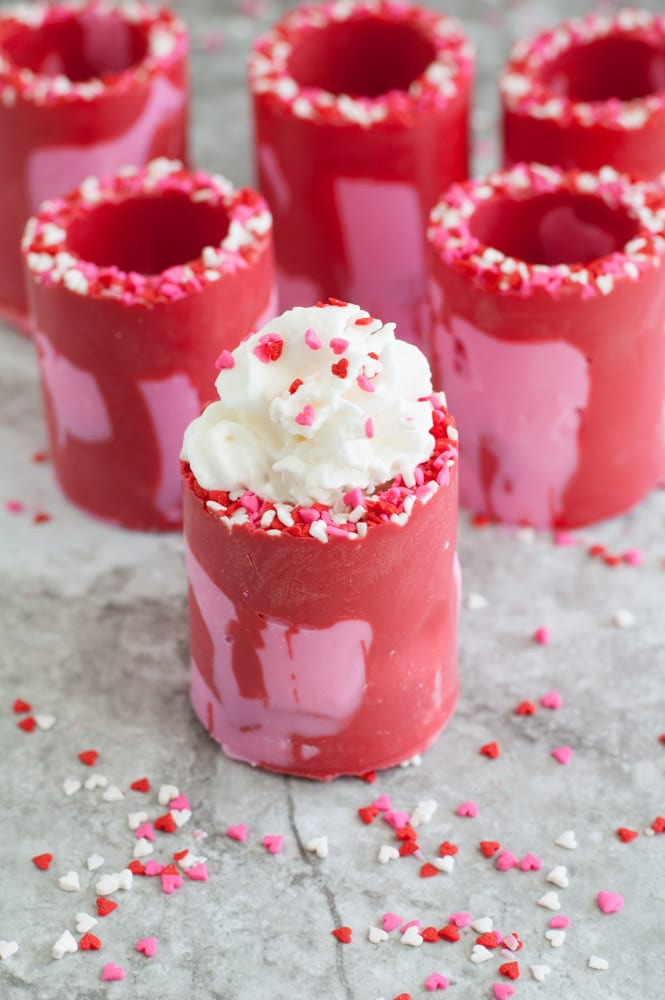 This past week I had all of the kindergartners in our neighborhood over to make Valentine's Day mail boxes. We had so much fun and it was great to see how much creativity the kids have. Elle decided to make a unicorn, Ava made a Valentine's monster and Major made a Pokemon box. Now all they need are some cards to fill up the boxes.
I always like to have a reason to make treats for everyone so this was the perfect excuse to use my  Wilton Shot Glass Mold. There are so many cool things you can make with this mold. One of my favorite things to do is fill the mold with melted Wilton Candy Melts. This mold also works well with hard candies.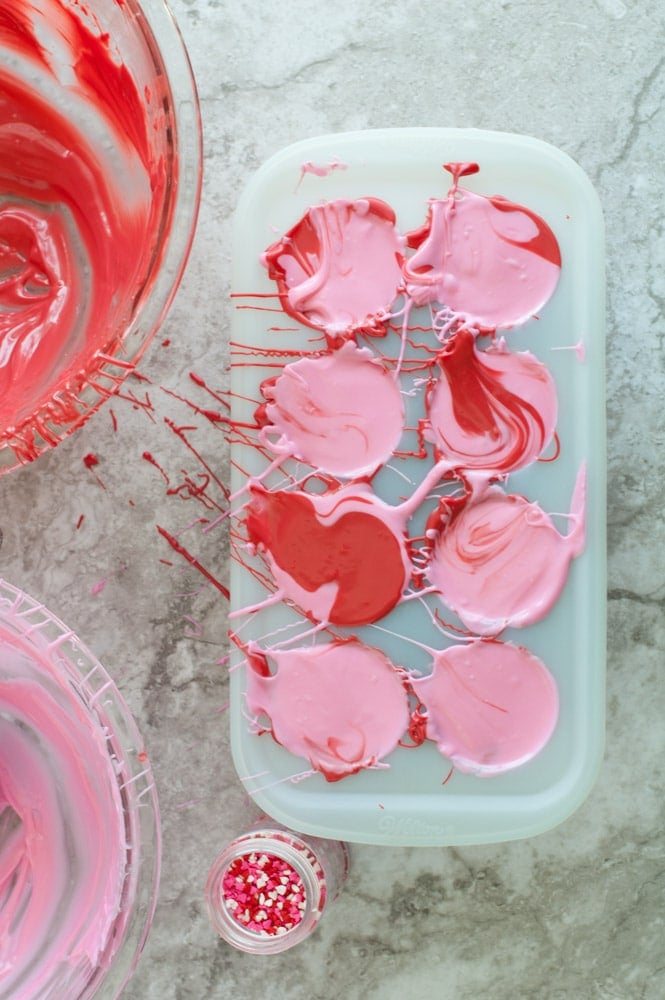 For the Valentine's Day shot glasses I used some cute heart sprinkles I found and spooned some in the bottom of each mold making sure to cover the bottom. This will actually end up being the top of the glass.
Next I melted Bright Pink Wilton Candy Melts in one bowl and Red Wilton Candy Melts in another bowl. Microwave in 30 second intervals until the chocolate is melted. They should be good to go between 1-2 minutes. Make sure to stir after each 30 seconds so the chocolate doesn't melt.
Place the mold in the refrigerator for 30-45 minutes or until candy has hardened. Push the glasses out of the mold and add your favorite filling. I used whipped cream and some extra sprinkles but pudding or a mousse would be delicious.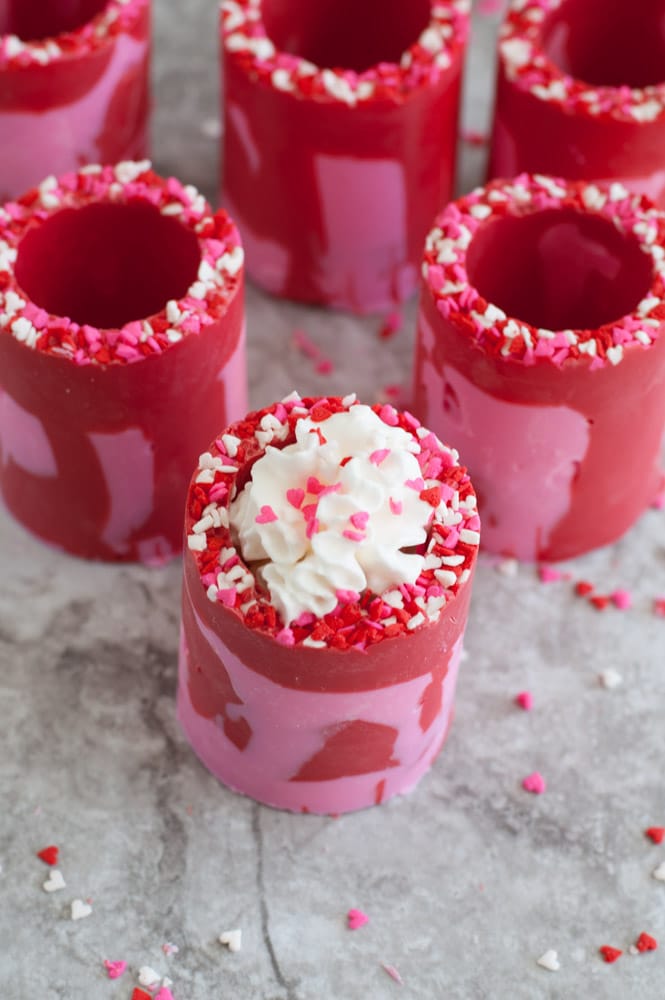 Hope you all have a wonderful and sweet Valentine's Day!
Follow Food Lovin' Family on Pinterest for more great recipes!
Valentine's Day Candy Shot Glasses
Ingredients
1

bag

Wilton Red Candy Melts

1

bag

Wilton Hot Pink Candy Melts

Optional: sprinkles, whipped cream, mousse, pudding
Instructions
Melt each color candy melts in a separate bowl. Start with 30 seconds at a time, stirring after each 30 seconds. Keep going until fully melted. (about 2 minutes)

Spoon sprinkles in the mold first, covering the bottom.

Spoon or pour melted candy into molds. Fill to the top of the mold.

Take the back of spoon and smooth out the top as much as possible to ensure a flat bottom.

Transfer to the refrigerator for about 45 minutes or until candy has hardened.

Pop out of mold and fill with favorite filling.
Notes
Place mold on a baking sheet for easier transfer to the refrigerator. 
Nutrition
Calories:
207
kcal
|
Carbohydrates:
25
g
|
Fat:
11
g
|
Saturated Fat:
10
g
|
Sodium:
42
mg
|
Sugar:
25
g