This shop has been compensated by Collective Bias, Inc. and its advertiser. All opinions are mine alone. #CelebrateAmazingBDays  #CollectiveBias
Summer is a perfect season for a birthday party with nature as your backdrop. This Glamping Party has everything you need to impress your guests.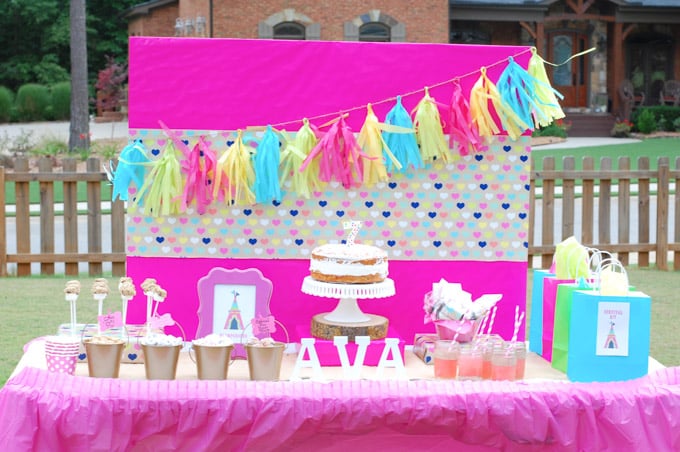 Seven years ago this July I became a first time mother to my precious baby girl, Ava. People always tell me that kids grow up so fast and this year I am really feeling those words. It seems like just yesterday we were nervously  driving to the hospital to meet Ava for the first time. Now I have a big girl who is about to be a second grader. I need a tissue. 🙂 Ok, enough of my mushy stuff, let's party!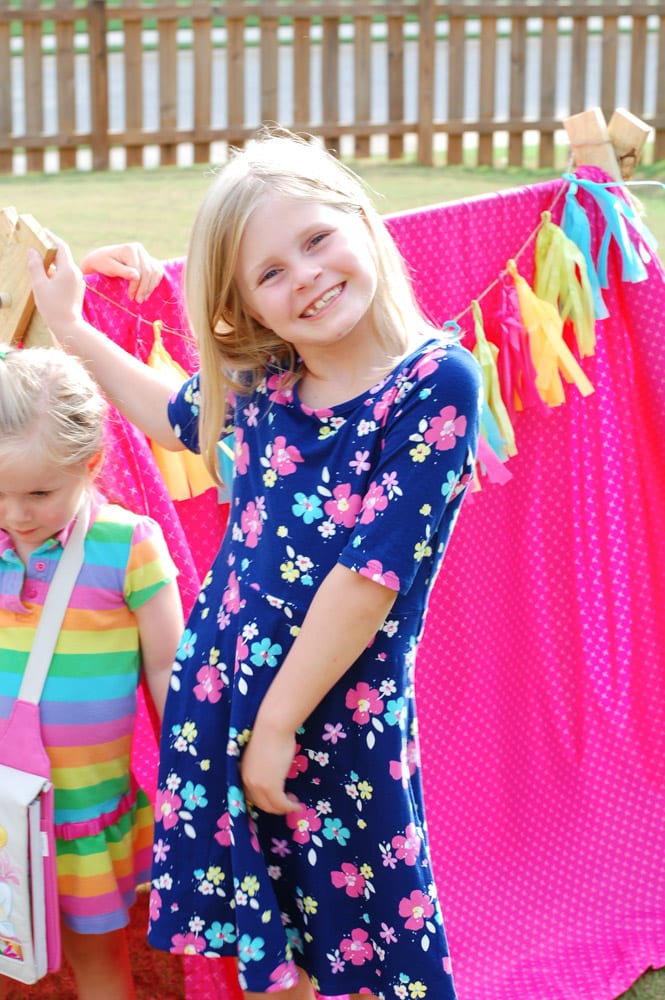 Ava has been soooo excited for her birthday this year and to celebrate with her friends. She is such a loving, caring and special girl (I'm her mother, I may be a little bias) that I get excited about creating a fun party for her to enjoy.
Summer is a great time of year to have a birthday party because there are so many things you can do outdoors. Ava has been begging us to go camping but she is also a bit of a girly girl so we thought it would be fun to throw a glamorous camping party, or glamping party in our backyard.
I was party shopping at Walmart and found some great supplies from American Greetings. Ava's favorite colors are pink and teal so when I came across this super cute American Greetings heart wrapping paper, I thought it would be perfect to use for the party display table. I also found coordinating gift bags, tissue paper and heart stickers, JACKPOT!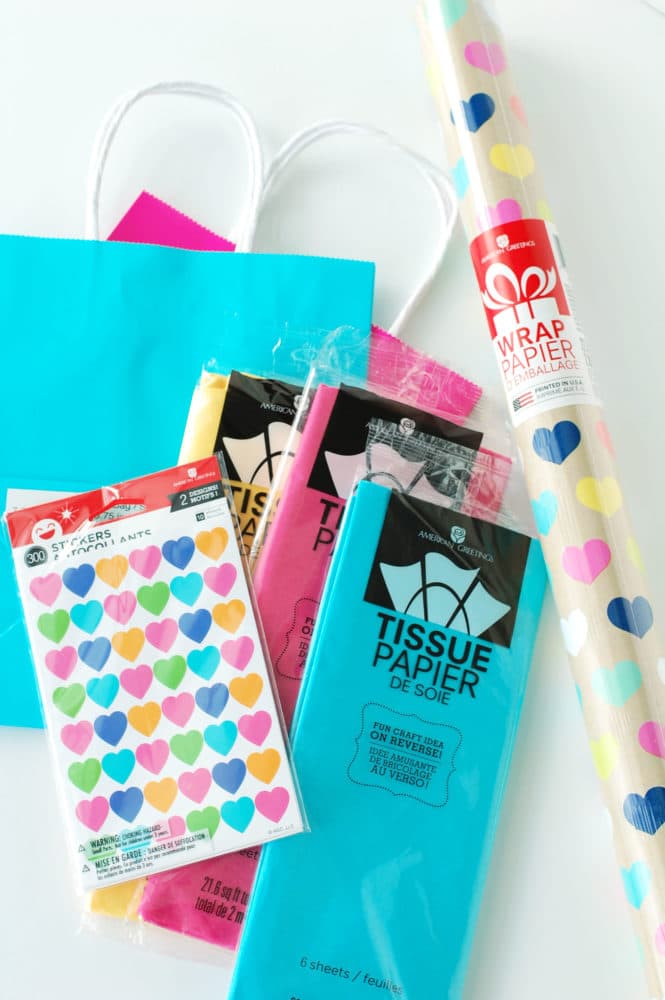 Decor:
My first project for the party was to make this adorable tissue paper fringe. I bought American Greetings tissue paper in blue, green, yellow and pink to match the hearts on the birthday wrapping paper. You also need a glue gun, scissors and ribbon or string to hang the tassels.
Start with one piece of tissue paper (1 piece makes 4 tassels). Fold it once lengthwise and one time widthwise.

Next, cut strips from the bottom up, stopping about 2 inches from the top. This makes your fringe. Unfold it and then cut down the middle.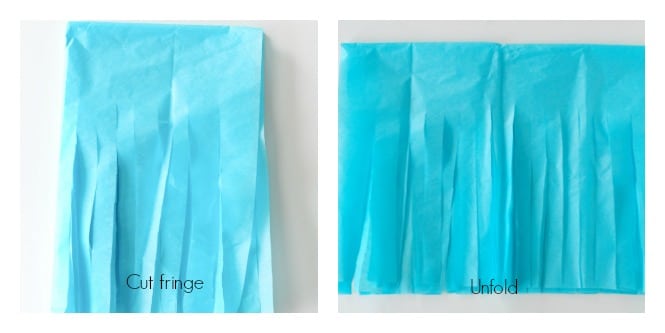 Unfold again and then take each section and roll the middle.

Next, twist the middle part you just rolled. Then take your tassel and fold it making a loop at the top.  Heat up your glue gun, put a small drop of glue and then press the sides together. Once you have all of the fringes made, pull string through the loops and voila. I know, so cute!

For the backboard display, I took one roll of pink and one roll of heart American Greetings wrapping paper and wrapped a piece of foam board. Then I hung the tassels on the board, just taping the ends of the twine on the back of the board.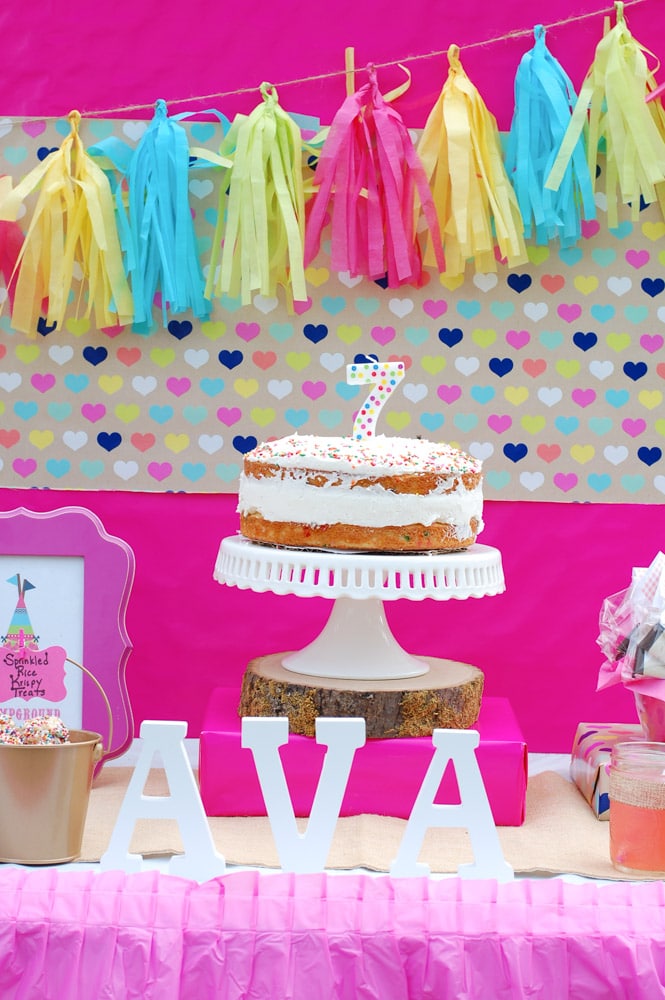 You never know what kind of wild creatures you might encounter while glamping…ants, spiders, little brothers. So, I decided to make each guest a survival kit. The American Greetings birthday gift bags were the perfect thing to hold everything they needed. I included a flashlight, hand sanitizer, nail polish and American Greetings stickers. I also made this survival kit printable you can download and tape to the bag.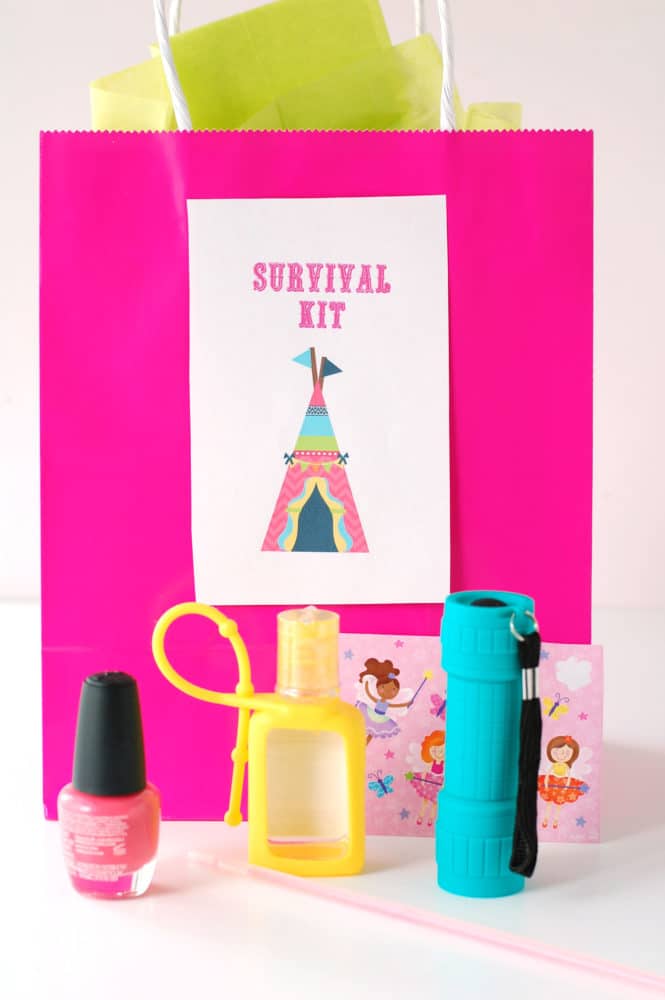 Food:
Is there any kid out there who doesn't associate camping with s'mores? I put together these s'mores packs for everyone to bring home and continue the party. I wrapped the chocolate bars with the heart wrapping paper to continue the theme and then created these bag toppers. Almost too pretty to eat…almost.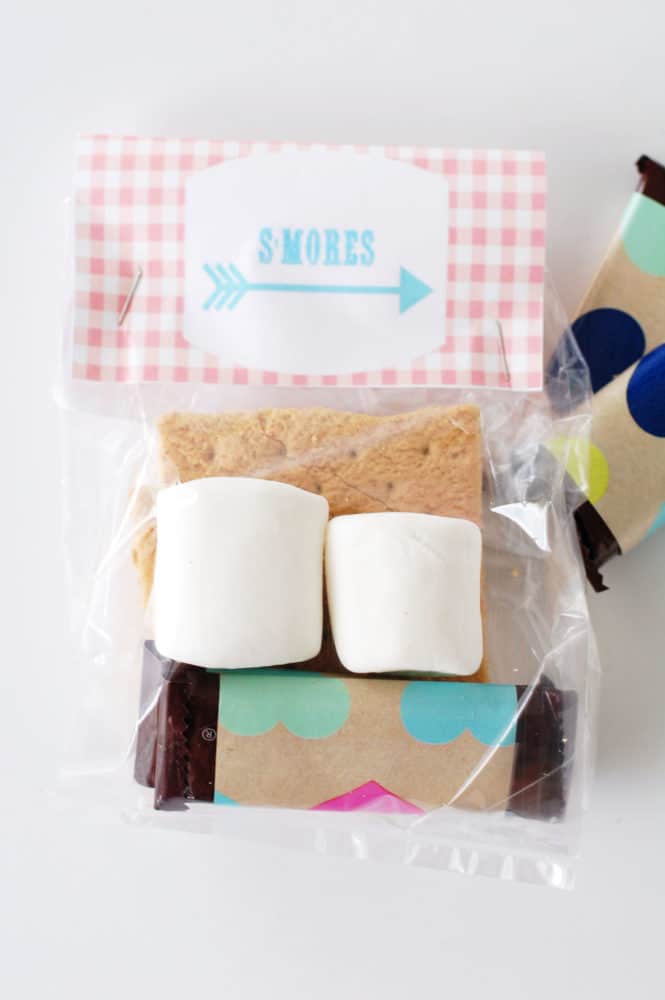 I wanted the kids to enjoy some s'mores at the party too and I also couldn't resist making s'mores pops. Marshmallows dipped in chocolate and graham cracker crumbs on a stick, all the delicious flavor with less mess. They were a HUGE hit!
For these pops you need large marshmallows, sticks, chocolate wafers or chocolate chips and graham cracker crumbs. Insert the stick in a marshmallow, dip the top of marshmallow in melted chocolate and then dip the chocolate in graham cracker crumbs. Place the pop on wax paper to harden. For my s'mores pop display, I wrapped a box in wrapping paper and then poked holes in the top of box and inserted the sticks in the holes so the pops stood up.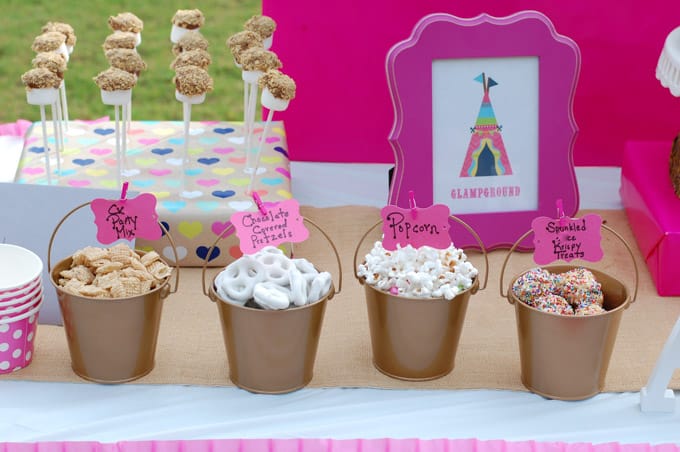 The party guests also enjoyed a make-your-own trail mix bar. You don't want the glampers to go hungry, do you? I included cereal, chocolate covered pretzels, popcorn and krispy treat balls rolled in sprinkles. Ava's favorite pink lemonade was served in jars to wash down all of the tasty treats.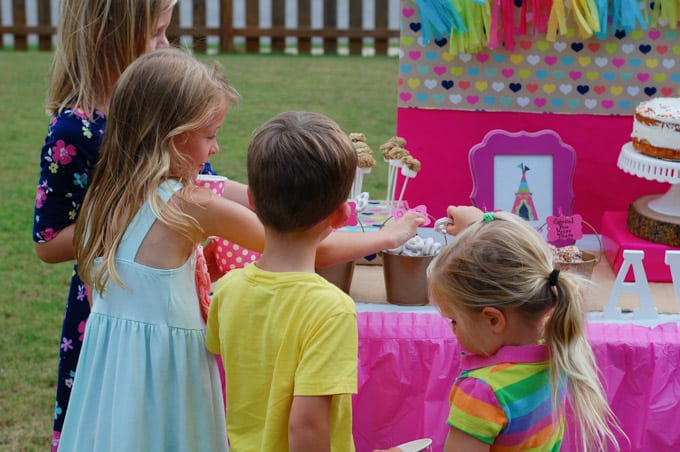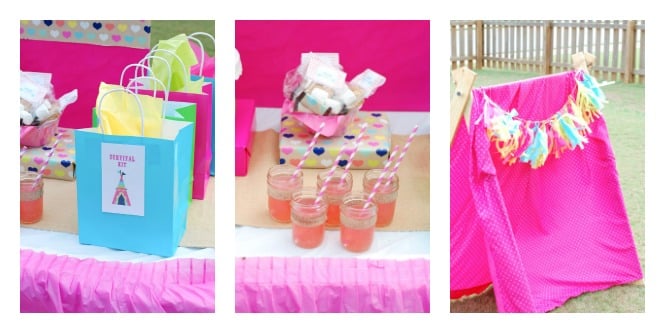 Activity:
For our activity I created a scavenger hunt. I printed out a checklist of items to search for and the kids used the American Greetings heart stickers to mark when they found the object. The kids had so much fun racing around to find everything.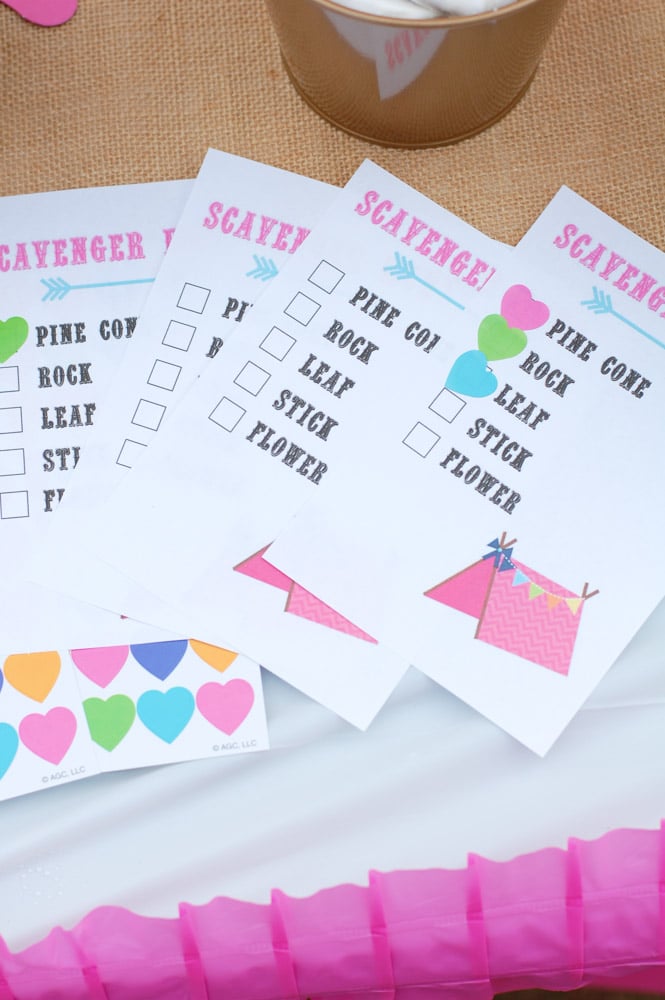 The Card:
Even though I write a blog, I find it's not always easy to find the words to tell someone how you feel.  That's what is great about a greeting card – whether it's to wish someone a happy birthday, express excitement over a baby on the way, pass along congratulations, or simply to say hello, cards can express just the emotion you are looking for. For me, birthdays are not complete without a birthday card to share how you feel about your loved one. Ever since I was little, my mom has included the date in all of my birthday cards and I am carrying on the tradition with my kids. I love this idea because I can look back at all of the old cards and see how they have changed throughout the years. The cards invoke precious memories of past birthdays. Sometimes I will stand in the card aisle forever trying to pick out the perfect card but with the American Greetings cards I found several that I loved, so I had to buy them all. I can save them for my other daughter or use for Ava next year. I was able to settle on the perfect card to commemorate her 7th birthday. It had coordinating hearts that went along with the stickers and wrapping paper. Hopefully, when Ava looks back at this card she will remember all of the fun she had at her glamping party.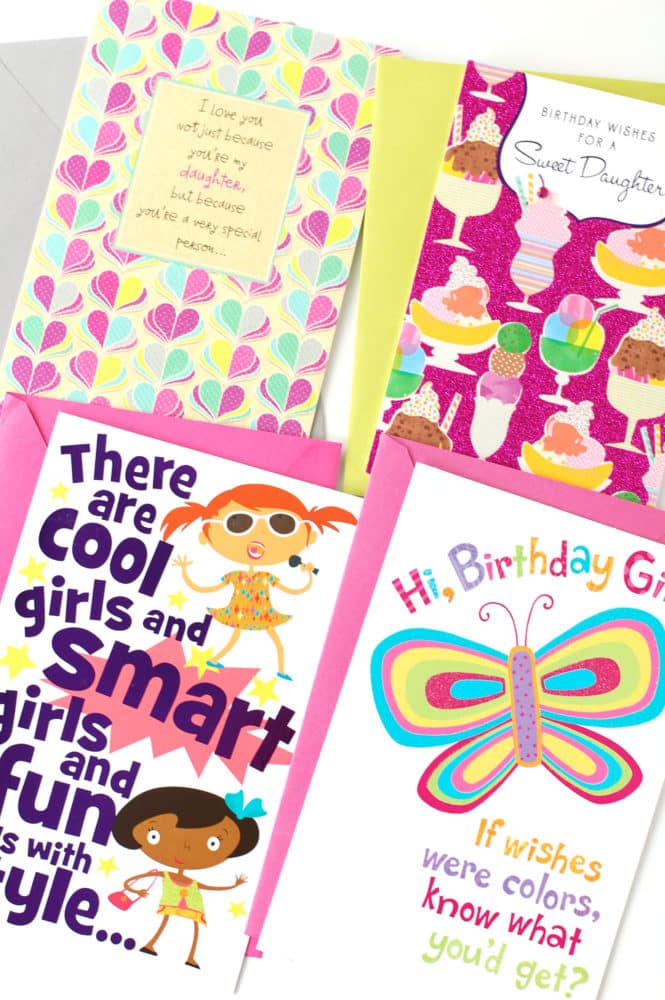 The glamping party was a huge hit with everyone, especially Ava. She said it was the best party ever, phew! I will sleep a little easier tonight knowing my girl had fun and felt as special as she is. 🙂 I love seeing her smiling face.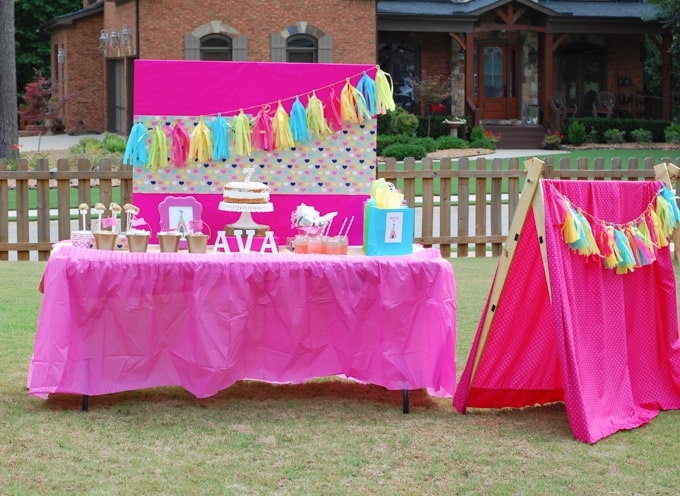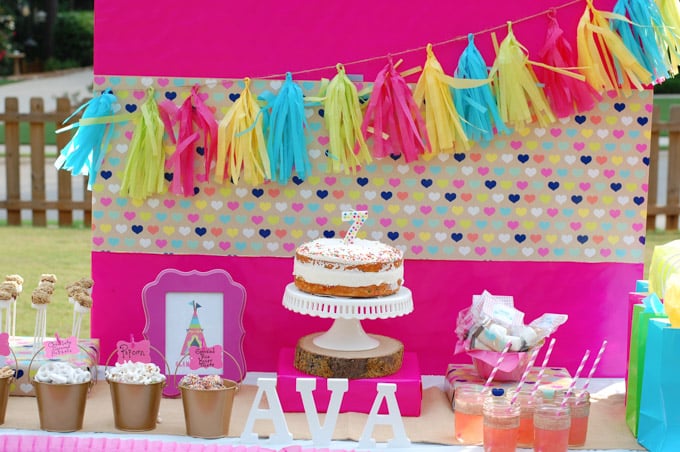 Best of all, I didn't have to chase supplies all over town. I found all of the American Greetings products at Walmart on the card aisle. Now get out there and get inspired!