14 Halloween Boo-ing Ideas
Sep 08, 2021, Updated Oct 29, 2023
Surprise! You've been booed! This list of Boo-ing ideas is sure to inspire some Halloween cheer.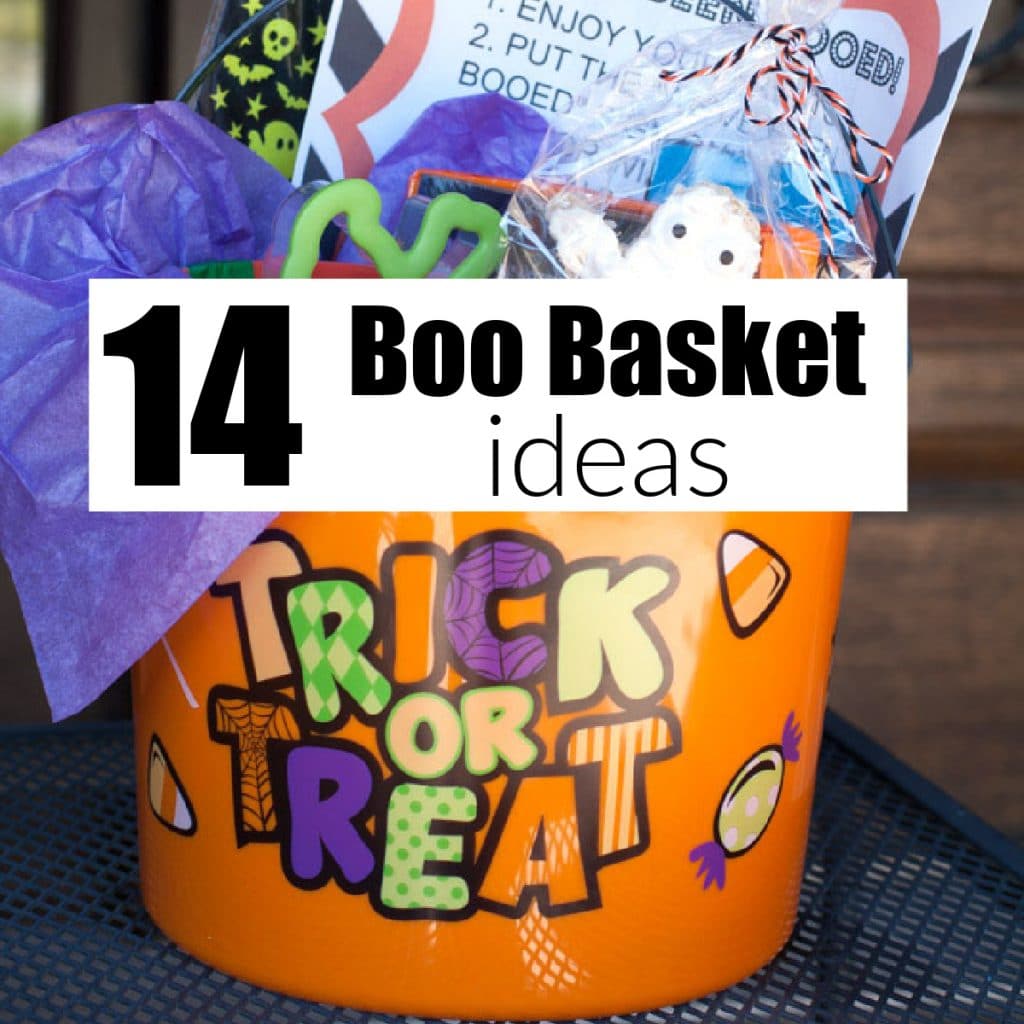 The first time we were "boo'd" was when we moved into our new neighborhood. We heard the doorbell and then to our surprise, we found a fun little Halloween bag filled with holiday candy, dishtowels, and slime. This was the beginning of our love of boo-ing! Grab a mummy hot dog and check out these great boo basket ideas below.
What is Halloween Boo-ing?
The Halloween boo is typically a small gift bag or bucket of treats anonymously left by a neighbor. After your house has been boo'd, you hang a sign on your front door or front window letting people know you have already received your treat. Then you make gifts for two more neighbors. This continues throughout the neighborhood until Halloween or until it stops.
How to Boo someone
This is a fun way to bring holiday cheer to the neighborhood or a small group of family and friends. Once you get a boo, make sure to place the sign on your front door or window so that you don't get booed again.
Start by making a bag or bucket of Halloween goodies with a note or printable saying "You've Been Booed" and then dropping it off at a neighbor's house. Anonymously of course. Typically the idea is to give them out to two separate neighbors.
We like to wait until it starts to get a little dark outside to drop off the gift on our neighbor's doorstep. After the doorbell rings, carefully, but quickly go back to your car or run down the street so they don't know who left them this fun Halloween surprise.
The fun part is paying it forward and thinking of different ideas to include in your gift. This is such a great way to get the entire neighborhood excited and ready for Halloween.
If this is new to your neighborhood you can start it off by delivering boos to two neighbors. It's a good idea to start this boo tradition at the beginning of October so that there is a chance lots of houses can join in the fun.
Ideas for Halloween Boo bucket
Let your creativity go wild! There are so many options from containers to treats to make a special boo gift.
Container: Select a bucket, basket, or a bag to hold the treats. Here are a few fun ideas:
Treats: Choose an assortment of small treats for the boo bag. You can make some homemade treats or find great things at the grocery store, dollar store, Amazon and more.
Candy
Mini flash lights
Glow sticks
Stickers
Halloween socks
Playdough / Slime
Even some "Boo"ze like wine for adults.
Printable signs: Most of these ideas have free printable signs that you can leave with your boo gifts.
Need a quick, last minute boo gift? Try printing out these cute, free printables and add a little candy for a simple neighbor gift.
This does not have to be an expensive, elaborate gift. It's all about the thought that goes into it. You can create a fun boo gift on a budget in no time at all. Many of these items were found at the Dollar Tree or Dollar Store. Don't forget to print out these adorable Boo signs.
Wouldn't it be such fun to find this balloon ghost on your doorstep? I love this simple idea from Eighteen25! Decorate a balloon with a ghost face and attach it to the basket or bag.
Try kicking off this fun tradition with a cute ghost themed basket. You can fill it with snacks and add a little balloon for extra excitement.
This one is for the adults. Even the grown-ups can enjoy this tradition with these "You've Been Boozed" printables. Great to add on a bottle of wine. This is also a wonderful idea to bring for a hostess gift at a Halloween party.
This DIY boo kit is so easy to make. Simply grab a few treats, fill your basket and drop off to your unsuspecting neighbor.
I love the idea of making this a fun activity for the family. It's a great way to show kids how enjoyable it is to give and spread joy around the neighborhood.
How cute are these treat cones?! This idea is so unique and really makes for a beautiful boo gift. Be sure to check out the easy tutorial on how to make these lovely Halloween paper cones.
Love the color theme of these pretty pink baskets. Choose a color, like pink, at coordinate with your gift items like hair bows, bracelets, pajamas and more. This idea would work for any color so use your imagination.
This isn't a typical boo-ing gift but it's a fun theme that you can get ideas on what to include in your basket. These witch survival kits would also be a great party favor for a Halloween party.
This mummy basket is such a simple way to make a big impact. Dress your bucket up like a mummy for an easy DIY Halloween themed bucket.
12. Disney Boo Buckets
Have neighbors that love Disney? Check out this Disney inspired boo basket that even Mickey Mouse would love! This includes an amazing tutorial on how to make cute Minnie and Mickey buckets along with some printable activity sheets.
This is a great idea for smaller children. A book, some pajamas and a little plush doll is always a welcome gift for little ones. Check out this post for ideas on spooky books that are perfect for younger kids.
The possibilities are endless when you are making one of these gifts. Cutefitti really made this one pop with the combination of purple and orange.
No matter if this is an old or new tradition, this list of Boo-ing ideas is sure to fill some unsuspecting friends with Halloween spirit.